WWE Hall Of Famer Says Nick Aldis Had A 'Chip On His Shoulder' During TNA Days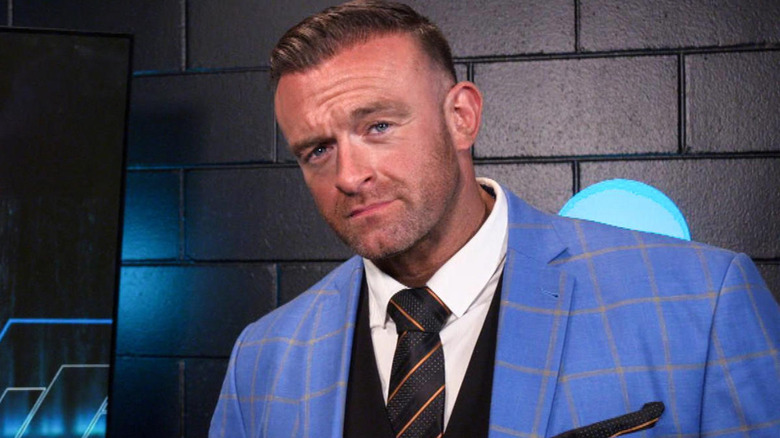 WWE
Nick Aldis toiled away for years in IMPACT Wrestling, NWA, and the indies without receiving his big break. Last Friday, Aldis finally made it to WWE programming in the capacity of an on-screen authority figure — as the general manager of the "WWE SmackDown" brand. 
Eric Bischoff – a member of IMPACT's creative team when Aldis was the company's World Champion in 2013 — is thrilled that the English wrestler has made it to the big leagues, praising him for biding his time. "I first met Nick when Dixie Carter brought him into IMPACT over from the UK," Bischoff recalled on his "83 Weeks" podcast. "Nick was really green, very young, and [had] a little bit of a chip on his shoulder. It was hard to really warm up to Nick initially, but over time, as I got to know him, the kind of light bulb moment that changed everything for me was when I was working with him and Sting."
Reflecting on the Sting vs. Aldis rivalry, Bischoff admitted that his perception of Aldis changed overnight when he saw potential in him. "He kind of took the chip off his shoulder [and] opened up," Bischoff said of Aldis. "I really enjoyed working with Nick because I saw an amazing amount of potential." Bischoff admittedly regrets not getting to work with Aldis "for an extended period of time" following his departure from IMPACT in 2014. He believes Aldis possesses the intangible "It factor" that few wrestlers are blessed with. "You're either born with it or you're not. I saw in Nick, early on, that it was there. And for whatever reason, the path Nick has taken has been a little sequacious ... he's gone around the block a few times and just weaved his way around. He has finally ended up in a role where I think you're gonna see an amazing character emerge."
Bischoff concluded that Aldis in the role of a GM is "perfect casting" by WWE.