WWE HOFer Arn Anderson Talks About His Approach To Wrestling, Reveals His Idol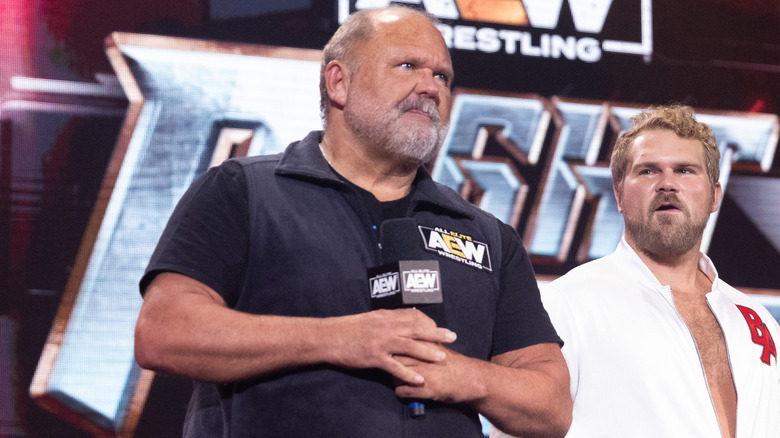 AEW
Arn Anderson has played an important role in the pro wrestling industry over the years, spending plenty of time in front of the camera along with working as a producer. From WCW to WWE to AEW, the former Horseman found success just about everywhere he went. Speaking on his podcast, "Arn," the Four Horsemen member looked back on the basic philosophy that drove his professional wrestling career.
"I never played the politics game and all that stuff," Anderson said. "I was so thrilled, and honored, and privileged to be in the wrestling business that the last thing in the world I was worried about was winners and losers. I was just more concerned with ... doing the best job I could in the business and being the biggest asset to the company and to the talent."
The episode also saw Anderson discuss the importance of following directions from those in charge, which is especially important when you're simply one cog in a massive television production. If one is given a certain time limit to their segment, they had best stick to it or the rest of the show will be thrown off. The veteran later revealed which professional wrestler he credits with inspiring his career while discussing a WCW tag match from 1993.
"Dick Slater was my idol, my hero," Anderson said. "He's the one that caused me to want to be a wrestler. ... Bobby Eaton was, at that particular time, probably the best friend I had on the earth. Getting to be in the ring and share the ring with those guys was a privilege and honor for me."
In addition to hosting his weekly podcast, Anderson could previously be seen on AEW television as a manager or coach. Anderson also worked for the promotion as a producer, but his current status with AEW is unclear.
If you use any of the quotes in this article, please credit "Arn" with a h/t to Wrestling Inc. for the transcription.