Alpha Academy Appears To Gain New Member Ahead Of WWE Raw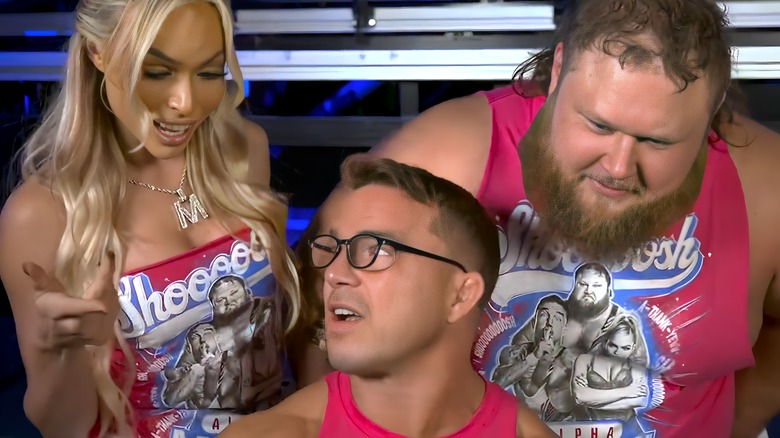 WWE
Alpha Academy is scheduled for a match with The New Day on Monday night's "WWE Raw," and now it seems the doubtlessly comedic contest will have an added wrinkle in the form of the Academy's new "junior cadet."
In an exclusive video posted to X (formerly known as Twitter), the Academy (Chad Gable, Otis, and Maxxine Dupri) can be seen backstage going over Gable's "master plan" to defeat Xavier Woods and Kofi Kingston. Everything is business as usual until Akira Tozawa enters the frame, demanding Gable also fill him in on the plan. Tozawa was involved in the segment between the two teams last week that set up Monday's bout, and while Gable initially reminds Tozawa that he's not a member of the Academy, Tozawa's "nasty" moves appear to win him over.
"You got moxie, I'll give you that. I see some potential here," Gable says. "Doze, hit him with a shirt." (Interestingly, Gable appears to be referencing Otis' previously existing surname, Dozovic, which was dropped shortly after he debuted on the main roster in February 2019.)
Otis, naturally, provides Tozawa with an Academy shirt that's much too big for him, but Gable insists they'll bulk him up. 
"As for tonight, why don't you pop a squat ringside and take some notes on Academy-style destruction," Gable concludes. "Your training has officially begun, Mr. Junior Cadet." Tozawa replies with a comically loud "Arigato!"
Based on this segment, it seems Tozawa will be in the Academy's corner on the upcoming episode, and may be an official part of the act going forward. It's also possible Otis will eventually have both a first and a last name again, a restoration that's already happened a few times during Paul "Triple H" Levesque's reign as head of WWE creative.