AEW's CJ Perry Details Husband Miro's Annoyance At Perceived Exploitation In WWE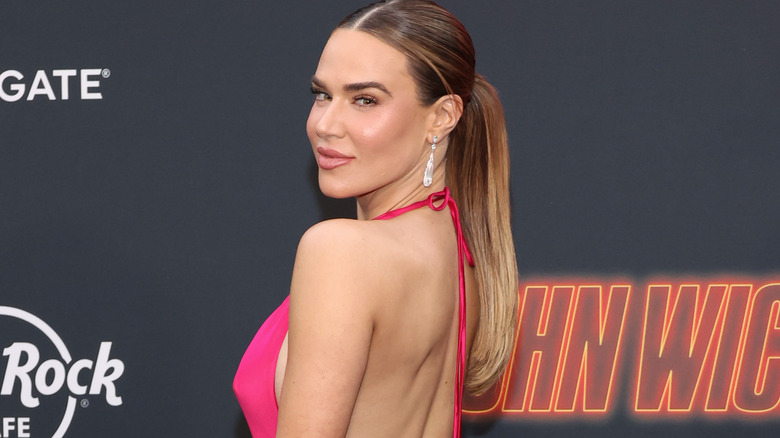 Monica Schipper/Getty Images
CJ Perry, formerly known as Lana in WWE, was re-introduced to wrestling fans on AEW programming as the "hot and flexible" wife of former AEW TNT Champion Miro. In a new interview with Chris Van Vliet, Perry says that particular branding was born out of the promo where Dwayne "The Rock" Johnson claimed that he had slept with the former WWE Superstar in a backstage segment years ago.
"I think that Miro made me 'hot and flexible' because he was so annoyed that I was so exploited in WWE," Perry explained. "I don't really look at it that way. I look at it as more, I'm thankful for the opportunity.
Perry says her easy-going nature backstage quickly led to her playing girlfriends, wives, and even ex-wives on WWE television. Perry also found herself frequently tarnished with derogatory terms in the name of making it more acceptable for her to be physically involved in matches, such as one well-remembered promo cut by The Rock. Perry still feels the former WWE Champion's comments were uncalled for, but she's learned to take them in stride.
"I'm glad he feels like he needs my clout," Perry said.
Perry re-debuted at AEW All Out in September, hoping to not only reunite with her husband, but also manage him, but Miro spurned his significant other. In retaliation, Perry has begun looking for other clients to manage, much to the chagrin of the former AEW TNT Champion. This led to an incident on "AEW Collision" where Miro brutalized Action Andretti for attempting to solicit Perry's services as a manager.