WWE's Molly Holly On The Idea Of 'One More Match'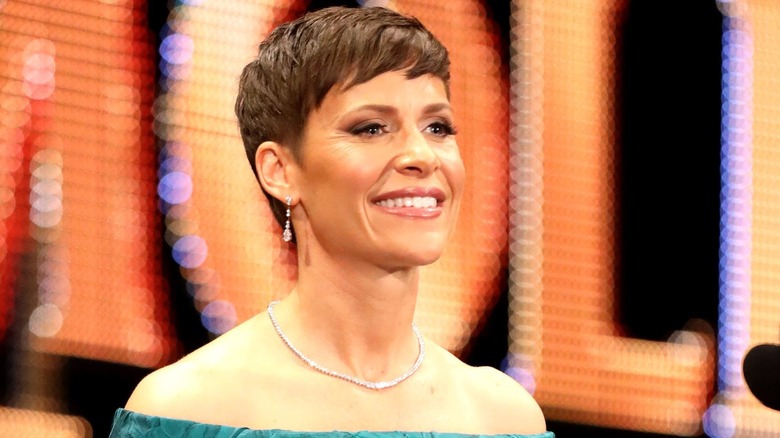 WWE
WWE Hall of Famer Molly Holly seems to have closed the book on her wrestling career, with her last in-ring outing at Royal Rumble 2022. Furthermore, she hasn't worked a singles match for the company since 2005. The two-time WWE Women's Champion addressed whether she has the desire to have one final match in an exclusive interview with Wrestling Inc. about Connor's Cure, and fans shouldn't get their hopes up:
"I really don't believe that there's anything I could add to the business," she said, "I just feel so complete in my career. I don't feel that it's like, oh, if I just had this moment. I already had all the moments. I really want to save the TV time for the younger people to have their moments." Holly currently works with WWE as a producer, and has made sporadic appearances for the company in Royal Rumble matches. The women's iteration of the over-the-top-rope elimination match was first staged in 2018, nearly a decade since she last stepped in the ring, and she would participate that year, in 2020, and 2022.
But, Holly admitted before the 2024 Royal Rumble that she was unsure if she wanted to make a return, telling fans not to be disappointed if she didn't appear, and to know that she will be happy that she doesn't have to prepare to be beaten up. Given those statements, it seems likely she has drawn a close on her in-ring career. Outside the ring, Holly is currently active with multiple charities. She is set to run a marathon in New York City on Sunday, November 5, for Connor's Cure — the charity named after Connor Michalek, a late wrestling superfan who lived with medulloblastoma until his death at just eight years old.
---
Molly Holly is running the 2023 TCS New York City Marathon on behalf of Connor's Cure. Fans wishing to support Molly Holly's efforts to raise money for Connor's Cure can do so at the following link: https://vfoundation.donordrive.com/index.cfm?fuseaction=donordrive.participant&participantid=11327