Backstage Update On Ric Flair's Debut On AEW Dynamite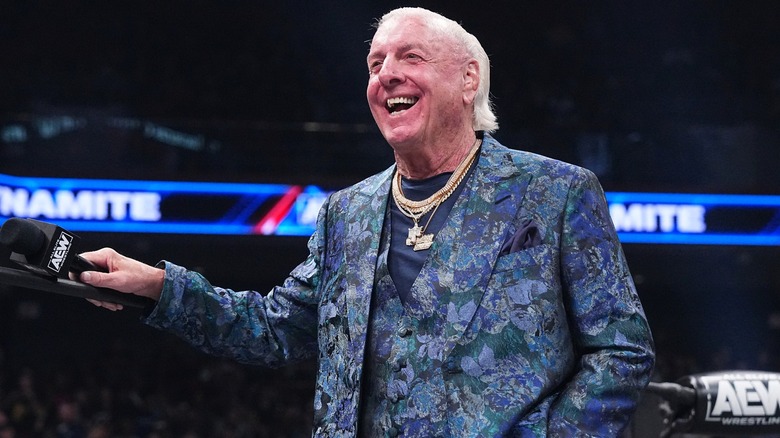 AEW
Heading into last night's "AEW Dynamite," speculation was running rampant as to the nature of Tony Khan's announced gift for Sting — a week removed from Sting's announcement that he'd be retiring at AEW Revolution next March. But many bingo cards didn't have Ric Flair officially debuting in AEW as an option. "The Nature Boy" showed up Wednesday evening to congratulate Sting, his long-time rival from their days in WCW, on a great career.
But Flair's arrival in AEW has been something in the works for a while. According to the latest "Wrestling Observer Radio," there was some truth to the long-held rumor that Flair and Khan had a verbal deal for the 16-time world champion to join AEW as far back as 2021 — perhaps as the cornerman for his son-in-law, Andrade El Idolo.
But, following the "Plane Ride From Hell" episode of "Dark Side of the Ring" that brought to light new details on past Ric Flair behavior, the deal was squashed. However, as with a lot of things in wrestling, the passage of time and Flair's continued presence in wrestling over the last year made his entry into AEW now a bit more palatable.  
While it remains unclear how often Flair will appear on AEW programming going forward, Flair himself did indicate that he could become somewhat of a fixture, asking Sting if he could be part of the final few months of his career. AEW has yet to clarify whether Flair is under contract with the promotion or is appearing on a per-date basis.