AEW's Jon Moxley Was In 'F***in' Outer Space' After Concussion, Calls For Safeguards
AEW
Jon Moxley lost the AEW International Championship to Rey Fenix to the shock of the crowd watching on at "AEW Dynamite: Grand Slam" in September after sustaining a concussion. Moxley recalled the injury while speaking with "The Messenger", explaining that he had sustained the concussion just 30 seconds into the bout, and describing feeling like he had been sent to "f***in' outer space" for 10 minutes. 
"I just kept getting progressively more lost and couldn't figure out where the f*** I was," he said, "Then I had this moment of clarity, 'Oh, I'm f***ed up. I gotta get the f*** out of here." 
The "Purveyor of Violence" said that he found the injury challenging for the fact he loves wrestling for the sake of wrestling and likes to remain active. But he also said that there needs to be a discussion about safeguards to protect wrestlers in the ring. He compared wrestling to football, noting that with the latter it can be clear when the player is carrying an injury while wrestling blurs the lines between fact and fiction so it can be hard to tell. But that's not to say he doesn't have suggestions for the betterment of wrestling. 
Jon Moxley's vision for safeguards in wrestling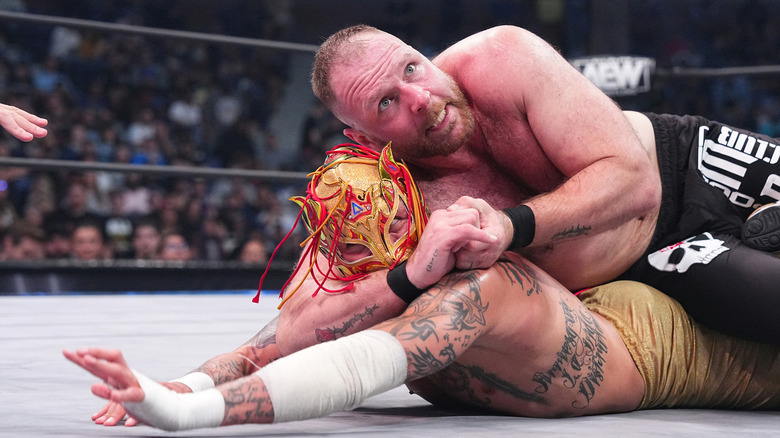 AEW
Moxley hypothesized as to what these safeguards could look like, and how they could be implemented. "Maybe a really experienced wrestler and a really experienced doctor, who are trained to see signs of that sh**, are watching it on a separate feed," he explained, before justifying why they couldn't be ringside, "Even if they have a doctor close to ringside, what if the guy f***ing spills outside the ring? He doesn't see that."
Moxley explained that for it to work neither safeguarding individual will be in the know as far as creative is concerned. They would be completely in the dark about the characters in the story, the planned victor, or the scheduled timing of the bout. He also explained that the wrestler would be there to advise the doctor as to whether what they have just seen is a legitimate or worked injury, given that sometimes it can be hard to tell to an outsider.
"As soon as the doctor sees a sign of somebody being concussed, he just hits the f***ing red button ... No matter how much time is left. No matter if it's on live TV. It's just over, and you figure it out from there."
Jon Moxley had been scheduled for a rematch with Fenix for the International Championship, but he couldn't be medically cleared in time. Orange Cassidy instead re-captured the title during "Dynamite: Title Tuesday".