MJF Beats Kenny Omega In Bout For The AEW World Title And Title Reign Record On Collision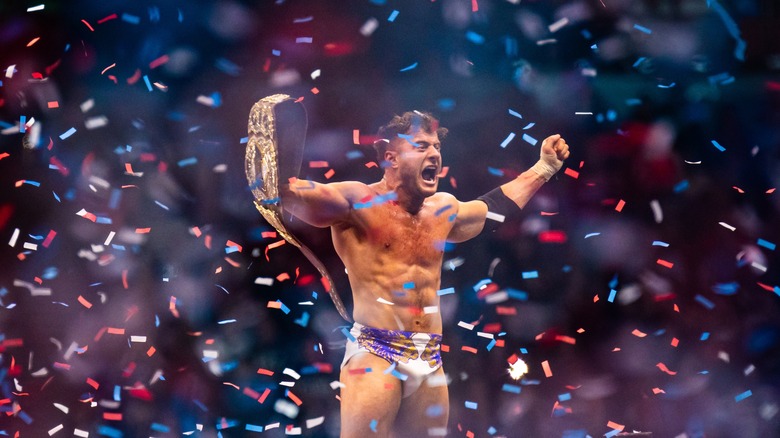 Arthur Cauty/Shutterstock
Earlier this evening, the longest reigning AEW World Heavyweight Champion, Kenny Omega, wrestled the current champion, MJF, in a title match. The match was set up on last Wednesday night's "AEW Dynamite," when Omega met MJF at the top of the ramp and challenged MJF to a bout citing his desire to defend his longest-reigning AEW World Championship title reign record of 346 days. MJF, who has held the championship for 344 days, promptly agreed.
An Omega victory would not only ensure that the record isn't broken, but would also likely change the AEW Full Gear main event where Jay White, who currently has possession of the championship belt, will receive a World Title opportunity. Earlier tonight on "Collision," MJF briefly retrieved the title before dropping it and leaving the ringside area.
The opening minutes were evenly wrestled with neither man gaining an advantage in front of a fairly split crowd. The pair traded dives from the ring to the outside before returning to the ring and continuing their even battle. However, the dives were far from the most spectacular move performed outside the ring, as Omega delivered a powerbomb to the champion from the ring apron through a table set up outside the ring.
The noticeably-dazed duo then started trading punches and chops before moving on to trading moves that could have been considered finishers in most other matches. Later, Omega delivered another powerbomb, this time dropping MJF on the barricade in front of the audience. Back inside the ring, Omega took control until a distraction by Don Callis (who just arrived on the scene near the end of the bout) led to a near fall for MJF. A Panama Sunrise attempt by MJF led to a small package and then a near fall for Omega. A second Panama Sunrise attempt and a heat seeker finally secured the victory for MJF. The champion and challenger shook hands after the match.