Kurt Angle Looks Back On Success Of John Cena's Rapping Gimmick In WWE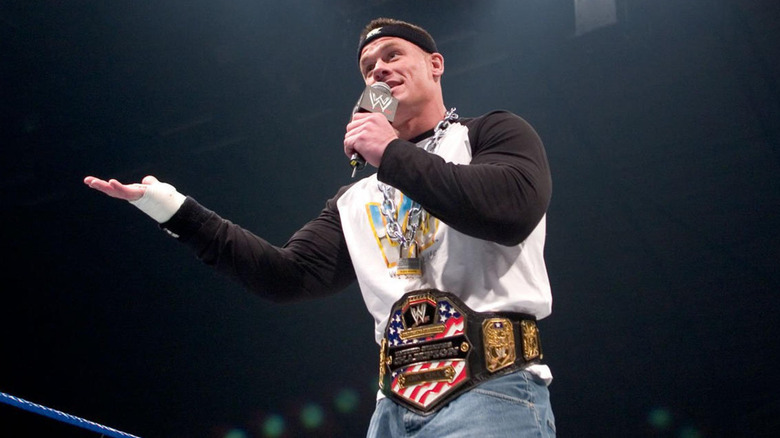 WWE
John Cena's recent comeback tour with WWE has allowed fans to see one of the all-time greats in action on a weekly basis once again, with the ongoing Hollywood strikes allowing the wrestler-turned-actor to return home to "WWE SmackDown." The 46-year-old babyface has become a household name from his time with WWE before transitioning into prominent movie and television roles. 
In the early 2000s, Cena burst onto the scene in WWE with a rapping gimmick known as the "Doctor of Thuganomics," which saw him run down his opponents with some very non-PG insults. In a recent edition of "The Kurt Angle Show," one of Cena's greatest rivals, Kurt Angle, admitted the entire locker room knew the act would translate to success with the promotion, ultimately leading to his two-decade run as a main-event star.
"John lit it up ... he was so good at this and I'm surprised he didn't begin his career with this — what a great gimmick to have, being able to rap with a beat," Angle said. "Everybody was like 'holy s**t' and nobody was like laughing, it was like this guy has something here and everybody was a little jealous, to be honest with you."
While the character allowed him to get over with live audiences on the blue brand, Cena has also gone on the record to reveal it likely saved his failing career with WWE at the time. In the midst of his rapping gimmick, Cena also released a full studio album titled "You Can't See Me," which had two of his WWE theme songs and a number of other hits featuring the likes of Bumpy Knuckles and Big L. 
If you use any quotes from this article, please credit "The Kurt Angle Show" with a h/t to Wrestling Inc. for the transcription.