Shane McMahon's Son Declan Offers WWE WrestleMania 2023 Injury Update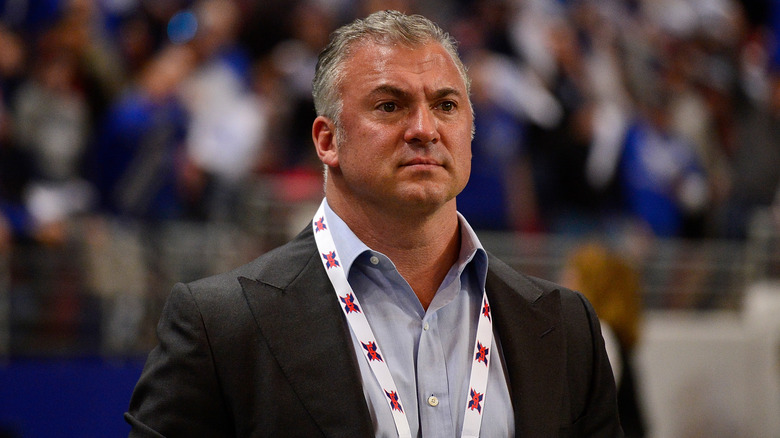 Jeff Curry/Getty Images
For a moment earlier this year at WrestleMania 39, Shane McMahon made a return to the WWE ring. Coming out to the surprise of the Los Angeles crowd — his first appearance since abruptly exiting WWE a year earlier — Shane-O-Mac was set to face The Miz in an impromptu match-up. But just as soon as the bell rang, McMahon landed awkwardly after executing a leapfrog and tore his quadriceps. Celebrity host Snoop Dogg would quickly take his place to keep the show rolling, but the damage had been done.
McMahon would undergo surgery shortly thereafter to repair the tear, but there's been little word about his recovery to this point. However, his son Declan McMahon did share an update on how things have been progressing in Shane's recovery as a guest on a recent episode of "Developmentally Speaking". 
"His rehab's going very, very well. He's gotten back to jogging, squatting, he's starting to work out again," Declan McMahon stated. "It's getting kind of difficult for him to bear side to side but his rehab is going really, really well; he's making phenomenal progress." 
McMahon expressed that his father's doctor had remarked on the speed of his recovery, especially considering the tendon had been completely torn. He said that it's been a very long and hard recovery, but his father has been crushing it and will hopefully be back soon.