Eric Bischoff Responds To Dave Meltzer's Comments On The Older Talent In AEW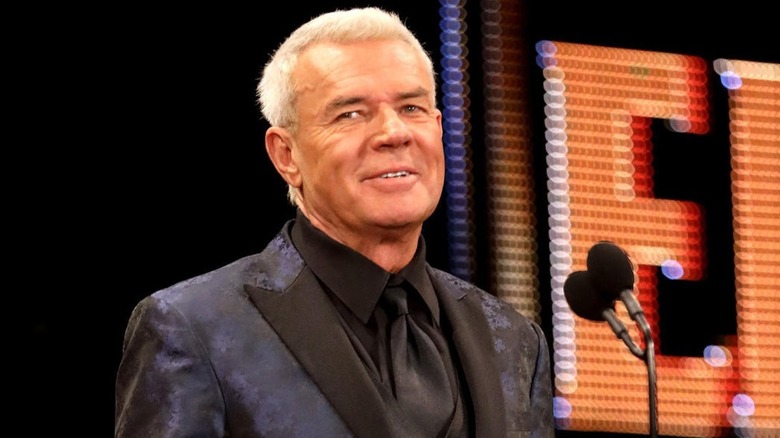 WWE
Dave Meltzer has recently been critical of AEW for its over-reliance on older talent, with the likes of Sting, Christian Cage, and Chris Jericho commanding a lot of television time. However, Eric Bischoff disagrees with that sentiment, believing that they all have more value, if only they're used correctly.
"It's not that the older talents aren't valuable, it's how you use older talent," Bischoff said on "Strictly Business." "I think if there's a criticism to be made, or a point to be made, it's not whether Sting, now Ric Flair or Christian or Chris Jericho or Adam Copeland are too old." Tony Khan has shown he has no problem putting older talent in prominent roles, with Billy Gunn and Cage currently holding titles at the moment. These are wrestlers with a lot of star power, which is why Bischoff believes they have something to offer. However, Bischoff cited how Ric Flair was booked during his AEW debut as a miscalculation. The "Nature Boy" came out as a surprise on "AEW Dynamite" last week to be part of Sting's final run, but ended up verbally trashed by Cage as he continued his rivalry against Sting to set up a match for Full Gear.
"I'm not sure that's the smartest way to introduce someone like Ric Flair, a legitimate legend," Bischoff said. "Ric has now transcended the wrestling audience and is a legitimate celebrity outside the world of wrestling, and to bring someone like that and with the legacy that Ric has and to just s**t on him and degrade him."
If you use any quotes from this article, please credit "Strictly Business" with a H/T to Wrestling Inc. for the transcription.