Eric Bischoff Assesses AEW's Prospects With Worlds End PPV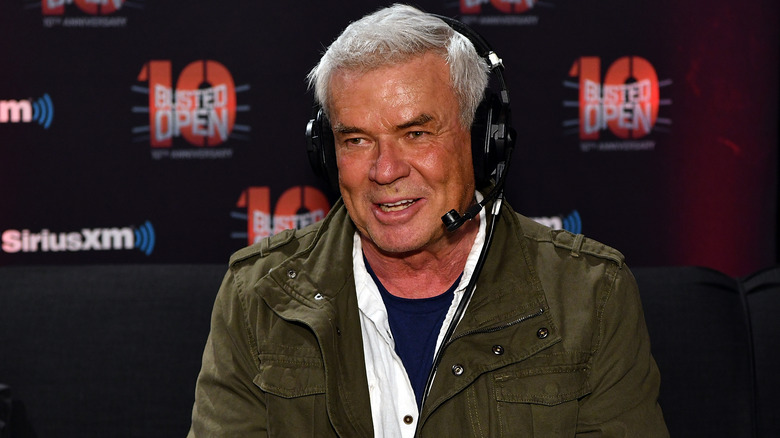 Slaven Vlasic/Getty Images
AEW's calendar year used to include four pay-per-views, but as the end of 2023 nears, AEW is set to hold twice as many with the addition of Worlds End on December 30. On "Strictly Business," Eric Bischoff expressed concern about the increase, especially during such a busy time for college football.
"It's a tough time. It's gonna be interesting to see how that unfolds," Bischoff warned. "First of all AEW's success in terms of ticket sales for big venues ... has not been a pretty picture, and Nassau Coliseum is a big building. I'll be interested to see how they do with tickets." Bischoff says that the timing of the event is also awkward, as fans are coming off the expensive Christmas holiday. "It's gonna be an interesting experiment." Bischoff says that AEW's increase in pay-per-views over the past year will also be an interesting factor, noting that his tenure in WCW saw similar calendar expansion, as the then-WCW boss felt the events were the only revenue stream he could control.
"That also puts more pressure on your television," Bischoff warned, "because a pay-per-view, you only have four of them a year, they're an event in and of itself. The fact that you're doing a pay-per-view makes it an event, and you don't have quite as much pressure on your storylines and your arcs and your character evolutions in those arcs. You're simply putting on a big event, and people get excited about the prospect ... but as you add more pay-per-views, it becomes increasingly difficult when you don't have disciplined, structured story and build and arcs leading to those pay-per-views." According to Bischoff, what he sees as AEW's inconsistent booking strategy could end up having an effect on the television product, but doesn't necessarily think it would be negative, hoping the pressure would force AEW to take a new approach to its stories and programs.