Adam Copeland Enters Six-Man Tag Team Match Opposite Christian Cage At AEW Full Gear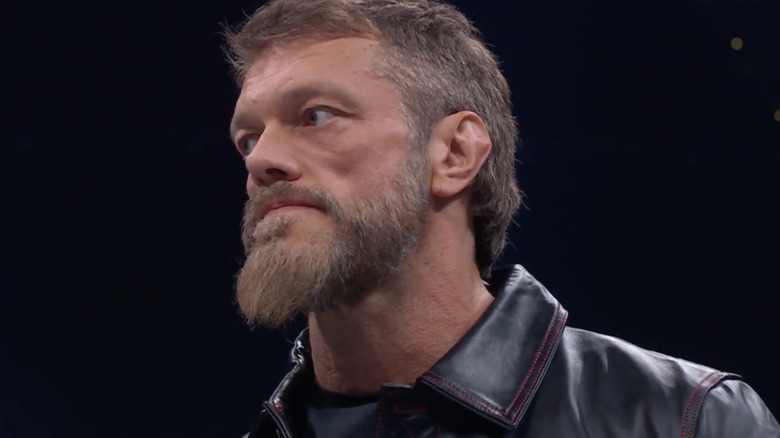 AEW/X
A week after being challenged to open his eyes when it comes to not wanting to fight Christian Cage, all it took was a threat from Cage about snapping his neck for Adam Copeland to change his mind. Copeland will align himself with Sting and Darby Allin in the upcoming six-man tag team match against Cage, Luchasaurus, and Nick Wayne at Full Gear.
In an interview segment with Tony Schiavone, Copeland expressed his respect for both Sting and Allin despite the non-commitment to their cause to this point. But in turning the segment toward the question at hand, Cage's music hit and he and his cronies interrupted Copeland, making their way toward the ring.
Cage asserted that he was going to retire Sting at Full Gear whether he liked it or not and reminded the crowd that Allin's "gimp arm" was due to the damage he inflicted at WrestleDream. But a reminder he didn't need to give was about Copeland's neck problems, encouraging his former tag team partner to back down from him or else he'd snap his neck and leave him in a wheelchair for the rest of his life to let his kids wipe the drool off his face. Cutting his rant short, Cage said it was clear that none of this was getting through to Copeland, so he cued Luchasaurus and Wayne to attack.
After Sting and Allin made the save, Copeland made his choice. "You want to snap my neck? I am gonna beat your a**!" he exclaimed. 
The match at Full Gear will mark the first time since the 2021 Royal Rumble that Copeland and Cage compete in the same match. The two haven't squared off directly since Copeland beat Cage on "WWE Raw" in May of 2010.