AEW's Eddie Kingston Explains Why He's Able To Shrug Off Body-Shaming Fans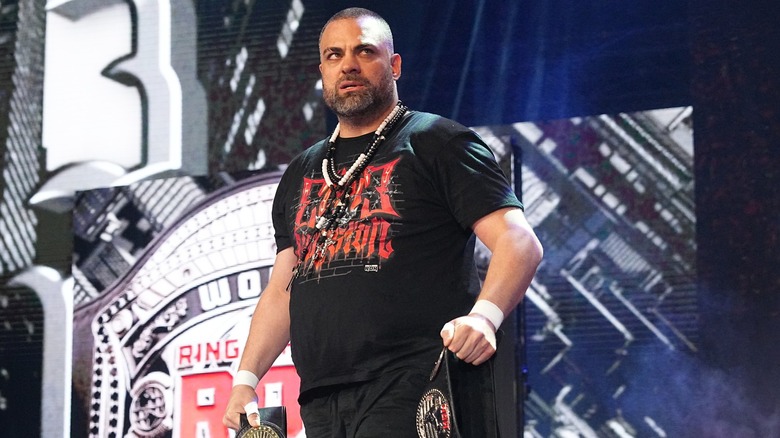 AEW
ROH World Champion Eddie Kingston has never allowed his detractors — especially those negative about his physique — to affect his mental health. In a recent interview with Adrian Hernandez, Kingston pointed out how others, such as Kevin Owens, have been on the receiving end of constant criticism on social media by those insistent on shaming their bodies and commended his WWE colleague for ignoring the insults and focusing on his craft.
"It never bothered me because they don't know the work I put in," Kingston said. "They don't know that I go to the gym; they don't know I do Muay Thai and Jiu-Jitsu. They don't know the work I put in or the hours I spend getting ready to get in the ring. Look, my belly's a little bit bigger ... Bro, I like ice cream, I like Five Guys. I saw a McDonald's over here, I like to eat. But I still work out and bust my ass," he added. "I still go 110% in that ring — even if I can't go. Even if my body's f***ing turning on me, I still go 110% and give what I got."
Kingston noted that a lot of his body-shamers "have never been in the ring," which is why he doesn't take their opinions to heart. However, it does hit a nerve and bothers him quite a bit if one of his wrestling peers questions his physical condition. "That gets under my skin a little," Kingston admitted. In August 2022, veteran wrestler Disco Inferno asked Kingston to "Do the f***ing work and stop embarrassing this industry." The inflammatory tweet led to a heated back-and-forth between Kingston and Inferno with the AEW star referring to Inferno as a laughing stock.