Timothy Thatcher Explains How One-Off AEW Bout With Bryan Danielson Came About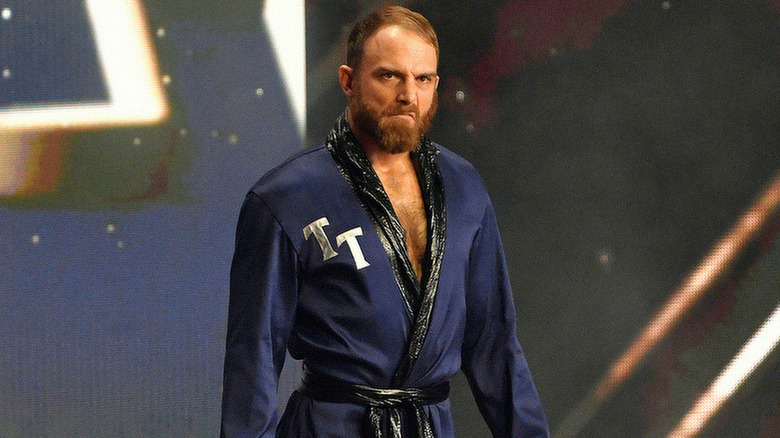 AEW
Heading into AEW Revolution 2023, Bryan Danielson was tasked with winning five matches in a row in order to guarantee himself a shot at MJF's AEW World Championship. One of the challengers in this journey was Timothy Thatcher, who is currently signed to Pro Wrestling NOAH – a company that's based in Japan. During a recent interview with "The Wrestling Perspective Podcast," Thatcher recounted the process of coordinating his "AEW Dynamite" match against Danielson, which took place in Dayton, Ohio in the United States. 
"I am in Japan, and it's 1 [o'clock] in the morning because of the time difference, and I get [a buzz on the phone]. 'Would you like to wrestle Bryan Danielson next week on TV?' 'Yeah, but I'm in Japan right now. I live in America. I'll be home in this much time. Can we do it then?' Thirty minutes passes [and] I doze back off. [AEW messages back] 'What if we fly you from Tokyo?' 'Yeah okay, but I gotta work for NOAH that week, too.' So I literally flew into Dayton, Ohio, had the match with Mr. Bryan Danielson, and immediately flew right back to Japan to wrestle then the next two days for NOAH.' Needless to say, when I got there I was just like 'Yeah, whatever happens is going to happen,' because ... I'm just a man that's passing through all the time. Thankfully, again, it was against Bryan Danielson, who is easily the most famous, and probably one of the best wrestlers I've ever been in the ring with, easily by leaps and bounds."
With Thatcher running on a tight schedule, the two performers didn't have the opportunity to plan out their match in much detail. Thatcher, however, had complete faith in Danielson to take the lead in their "Dynamite" bout, which ran just under 14 minutes.
If you use quotes in this article, please credit "The Wrestling Perspective Podcast" and provide an h/t to Wrestling Inc. for the transcription.