WWE's Bruce Prichard Explains Why He Couldn't Have Seen Ricky Steamboat As A Top Guy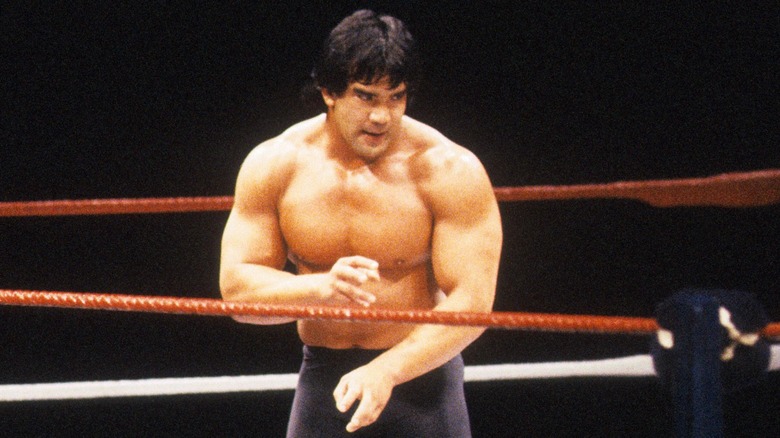 B Bennett/Getty Images
Ricky Steamboat had a brief run with the NWA World Championship in 1989, but he's among the shortlist of all-time greats who never held the WWE Championship. In fact, except for his iconic rivalry with Ric Flair in NWA/WCW, "The Dragon" never received a sustained run as a main eventer at any juncture in his illustrious career. On "Something to Wrestle," Bruce Prichard — a member of WWE's creative team for decades — was asked if he thought Steamboat had the requisite tools to be "a top guy" in the company.
"No," Prichard responded without hesitation. "I don't think Ricky had the verbal skills to be the top guy. I think he was a little too ... I loved Ricky's work — Oh my god, Ricky's work was fabulous, but I just don't know that, to the masses, he could really captivate. He definitely had a charisma to him, he was awesome — unbelievable athlete and talent. But I'm not sure that people believed what he was saying. I'm not sure Ricky believed what he was saying." Prichard reiterated that Steamboat was an incredible worker, but lacked certain intangibles to win over the casual fanbase, "Ricky just knew he could go out there and do whatever the hell you want him to do — because he was that good. But I think the verbal skills are what would have prevented Ricky from ever being the top guy."
The high point of Steamboat's WWE career was undoubtedly at WrestleMania 3, where he defeated Randy Savage for the Intercontinental Championship in a match that ranks #2 in WWE's list of 25 greatest WrestleMania matches. Despite taking the loss, it was Savage who ascended to the main event scene, while Steamboat remained in the mid-card before his departure the following year, in 1988.