Saudi Movie Star Ibrahim Al Hajjaj Takes Out Grayson Waller At WWE Crown Jewel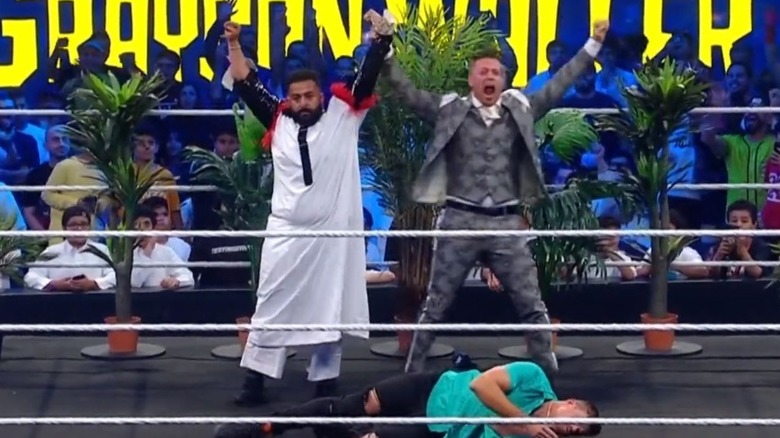 Peacock/WWE
A major Saudi Arabian movie star made an appearance at WWE's Crown Jewel premium live event on Saturday, a surprise to many among the various title bouts and feud-ending matches on the card. Ibrahim Al Hajjaj was initially set to appear on an episode of "Miz TV," but ended up taking out Grayson Waller with a People's Elbow by the end of the segment.
Al Hajjaj is an actor and comedian who has starred in one of the highest-grossing films in the country in recent memory. The Miz brought Al Hajjaj out to the delight of the crowd, but they were interrupted by Waller shortly after the segment began. Waller came down to the ring to argue that his talk show, "The Grayson Waller Effect," is better than "Miz TV." 
After a back-and-forth argument between the two talk show hosts, Al Hajjaj stepped in and said he believed "Miz TV" is better. Al Hajjaj kicked Waller and Miz hit the Australian Superstar with a Skull Crushing Finale. While Waller was laid out, Al Hajjaj set up for the People's Elbow, mimicking Dwayne "The Rock" Johnson in his theatrics while hitting the ropes before connecting on Waller who was on the mat. AL Hajjaj and The Miz celebrated in the turnbuckles as the fans in the Mohammed Abdu Arena watched on.