Matt Cardona Says A WWE HOFer And Recent AEW Wrestler Is 'A Dream Opponent' For Him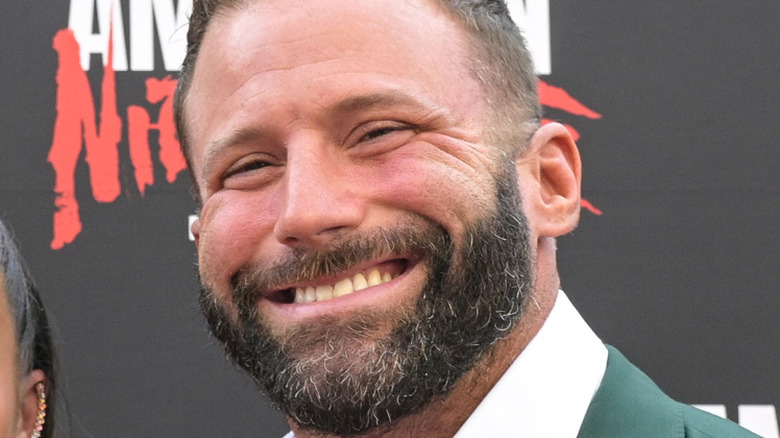 Wwe/Getty Images
Matt Cardona has shared another dream opponent of his, this time it's WWE Hall of Famer and current AEW wrestler Rob Van Dam. Cardona wrote on X (previously known as Twitter), "Doubt anybody could afford that match but @TherealRVD is a dream opponent of mine."
It's worth noting that the pair have been in two matches together while they were both in WWE in 2013, though they weren't ever in a singles match together. The first time was on the September 23, 2013, episode of "WWE Raw," where they were part of an 11 on Three Handicap Elimination match, while the second time was a house show bout on September 29, 2013, where RVD won a World Heavyweight Title No. 1 Contendership 30-Man Battle Royal.
Who else as of late has Cardona said was on his dream opponent list? WWE Hall of Famer and current AEW talent Adam Copeland, John Cena, and Cody Rhodes all appeared on the list — just to name a few. Cardona has been keeping busy since his WWE release in April 2020. Over the weekend, Cardona and Steph De Lander, known as Deathmatch Royalty, defeated Charli Evans and Everett Connors at the Game Changer Wrestling event, Please, Buddy. Cardona is also booked for Major League Wrestling's Fightland event in a Loser Leaves MLW match against Mance Warner.
RVD, on the other hand, has been busy wrestling in AEW alongside the FTW Champion HOOK. His last match was on the October 25 episode of "Dynamite," where he and HOOK defeated The Dark Order (Alex Reynolds and John Silver).