EC3 Talks About What It Means To Him To Be The NWA Worlds Heavyweight Champion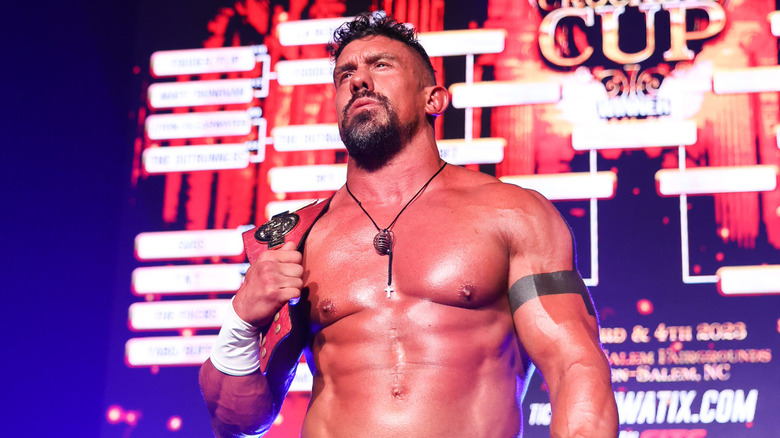 NWA/Hiban Huerta
EC3 won the NWA Worlds Heavyweight Championship at the company's 75th anniversary show, and he's taking the honor seriously. In an interview with the Toronto Sun, the former WWE Superstar explained that he's grateful for Billy Corgan trusting him as the face of the company, and they're both on the same page regarding its future.
"The fact that a man of that stature and caliber has the faith and the trust in me to A) put his championship on me and B) put me in the position to win it because, you know, I won it because wrestling is real, but also to be part of a brand vision we both kind of share," EC3 said. "We have that same vision that kind of met in different ways, with what I wanted to do with who I am, what he wants to do with the NWA, and how when I started, that maybe didn't work out the way it was supposed to. It worked out perfectly because it put me in the position to be a part of this."
Moreover, EC3 sees the title reign as a comeback of sorts. During the interview, he discussed the internet trying to "cancel" him by making up lies and facing criticism for his Control Your Narrative promotion, which received flak for booking controversial wrestlers like Austin Aries. EC3 claimed these situations cost him financially and led to some people not wanting to work with him anymore. With that in mind, he's grateful to represent the NWA at the highest level.
Of course, the NWA Worlds Heavyweight Championship has a rich legacy, having been held by some of the most legendary performers in the business, including Ric Flair, Harley Race, and many others. EC3 is proud to be part of that heritage, as he told the Toronto Sun that the title's history is part of the appeal of being the champion.