Why Booker T Isn't Surprised To See Ric Flair In AEW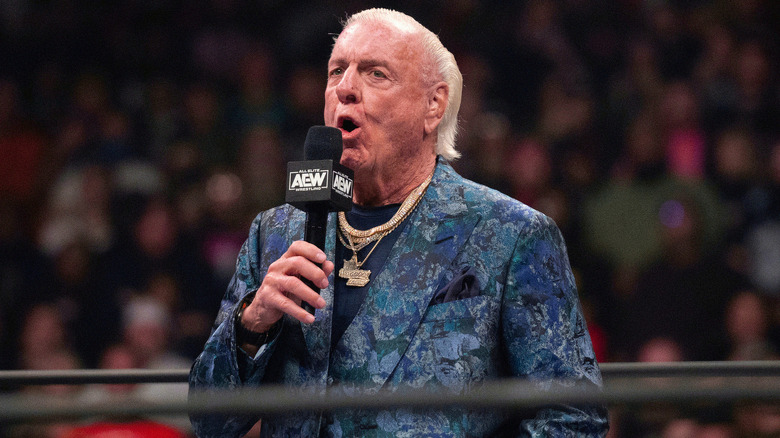 AEW
Booker T has commented on "The Nature Boy" Ric Flair being signed on to be an on-screen talent in AEW, and why he was unsurprised and thrilled for the former world champion.
"I'm not surprised. How many times have I said it?" Booker said on the "Hall of Fame" podcast. "If there's a check out there, one of the boys gonna pick it up." The WWE Hall of Famer explained that when a person like Tony Khan is involved with wrestling, long-time talents know that he's likely to make a significant offer to anyone with name recognition, and people like Flair are always ready to cash in.
"We heard about the bag," Booker said with a chuckle. "I'm wondering about the damn bag now." The former World Heavyweight Champion mentioned that he has a contract coming up with WWE, and joked that he's going to take a page out of CM Punk's playbook and court the best offer.
With Sting's retirement imminent, but a mystery, Booker suggests that Flair could be Sting's final opponent at Revolution 2024. Flair has been cleared to take bumps in the ring, and is open to one more match, despite wrestling his retirement match last year. Booker T says that the match could be the perfect send-off for both Flair and Sting and feels the match could draw 20,000 fans. 
While many believe Flair's best days are behind him, Booker T is a little more optimistic about the WWE Hall of Famer's future. "There's a lot of value left in Ric Flair," he said.