Why Corey Graves Took Being Replaced By Pat McAfee On WWE SmackDown Personally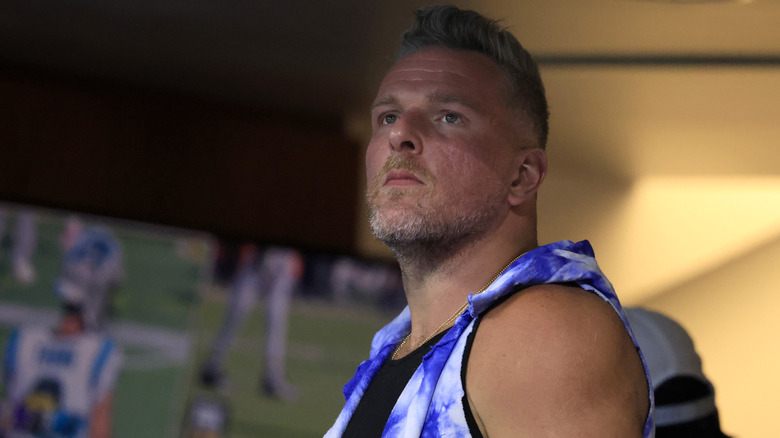 Justin Casterline/Getty Images
In April 2021, Pat McAfee replaced Corey Graves as Michael Cole's partner in the "WWE SmackDown" commentary booth, with Graves moving to the "WWE Raw" brand. After the duo was disbanded due to McAfee joining ESPN's College GameDay panel, Graves took it upon himself to constantly berate McAfee every time the former NFL punter returned to WWE television, and it appears some of that tension is legitimate. 
During his recent appearance "The Kurt Angle Show," Graves admitted that he "was a little upset" when he found out he was being replaced by McAfee. 
"I think the world of Pat," Graves clarified. "He, again, is such a strong persona — it's easy for me to play off of and rib him and get under his skin. I was a little upset professionally that I found out, like, 'Hey, you're going from Friday Night 'SmackDown' on FOX, the network show that you kicked off with Michael Cole ... I took it a little personally, not because of Pat but it was sort of like, 'I've paid my dues here. I'm the guy that shows up week after week. I'm the guy that did both 'Raw' and 'SmackDown' for two years straight, never complained and this is how you do me?'" 
Graves revealed that his wife, WWE superstar Carmella, had to calm him down after he blew a gasket about being replaced, but quickly reiterated that he had no beef with McAfee. 
"She talked me off a ledge and I had a few conversations with Cole." Graves recalled. "Michael Cole is my boss/therapist. So, he talked me off the ledge as well, and looking back, you know, it's business ... It was a shock that I didn't see coming but, you know what? I dealt with it. We're all better off for it, I think."