Booker T Says Former WWE Star Is 'Lying, Lowdown Scum' Who Tried To Sabotage Career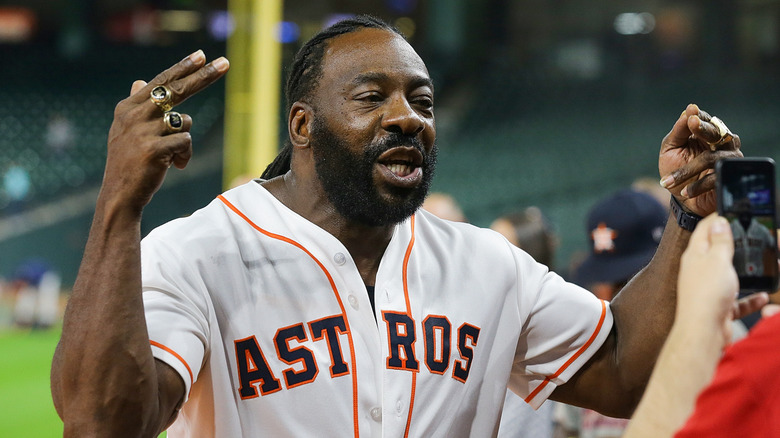 Bob Levey/Getty Images
Over the course of the 1990s, former WWE star Ahmed Johnson rose from obscurity to a role on television in front of millions of viewers each week before it all fell apart. Wrestling fans who watched WWE in the mid-90s will likely harbor memories of Johnson, but it doesn't seem very likely that the former WWE Intercontinental Champion has a Hall of Fame induction waiting for him in the future.
Part of the issue is that many in the industry don't appear to think very highly of Johnson. One of those individuals is "WWE NXT" commentator Booker T. For a brief period, Booker T and Stevie Ray were joined under the Harlem Heat umbrella by "Big T," which was Johnson's WCW moniker. Johnson had left WWE the previous year and spent some time in the rival company before it collapsed in 2001. According to Booker on "The Hall of Fame" podcast, Johnson is considered persona non grata based on their experiences together.
"I saw Ahmed Johnson about two months ago at the airport," Booker said. "We made eye contact. He looked at me and he smiled, and I turned left and I went to the counter and I proceeded to get on the plane. I didn't even speak to him. ... He's a notorious, lying, lowdown piece of you-know-what."
Booker's harsh words were sparked by recent comments Johnson made regarding his time in WCW, with Johnson claiming that Stevie Ray asked him to be his tag partner as a favor because he was having issues with Booker at the time. Booker pushed back on this and proceeded to speak on his issues with the retired wrestler. Additionally, Johnson recently claimed that Booker never liked him because Johnson became close with Stevie Ray while Booker was in prison.
Booker T Details His History With Ahmed Johnson
Elaborating on his opinion, Booker accused Johnson of lying about playing for the Dallas Cowboys as well as being in a gang. The "NXT" commentator then began refusing to call him "Ahmed Johnson," instead using his real name, Tony Norris. The five-time WCW Champion said he would deal with Johnson if the former Intercontinental Champion ever approaches him but doesn't intend to acknowledge him otherwise.
The history between the two goes back to their days in training before either man had made it to a major wrestling promotion. Booker recounted a time in wrestling school when the two got into a disagreement because Johnson wanted to practice powerbombs and Booker denied him. Things reportedly got heated but never escalated physically. Despite that encounter, Booker said he never had any problems with the man.
Going over Johnson's Wikipedia page during the podcast, Booker was informed that it says Johnson trained at Booker's wrestling school in the early 2000s. However, Booker said that was not true.
"[I've known him] since I was 25 years old," Booker said, noting that Johnson wrestled in WCW for just six months. "I had no heat with him in WCW, but he said he tried to sabotage my career in WCW by going out and having a match with me and purposefully going out and trying to make the match as bad as he possibly could because he knew WCW was about to give me a push."
'I Really Think It's Gotta Be Jealousy'
According to Booker, trying to sabotage another person's success because of how you feel about your own inadequacies is one of the most despicable things a person can do, leading to his negative feelings toward Johnson. The WWE Hall of Famer then stated that the reason Johnson didn't find lasting success in either WWE or WCW was because of Johnson's actions — not anybody else's.
"There's a reason why there's not a lot of people that have a whole lot of good things to say about Tony Norris," Booked continued. "Just about every wrestler you talk to is going to say almost the exact same thing, verbatim."
Booker was then asked what issues he believes Johnson has with him. The former King of the Ring winner ventured a guess that it has to do with Booker's talent.
"I really think it's gotta be jealousy of how I excelled in my career, and it was like that from day one at the wrestling school," Booker stated. "I was always the best guy at the school. I was always the guy that was excelling and going out and thinking about it from a psychology perspective." 
Ironically, Johnson believes his issues with the WWE and WCW locker rooms also stem from jealousy. Though they started from the same place, it's undeniable that Booker found greater success than Johnson, and he believes it led to some animosity between the two. Before wrapping up the discussion, Booker took some final shots at Johnson, referencing his weight as well as his income level.
If you use any of the quotes in this article, please credit "The Hall of Fame" with a h/t to Wrestling Inc. for the transcription.