Booker T Invokes Former WWF Star As Proof WWE Could Bring CM Punk Back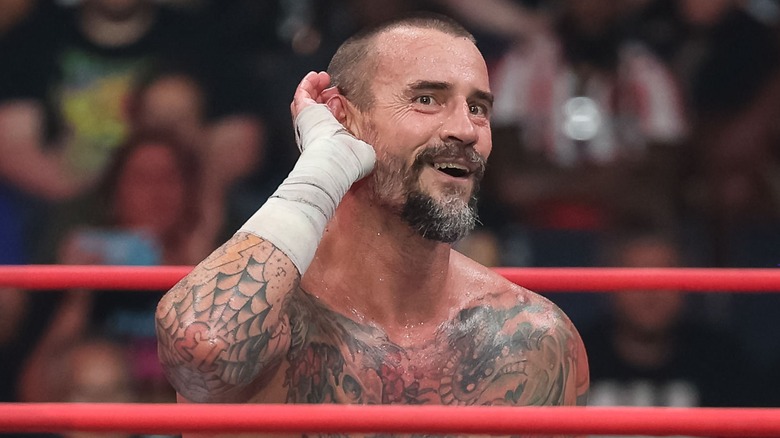 AEW
Booker T feels that CM Punk's return to WWE could be a possibility, comparing his potential return with that of another legend who left WWE under acrimonious circumstances.
The idea of The Ultimate Warrior returning to WWE in 2013 was unfathomable considering the bridges he burned with the company in years prior, not to mention the series of lawsuits he filed against the Stamford-based promotion. Yet, WWE did bring back The Warrior to the fold — inducting him into the Hall of Fame, acquiring his likeness for video games, and naming an award in his honor to recognize those who embody "the indomitable spirit of the Ultimate Warrior." 
On the "Hall of Fame" podcast, Booker T explained why CM Punk — another former WWE Champion who departed from the company on bad terms — could follow in the footsteps of The Warrior and eventually bury the hatchet with WWE. "I'm not gonna put it past WWE to hire him back," Booker said. "I do know that just about everyone who left WWE has come back — no matter what problems they've had. Even the Ultimate Warrior — I don't think anyone thought he would come back because he was more hated than Ahmed Johnson [laughs]."
In recent years, others such as Bruno Sammartino, Bret Hart, Jeff Jarrett, and Scott Steiner, who also had strained relationships with the WWE, returned to the company to receive their Hall of Fame inductions. As such, the idea of "The Second City Savior" returning to WWE certainly can't be ruled out. 
According to a report from Dave Meltzer, however, WWE recently turned down Punk's attempt to return to the promotion. The report added that WWE could always have a change of heart down the road, as has been the case with many other controversial figures in recent memory.