Why Kevin Sullivan Believes Ric Flair's Debut Gave AEW A Big Momentum Swing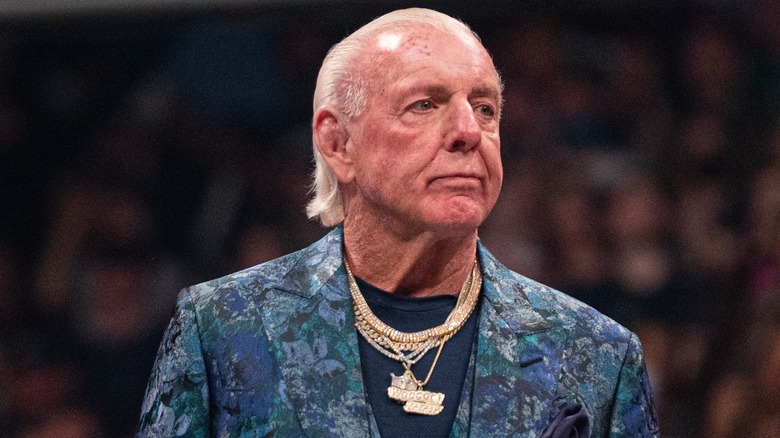 AEW
Ric Flair's AEW debut has evoked mixed responses from the wrestling community, but former WCW head booker Kevin Sullivan believes the arrival of "The Nature Boy" lends a huge shot in the arm to Tony Khan's promotion. On the latest "Tuesday with the Taskmaster," Sullivan explained the many ways in which Flair can help AEW's product and bring more eyeballs to it.
"Ric gave them a momentum swing, because, for some reason, everybody loves Ric Flair," Sullivan said. "I mean, he's on all the podcasts — It's amazing what he does and I've seen him on the Joe Rogan podcast ... he's everywhere. He goes gives talks to the Philadelphia Eagles ... he does so many things."
While he's thrilled to see a 74-year-old Flair still looking spry on television, Sullivan admittedly has no intention to see his former rival and colleague wrestle again. He discussed Flair's potential in-ring return when asked to comment on Flair wanting to go one-on-one with MJF and possibly even get physical with the AEW World Champion.
"I certainly hope not," Sullivan said of Flair's possible in-ring return. "I love Ric. I think we all love Ric — He's one of those guys that can do no wrong, but I don't want to see him get hurt, especially the last time in front of his children and grandchildren. He has been the standard bearer, whether we like it or not, for at least two or three generations. I don't want to see him die in the ring."