Beyond The Mat Wrestling Documentary Set For First-Ever Blu-Ray Release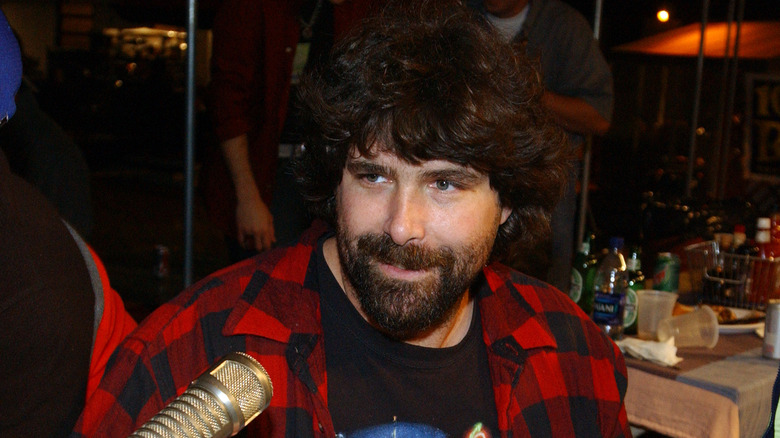 Kevin Kane/Getty Images
The late 1990s were an exciting time in professional wrestling, both for fans as well as those within the industry. Business was booming, and it was at least in part due to the way performers were blurring the lines between what was real and what was fiction. One of the best-remembered peeks behind the curtain was the documentary "Beyond the Mat," which looked at the lives of various wrestlers, primarily focusing on Mick Foley, Terry Funk, and Jake "The Snake" Roberts.
Availability of "Beyond the Mat" has always been spotty, but the beloved documentary is receiving a high-definition release on Blu-Ray courtesy of Via Vision Entertainment. The company is based in Australia, which will likely mean greater shipping costs for consumers in other parts of the world. However, as of now, it is the only place to find the film on Blu-Ray. Via Vision's website states that the Blu-Ray will be released on November 15, 2023.
"Beyond The Mat" is rare for featuring approval from WWE to film behind the scenes, explaining the access to performers like Foley. After the documentary was finished, however, Vince McMahon was reportedly incensed, ordering the company to halt any mention of the movie. Director Barry Blaustein later claimed McMahon tried to block the film's release because he was angered he didn't get a cut of the profits.
One of the most memorable sequences in "Beyond The Mat" documents the aftermath of the infamous "I Quit" match between Foley and Dwayne "The Rock" Johnson at WWE Royal Rumble 1999. The match saw Foley take many unprotected chair shots to the head while his family watched from the crowd, fearing for his well-being, and the doc showcased his condition backstage. According to Sean Waltman, The Rock immediately had regret over his actions during the match.