Booker T Believes This Former WWE Star Deserves More Credit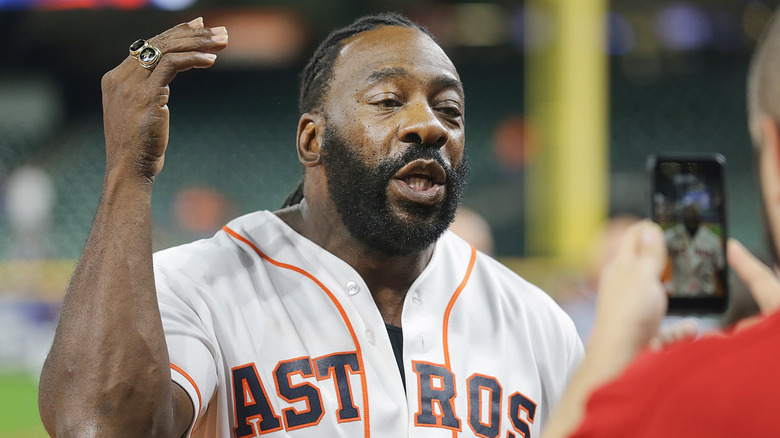 Bob Levey/Getty Images
There's no shortage of underrated performers in pro wrestling history, but Booker T believes few are more underappreciated than former WWE star Mr. Hughes, aka Curtis Hughes. On his latest "Hall of Fame" podcast, the two-time Hall of Famer credited Hughes for inspiring his early journey in the business, especially since he could identify with a fellow African American trying to make a name for himself.
"He was one of the brothers that I used to actually watch and say, 'Man, this dude is good.' People don't really give Mr. Hughes the credit he really deserves," Booker said. "Maybe because he didn't make it to the world championship level? I don't know, but this guy was truly one of the best workers of that time, and perhaps one of the most underrated wrestlers of that time."
The subject of Hughes came up when Booker revealed he recently hired the retired wrestler to be a part of his Reality of Wrestling crew as a coach and talent evaluator. Hughes had previously also served as the head trainer of the popular WWA4 wrestling school, which has produced talents such as Apollo Crews, Heath Slater, Moose, AR Fox, and several other active wrestlers competing for promotions such as WWE, AEW, TNA, and NJPW. 
During the course of his career, Hughes had multiple stints as a wrestler with promotions such as WCW, WWE, and ECW, before switching to the role of a manager. In the late '90s, Hughes served as the bodyguard to heels such as Triple H and Chris Jericho across two separate stints in WWE. However, both stints were short-lived and Hughes was released by the company in late 1999.