Dave Meltzer: Ric Flair Has Two Different Contracts With AEW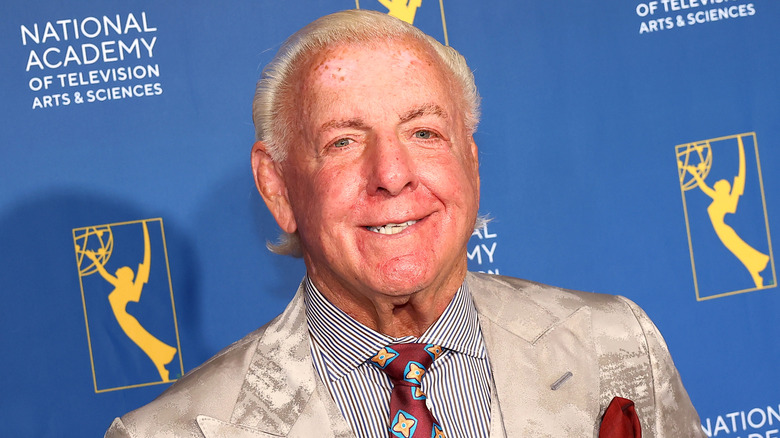 Arturo Holmes/Getty Images
More details have emerged regarding Ric Flair signing with AEW. The 74-year-old was announced as having signed a multi-year deal with the promotion after his surprise appearance as a 'gift' to Sting ahead of Sting's retirement at Revolution 2024. It was also announced that AEW would be pushing Flair's Wooooo Energy drink at venues going forward. Dave Meltzer shared further insight on the matter while appearing on "McGuire on Wrestling", explaining that Flair has two deals with the promotion: one as a performer and one for his beverage. 
Meltzer re-iterated that the multi-year deal as a performer surprised him. He explained that he had expected it to be a six-month deal, allowing Flair to be at the side of Sting as he builds to his retirement. But going further than that, he isn't sure what Flair offers the promotion in the long-term. Meltzer divulged that he heard talk that Flair could manage his son-in-law, Andrade El Idolo, but opined that the time for that may have been two years ago. It was also two years ago that sexual assault allegations emerged against the "Nature Boy" for his actions on WWE's 2002 "Plane Ride from Hell". 
The main concern shared by Meltzer was that AEW has several older names appearing on their programming, namely Billy Gunn, Christian Cage, Adam Copeland, Jeff Jarrett, and of course Sting. He understands the decision somewhat; with AEW entering TV rights negotiations there is naturally a desire to use the bigger names to attract a bigger audience. But he feels it may get to the point where nostalgia runs it course and AEW is known as the old company, "WCW did the same thing, TNA did the same thing and the results are the same."