Corey Graves Explains Why It Was Surreal For Him Signing His WWE Contract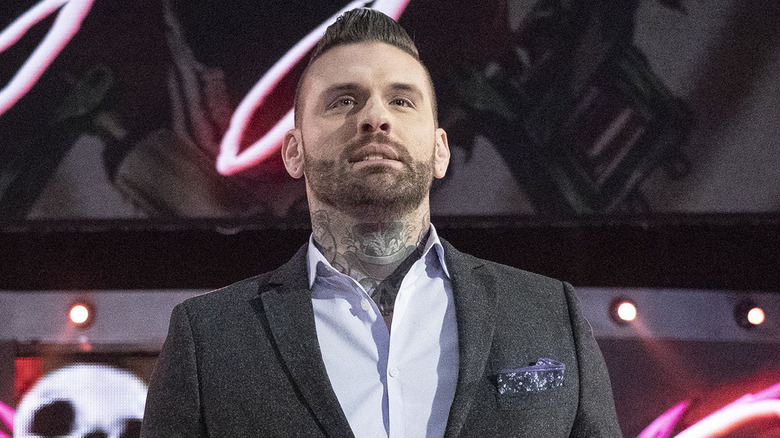 WWE
As big as the WWE roster seems, it's easy to overlook that only a tiny fraction of wrestlers actually make it to the sports entertainment juggernaut. For someone like Corey Graves, who worked with many wrestlers in the indies that never caught WWE's attention, the call from WWE in 2011 still feels surreal.
"By that point, I had all but accepted the fact that [the WWE dream] was never going to come true," Graves told "The Kurt Angle Show." "I'd been toiling away on the independent scene, and I was having a great time, but, at that point, I had children — I had my first son when I was 24." Graves revealed he missed the birth of his first son, as he chose to attend a wrestling tour in Spain to "make a couple of thousand dollars" that he needed to support his growing family. When his second child was born soon after, Graves was forced to take a day job. "I either needed to go get a real job and support my family, or keep chasing this dream — so I was working at 911 for Allegheny County here in Pittsburgh."
Graves had Mondays and Tuesdays off from his job as a 911 dispatcher, and incidentally, this was a time when "WWE Raw" and "WWE SmackDown" aired on back-to-back nights. When WWE rolled into his hometown of Pittsburgh, Graves received a call from an ECW legend working in the WWE front office. 
'I had absolutely no expectations'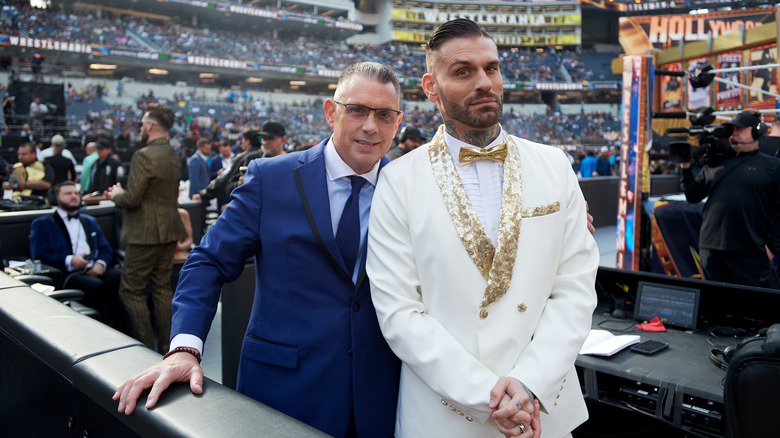 Unique Nicole/Getty Images
"Tommy Dreamer would book all the extra talent, and he called me and said, 'Hey, we want you Monday and Tuesday in Cleveland and Pittsburgh,'" Graves recalled. "And I was like, 'I could absolutely use an extra 500 bucks each day, to bring home to the baby and feed my family.' That's the only reason I said 'Yes.' I had absolutely no expectations that I was going get signed or they even had any interest."
To Graves' surprise, he had fruitful conversations with WWE executives while working as an enhancement talent, and six weeks later, landed a developmental contract with the company, getting assigned to the FCW system where others such as Roman Reigns, Seth Rollins, Bray Wyatt, Charlotte Flair, and Jon Moxley were also being trained. During his time in FCW, Graves struck up a friendship with Wyatt, whom he credits for helping him coin his "Corey Graves" wrestling name. Thereafter, Graves had a brief stint in "NXT," but a series of concussions derailed him from becoming a WWE Superstar. Yet, Graves found a lane for himself in announcing, something he credits his father for.
"[Wrestling] is quite literally the fabric of all my childhood memories," Graves said. "My dad is a big fan, to this day ... I grew up in the golden era with Hulkamania running wild. I don't think it was ever a choice that I made, it was just something I was born into. Wrestling was constantly on in the house ... my dad would talk about Ric Flair and The Road Warriors. I kinda had a crash course [on wrestling] even before I could do basic arithmetic."