The Undertaker Recalls 'Ridiculous' Ordeal Rooming With WWE Hall Of Famer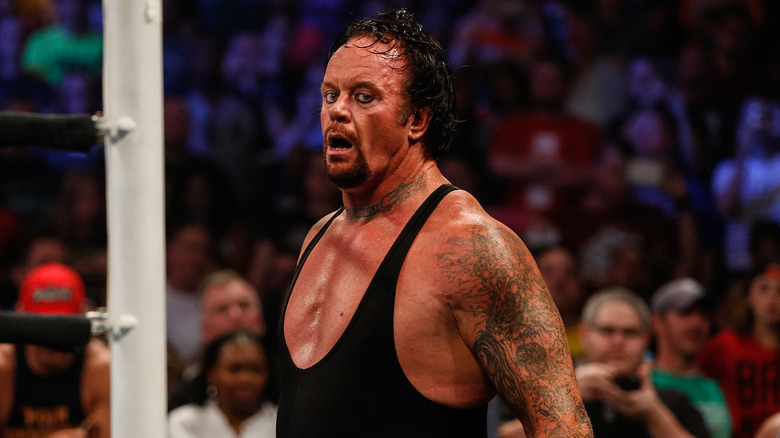 Jp Yim/Getty Images
The Undertaker has been peeling the curtain back on his 30-year career, and recently got to recall a time when he shared a room with late WWE Hall of Famer The Iron Sheik. On "Six Feet Under with Mark Calaway", 'Taker set the scene for the, in his words, ridiculous ordeal. "I end up back in my hotel room around 1:30 in the morning," he started, "The Sheik comes in maybe 30, 45 minutes after I did. I'm just there, right there on the edge of some good sleep and he goes, 'Ah excellent Marky Bubba! You get in some good rest.' He lays down and falls asleep. It's a couple of hours later and I wake up freezing."
Undertaker woke up to a chilly wind in the early morning, getting up to find Sheik standing on the balcony doing 'Hindu squats' in nothing but his wrestling tights. He said he asked Sheik what he was doing, only for the veteran to tout the health benefits of the exercise. 'Taker said that as he was trying to get back to sleep, Sheik walked back in to his relief as the room got warmer. But the ordeal was far from over. 
"The next thing I hear, the shower's on. Full steam ... I've got the pillow over my head and I'm trying to thaw out ... I'm still a little p***ed but I'm a greenhorn. I'm a rookie, I've got no say ... I hear the water turn off and I go 'Oh thank gosh' and I've got an hour. It's ridiculous. And then the next thing I hear the blowdryer starts." This was the moment that piqued young Calaway's interest, considering Sheik was almost entirely bald: "I go in and he's blowdrying his mustache!" Sheik died in June 2023 at the age of 81. Tributes poured in for the legend from all over the wrestling world, AEW and WWE included.