Mark Briscoe Details Knee Injury That Kept Him Out Of AEW Action For Months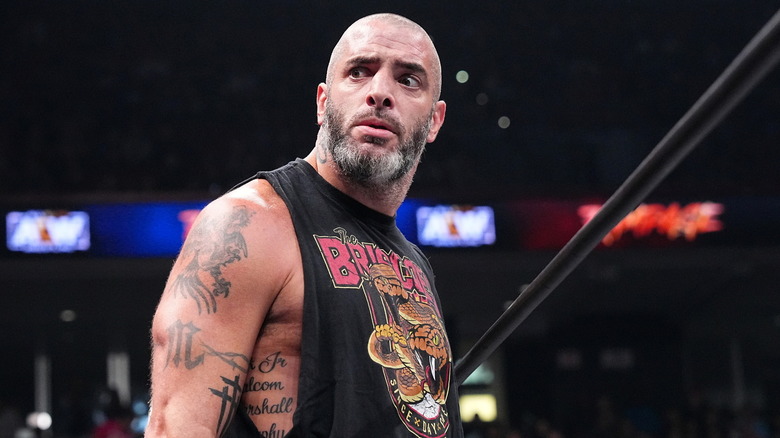 AEW
Mark Briscoe returned to AEW this month after a spell on the sidelines with a knee injury. Briscoe explained how it happened while talking with "Sports Illustrated". "I was changing one of our baby's diapers, and that knee went out on me," said Briscoe. "The pain was so sharp, it dropped me."
Briscoe was due to challenge Claudio Castagnoli for the ROH World Championship at Death Before Dishonor in July, but was replaced by PAC when the injury got too much to ignore. He explained that his knee had been suffering since 2018, recalling tweaking it in a match against Jay Lethal ahead of CMLL's Grand Prix. He had actually torn his MCL, PCL, and meniscus cartilage, as would later be discovered during an MRI. He didn't wrestle at Grand Prix, but he recalled being back within a month after getting a cortisone shot and a knee brace. But the injury reared its head again this year. 
"This June, I had the Concession Stand Match with Jarrett, and it was about the time they announced it was me vs. Claudio at the summer pay-per-view," Briscoe explained, "I get home, had the sharp pain when I was changing the diaper, and then that started happening multiple times a day and my knee kept locking up." Briscoe said that while he was hesitant with all his plans in ROH, he knew it couldn't be ignored and went to Tony Khan. He apologized to Khan, but the boss understood and had him seen by the Jacksonville Jaguars' doctor, and they discovered a floating piece of cartilage was causing the issue. Briscoe said he is happy to be back and feeling great. He joked that he doesn't handle free time well, "Next thing you know, my wife is pregnant."