Why Eric Bischoff Calls Tony Khan's AEW Special Announcement A 'Misfire'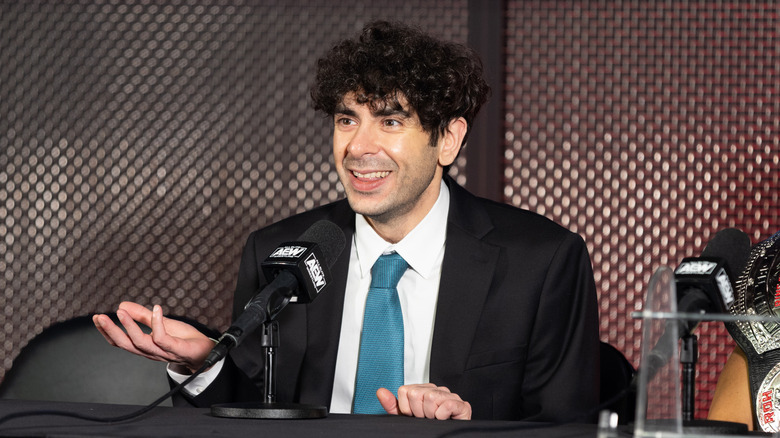 AEW
AEW President Tony Khan's special announcements have slowly become something of a joke amongst those interested in wrestling. They have grown far more frequent this year, but it appears as though each and every announcement seems to carry less magnitude. The latest announcement saw Khan appear on "AEW Dynamite" to issue a statement that tickets will go on sale for All In 2024 in London, England, on December 1. Once more, fans were underwhelmed and have made their feelings known. Speaking on the matter during his "83 Weeks" podcast, Eric Bischoff defended Khan and declared it a simple "misfire."
"It was a misfire, that's all," he started before justifying, "I mean I get it, he's proud of it. He should be. [It's] quite an accomplishment — there's no question about that."
Bischoff said he understands why the performance of All In earlier this year would be touted, as it was such a great achievement. But the former WCW booker stressed that it was a bad choice and a misfire, and still a decision that he is sure Tony Khan will learn from. Bischoff explained, "You learn on the job. You win some; you lose some. This was a loser, a bad choice."
What Bischoff couldn't understand, however, was why Tony Khan hadn't opted to make Ric Flair the center of his announcement. Flair was announced as having signed a multi-year contract with AEW in a press release, following his debut as a gift to Sting ahead of his retirement in March of next year.
"Why didn't Tony announce Ric Flair?" asked Bischoff. "That would have been a big announcement. That would have made people go, 'Okay!' Regardless of whether you feel like, 'Boy, this is like WWE,' or not, you know, bringing Ric Flair into the company is a big damn deal. Why would you announce tickets on sale instead of Ric Flair? That's a little confusing to me, just a bad choice."