Megan Morant Lists The Most Memorable Moments Of Her WWE Career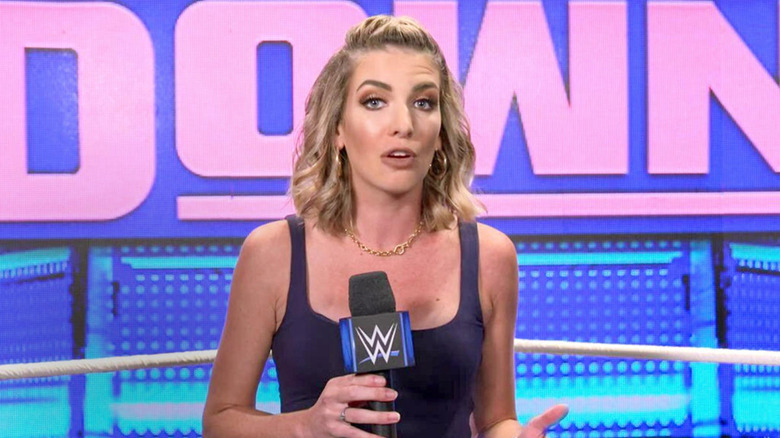 WWE
Megan Morant, the host of "Raw Talk" and "SmackDown LowDown," may have only been with the company for two years so far, but has already witnessed historic moments in recent WWE history. Morant spoke with Sam Roberts on an episode of the "Notsam Wrestling" podcast and talked about some of her favorite moments she's been part of so far. 
She said her first two premium live events with the company were some of the best.
"Right off the bat, with Cena coming back at Money In The Bank, it was like, 'Wow. Welcome to WWE,'" Morant explained. "And then the next PLE, Brock comes back," she said. "Nobody had known about it. I was standing backstage by Gorilla and all of a sudden, here comes this mammoth of a human, and he's walking out to the ring, and I'm like, 'Wow!'"
Morant also offered high praise for a former member of the "WWE SmackDown" commentary team, Pat McAfee. She said she started with the company around the same time McAfee did. She thinks highly of him because he's so kind to everyone, and stated that McAfee knows everyone's names behind the scenes, from the audio people to the camera operators.
"My first WrestleMania in Dallas, Pat McAfee being there, and then obviously 'Stone Cold' Steve Austin coming out was amazing, and nobody knew that second night that [Austin] was going to be there. So just hearing the glass shattering and him and Pat in the ring was awesome," she said. "Just really getting to watch [McAfee] be who he is was just cool from somebody [who's wanted] to be in television for a long time, whether that be in sports entertainment, whether that be in sports ... wherever it may, I think he's a star and watching what he does is really cool."