Dave Meltzer On Why Eddie Guerrero Started Out 'On A Bad Foot' In WWE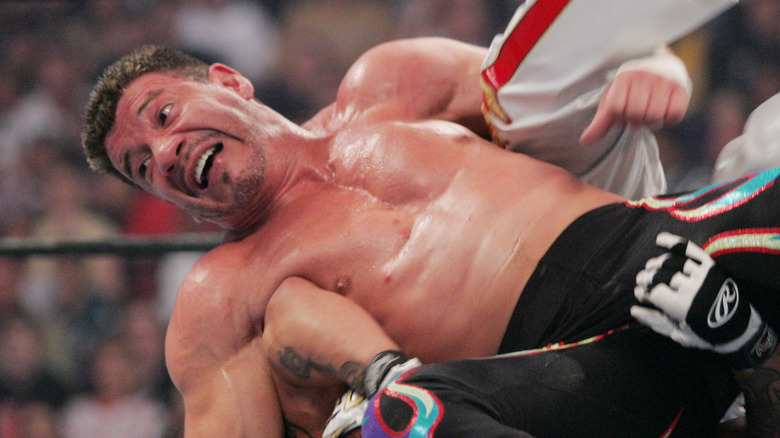 J. Shearer/Getty Images
WWE Hall of Famer Eddie Guerrero is spoken of with a hushed reverence since his 2005 passing. Such is his stature in WWE lore, that some might be surprised to learn that the former WWE Champion wasn't always the most well-liked superstar by management.
"In WWE, when he first started out, one of his first matches there, he [injured his elbow] on the Frog Splash on Road Dogg and it messed up some plans," Dave Meltzer recounted on "Wrestling Observer Radio" while remembering Guerrero on the anniversary of his death, "so he got started on a bad foot in a lot of ways." Guerrero's initial run in WWE was so troubled and plagued by his struggles with substance abuse that he was released from the company. It wasn't until his second stint that he began to give WWE reason to believe in him.
"When him and Rey Mysterio feuded ... the ratings for "SmackDown" [went up in certain markets], and there's people in WWE that had power and [Paul] Heyman was one of them at the time and that was the ammunition ... to really go with him and put him in that category where he could be a top star," Meltzer explained. The rest is history, Guerrero was soon WWE Champion, and had even been slated for another run with the world title before his tragic death at the age of 38. Recently, legendary WWE and WCW referee Nick Patrick praised Guerrero for his in-ring bona fides, as well as his creative mind.