Why WWE's Cody Rhodes Says He Would Let His Daughter Go Into The Wrestling Business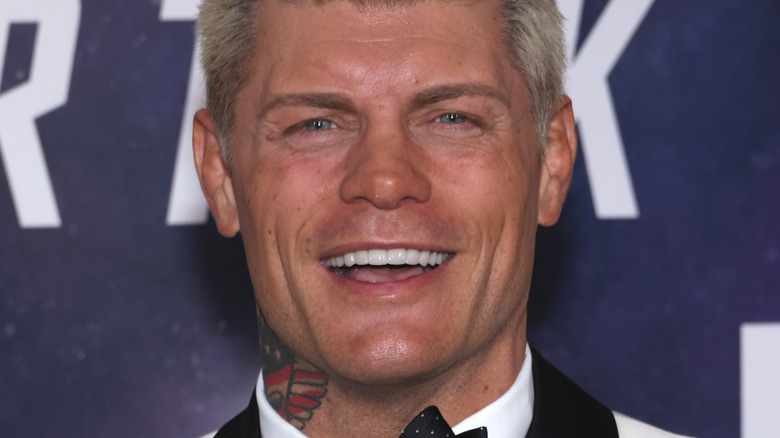 David Livingston/Getty Images
The Rhodes family is one of professional wrestling's most recognizable bloodlines, with WWE Hall of Famer Dusty Rhodes, Goldust, and Cody Rhodes each finding various success in the industry. Will this lineage continue on to the next generation though? During a recent episode of "Gabby AF," Cody contemplated the idea of his daughter, Liberty, following in their footsteps one day.
"I think it's one of those maybe cross that bridge when we get there, if we get there [things]," Cody said. "It's one thing when I'm talking about Liberty and I'm thinking about her. It's another thing if it was hypothetical, 'Hey, your son or daughter wants to get into the industry.' I would, of course, say 'go for it.' It's the greatest thing ever. For me, I've had such a charmed life and been so blessed. I was just in Germany with almost 12,000 people attached to this match I'm having, and what's going on. Especially now with the business becoming as popular as it's cooking up to be, I couldn't with a straight face be like, 'Ah, no. You don't want to try that.' I think, if anything though, I'd have to look at it from the perspective that my dad did. My dad knew that, because of his presence in the industry, that they really wouldn't accept anything less than the best."
While Cody is open to seeing his daughter wrestle in the future, he wants to be reassured that her pursuit is backed by the motivation to be the best. In surveying today's landscape, Cody pointed out that some performers view wrestling as a leisure activity, rather than a serious endeavor. Should Cody's daughter want to step into the ring, he hopes to see her develop the same competitive drive that he, and Dusty Rhodes, adopted during their careers.
If you use quotes in this article, please credit "Gabby AF" and provide an h/t to Wrestling Inc. for the transcription.