Why WWE Hall Of Famer Kurt Angle Doesn't Think He Was Ready For First World Title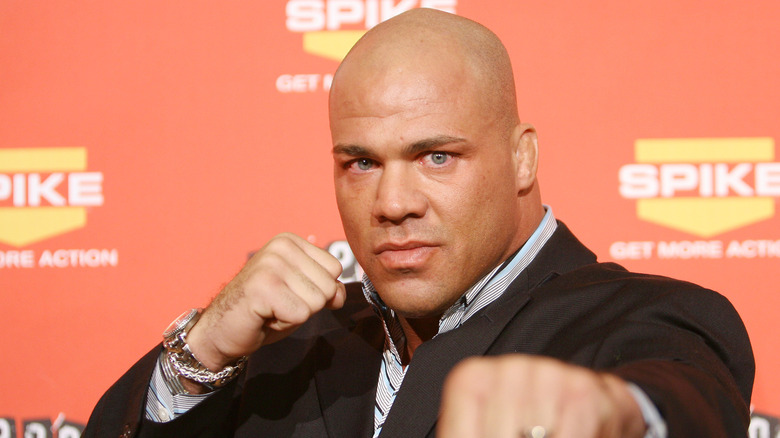 Michael Tran Archive/Getty Images
WWE Hall of Famer Kurt Angle made his WWE in-ring debut at Survivor Series 1999 and prior to his in-ring debut, Angle's first WWE appearance was on the March 7, 1999, episode of "Sunday Night Heat," where he confronted Tiger Ali Singh. Angle didn't have to wait long for his first World Championship win as he became the WWF World Heavyweight Champion in October 2000, under a year after his in-ring debut. 
However, Angle revealed on his podcast, "The Kurt Angle Show," that he wasn't ready to have a title so early on in his pro wrestling career.
"I guess, I mean honestly, for me personally, no, I wasn't ready," said Angle. "I wasn't even close to being ready, but that's because I overprepared, I've always been like that. I just felt like right here I was still in my learning phase and you know being my rookie year — I know Brock Lesnar won a world title his rookie year, Big Show did, it's a tough thing to do. I mean especially — I will tell you this, Brock had two and half years of training before he went on TV, that's a little bit more time to get ready. I literally had seven months."
Angle won the title at the No Mercy pay-per-view from Dwayne "The Rock" Johnson in a no-DQ title match, but lost the title to "The Great One" at No Way Out in February 2001. The Olympic gold medalist went on to hold the world title five more times in WWE. Angle's last WWE world title reign was in 2006, where he held the World Heavyweight title for a total of 82 days.
If you use quotes in this article, please credit "The Kurt Angle Show" and provide an h/t to Wrestling Inc. for the transcription