Why The Rock Started Calling Himself The People's Champion In WWE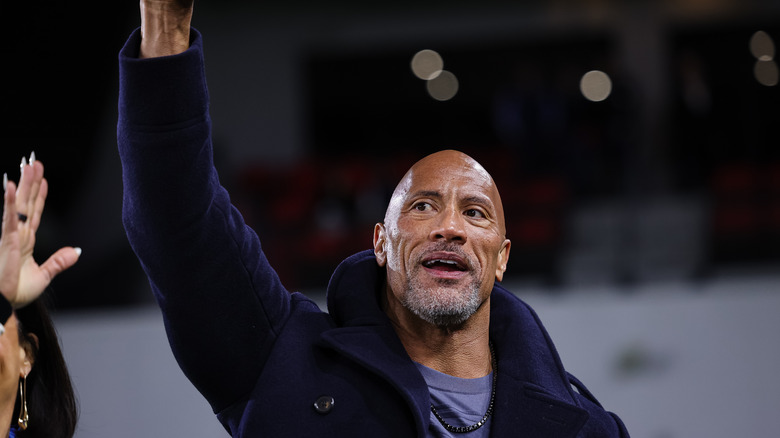 Scott Taetsch/Getty Images
The Rock has opened up about the origins of "The People's Champion" nickname, revealing that he adopted it from an iconic sportsperson.
The actor and legendary pro wrestler was a recent guest on "The Joe Rogan Experience" where he revealed that boxer Muhammad Ali was the inspiration behind "The People's Champion" moniker, which he used when he turned heel.
"When I started the Nation turn, the heel Rock that you saw earlier. Not a white thing, not a black thing, it's a respect thing, I started calling myself 'The People's Champion' just to pi*s people off. Like, 'I'm your champion, I'm the People's Champion, and The Rock is the People's Champion.' And we were wrestling down in Louisville, Kentucky, and Ali's family came to watch. And his wife was there, family, a big group, and afterwards they were waiting to say hello," said The Rock. 
He recalled asking Ali permission to use "The People's Champion" nickname.
"When I come back, I say hello to the family, his wife, and say, 'Hey, I just want you to know, if you could let Muhammad know, I call myself The People's Champion in a way to pay homage, out of respect.' And I'm going across the country and people are shi*ting on me because that's what you want as a heel. I say, 'If you could please tell him, if he doesn't want me to use this, because I know what it meant to him to be People's Champion, I won't. She said, 'He told me to tell you it's yours,'" revealed the former WWE Champion.
The Rock said that he got emotional after hearing the message that Ali's wife delivered to him. "The Great One's" heel run began after he joined the Nation of Domination in 1997, which was the catalyst to his success in WWE, and "The People's Champ" moniker played a part in him becoming a hated figure among the WWE Universe.