The Rock On What Vince McMahon Told Him Backstage At WWE Debut, Survivor Series 1996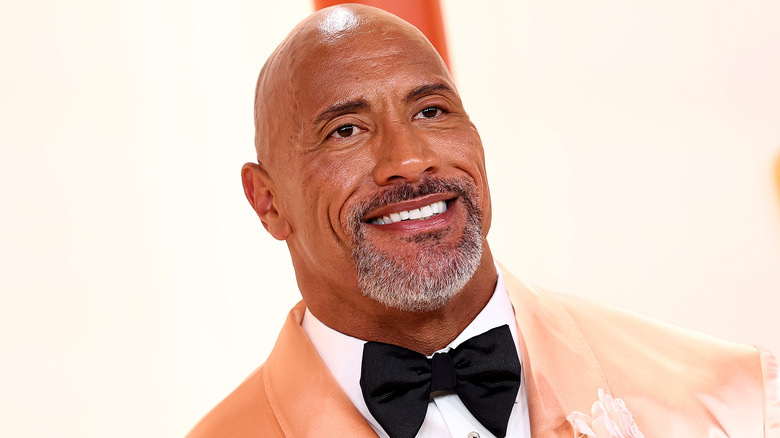 Arturo Holmes/Getty Images
During his recent appearance on "The Joe Rogan Experience," The Rock rewatched highlights from his WWE debut match at the 1996 Survivor Series, where he teamed up with Jake Roberts, Marc Mero, and The Stalker (Barry Windham) to wrestle Crush, Goldust, Jerry Lawler, and Hunter Hearst Helmsley in a traditional Survivor Series elimination match. While doing so, The Rock recounted a conversation he had with Vince McMahon barely minutes before the match.
"Vince brings me in and says, 'You're gonna win the whole thing tonight,'" The Rock recalled, admitting that he was shocked at McMahon's faith in him since he had yet to wrestle a match at a WWE house show let alone a televised event. "I was like, 'What do you mean?' He goes, 'You're gonna win the whole thing. I'm gonna throw you right into the fire.' I'll never forget this," The Rock continued. "He's like, 'You're either gonna f—ing sink or you're gonna swim — it's New York City. It's up to you.'"
The nervous rookie proceeded to talk to the other men involved in the match, who were all more than willing to make "The Great One's" debut a memorable one. Reflecting on the same, The Rock remains eternally thankful to the seven other wrestlers for highlighting his strengths and hiding his weaknesses. "All those guys in the ring that night ... I'll forever be grateful for them because they allowed that to happen," The Rock added.
The Rock was the sole survivor in the four-on-four elimination match despite being in a 1 vs. 2 situation at the end, with Goldust and Crush still standing strong on the heel side. Yet, he overcame the odds, and a new star was born.