AEW's Nick Wayne Explains How Social Media Impacts Being A Wrestler In Modern Times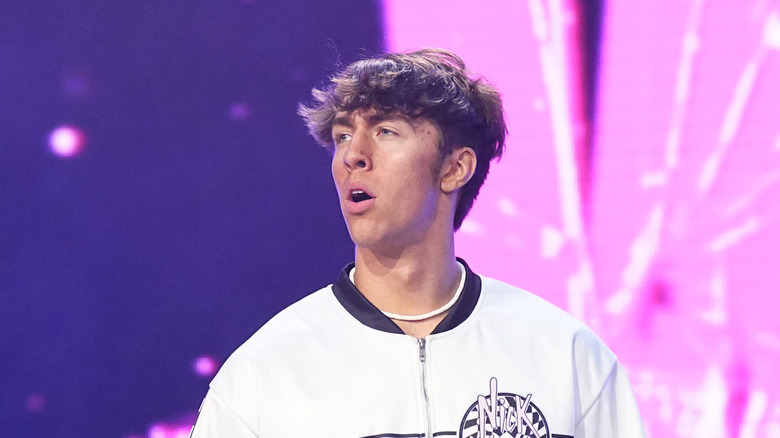 AEW
During an interview on SiriusXM's "Busted Open Radio" show, AEW talent Nick Wayne spoke about how social media impacts being a professional wrestler in the modern day.
"So being a heel and seeing stuff on the internet — on a weekly basis I see people tweet saying, 'Nick Wayne has such a punchable face.' Which I think is perfect," Wayne said. "I'm like, 'I got you. You want to punch me in the face? I got you.' But then there's other people who say, like, 'Nick Wayne is a f*****g terrible wrestler. Like, why does he have the TV time he does? Why is he in the position he's in?' But then again, it's like, there was a time where when I was a face I would see comments like that, and I would be like, 'Damn. What is, like — why?' And I start to maybe question if I'm doing something wrong.
"But then I kind of realized, these are just people behind a keyboard. I will never see this person. It's very opinionated, and there's a lot of people who try to, like, say what they think is best and try to book the show honestly. But being a heel and seeing that kind of stuff is like, 'Maybe I got you?' You know what I mean?"
Wayne, who turned heel by joining forces with reigning AEW TNT Champion Christian Cage at the inaugural AEW WrestleDream pay-per-view on October 1, added that he now ignores the negative comments he receives. The 18-year-old admitted that when he began his pro wrestling career, he would vanity search his name to see what people were saying about him. Wayne said that hateful comments don't really affect him at all and that it's "part of the deal" of being a pro wrestler.
If you use any quotes from this article, please credit SiriusXM's "Busted Open Radio" with an h/t to Wrestling Inc. for the transcription.