WWE's Dwayne The Rock Johnson Addresses Prospects Of Presidential Run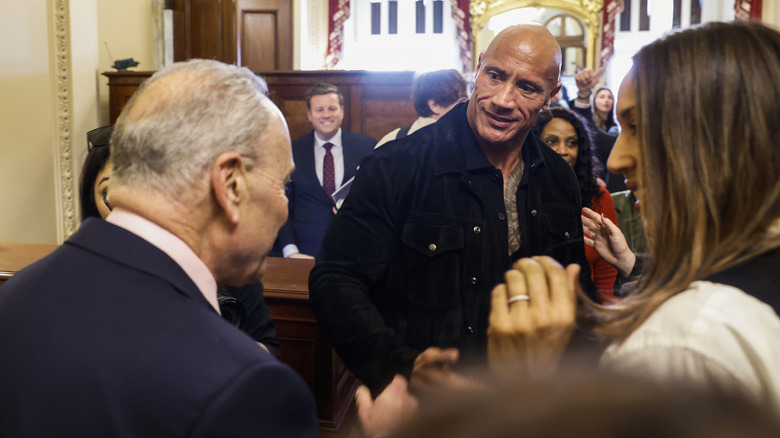 Anna Moneymaker/Getty Images
The chatter of Dwayne Johnson running for President of the United States gathered steam in 2021 when 46% of Americans votedthat they would support a political run for the wrestler-turned-actor in an online poll. Johnson did very little to quell the noise, telling USA Today that he would consider running for the White House "if that's what the people wanted." So how close did The Rock actually come to becoming a candidate for the upcoming 2024 election?  
"One of the parties came to visit me at the end of last year asking for me to run," Johnson told "The Joe Rogan Experience" recently. "It was, first of all, incredibly f***ing surreal, because I was the guy wrestling in flea markets years ago looking for free corndogs and hotdogs and sh**. [I] was selling my headshots for five bucks and trying to make money." 
"It was incredibly surreal, but it was also incredible that they had all this data with which they said, 'If this happens, here's the result.' It was really f***ing deep," he continued. "And then I started to think ... because this was never my goal. I appreciate it and I'm f***ing honored. It made me think, 'Either this is an incredible thing and I've got some pretty decent leadership skills or things are so f***ed up that [they need a movie star to run the country].'" 
Last year, The Rock ruled out any and all possibility of him ever running for the presidency, stating that being a father to his daughters would always take precedence over enduring a political campaign. The Rock noted that, due to his life as a wrestler, he was an absentee father to Ava Raine and didn't want to go down the same path with his younger daughters.