Kurt Angle Recalls Concerns For Brock Lesnar After Scary Botched Move In WWE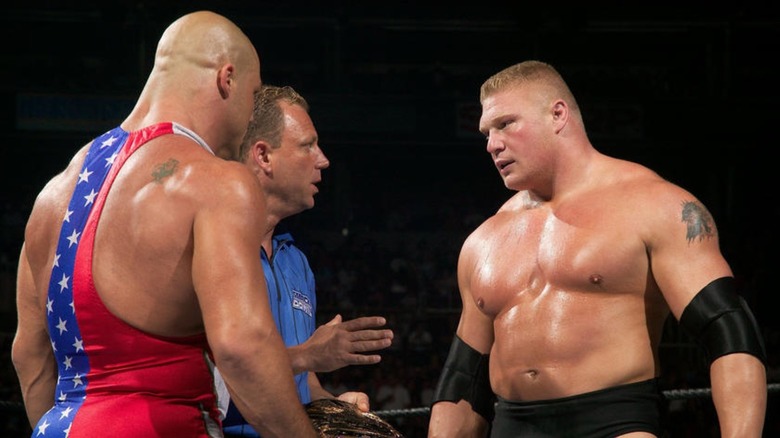 WWE
Brock Lesnar and Kurt Angle shared a storied rivalry during the 2000s, including battles both within WWE and in Antonio Inoki's IGF in Japan. The pair swapped reigns with the WWE Championship throughout 2003, starting with Lesnar's dethroning of Angle at WrestleMania XIX. The reigning champion went into the match with a number of spinal issues, and for a moment the challenger looked to have broken his own neck; Lesnar attempted a daring shooting star press only to land head first, suffering a concussion and sprained neck in the process. 
Kurt Angle recalled his concern during an appearance on the "True Geordie Podcast": "When he landed on his head I was like, 'Oh s**t, he broke his neck too!' I literally thought, you know, he was knocked out; he got a concussion, sprained his neck, he didn't injure it too badly. But the way he landed, he could have been paralyzed. Thank God he has a 22-inch neck because that's what protected him."
The title change was necessary that night so Angle could have time off for surgery and recovery. He contemplated what to do in the moment, not wanting to make the pin and retain his title, but at the same time needing to finish the match in the main event of "The Show of Shows". With both on their backs in the middle of the ring, Angle asked Lesnar if he would be able to finish the match, and the banged-up challenger plucked up the strength to do so. "It shows what a badass Brock Lesnar is," Angle remarked, "Because he literally could have just laid there and just, you know, we could have did a double count out and ended up with a draw. But Brock finished the match and that's the kind of individual he is."