WWE Hall Of Famer The Undertaker Recalls Andre The Giant Wanting To Work With Him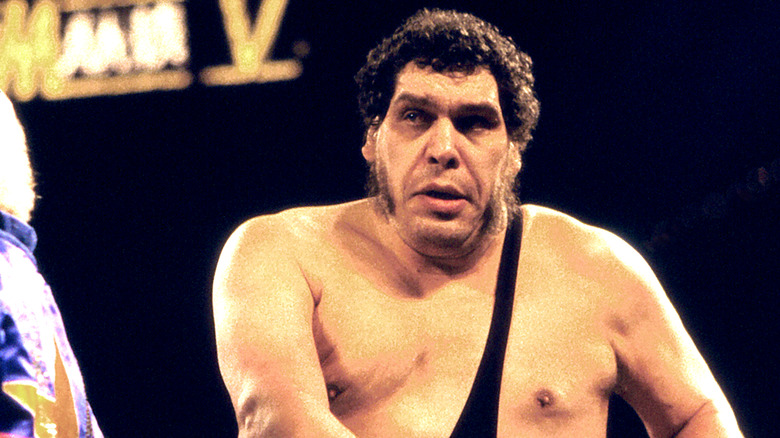 Jeffrey Asher/Getty Images
The Undertaker enjoyed a legendary 30-year career littered with marquee matches and storied rivalries. He boasts wins over the likes of Hulk Hogan, The Rock, Steve Austin, and John Cena. But he recently shared the dream match he never had — contrary to popular belief, it wasn't Sting. In an interview with Sportskeeda WrestleBinge, the WWE Hall of Famer shared his disappointment that he never got to face Andre The Giant. He said that it was always a dream of his to face Andre, but by the time he got to WWE in 1990, the "Eighth Wonder of the World" was in bad health. Despite that, Undertaker said that Andre had been keen to work with him, something they and Tim White (WWE Hall of Fame referee and Andre's assistant) had discussed at length. 
"Andre told me early on, you know, he was like, 'Kid, one day me and you,'" he recalled. "He had an idea, he had an angle that he wanted to do with me. Andre didn't like big guys, he loved me. For the little amount of time that we did get to spend together, he loved me and he wanted to do business with me, it's just his health was already at a point where we couldn't do it."
Andre The Giant died in 1993 due to congestive heart failure, potentially a result of untreated acromegaly — the hormonal disorder responsible for his stature — and he had long suffered from various issues in his joints as a result. Andre was even unable to work his WrestleMania VI match, defending the WWF Tag titles against Demolition alongside Haku. Haku wrestled the entirety of the match without tagging Andre in, and he wrestled sparingly in WWE after that.