Julia Hart Explains How House Of Black Helped Her Evolve In AEW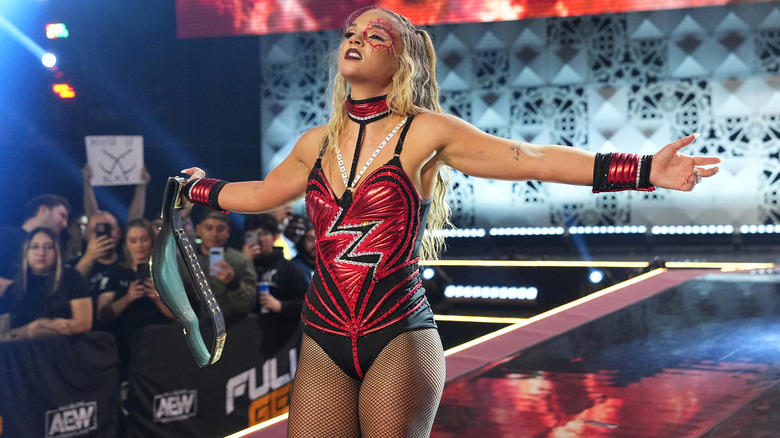 AEW
Julia Hart was stunned by a statistic after AEW Full Gear, as she's the first House of Black member to not only win a singles title in AEW, but a singles match in general. At the post-Full Gear press conference, the newly-minted TBS Champion reflected on how far she's come in AEW.
"You guys all saw my growth on TV, which a lot of people you don't see...but you guys saw me at some of my lowest lows, doing the cheer thing," the new TBS Champion said. Hart is proud of her progress since her early days, saying that joining House of Black has given her a newfound confidence and a stronger sense of self. Even with all her growth, Hart is shocked at the results. 
"22, winning a belt," Hart said, "I'm trying not to think about it because it's just so crazy." The former Varsity Blondes cheerleader said that going backstage after her matches was a harrowing experience.
"People would just be like 'You'll get it eventually,'" Hart said, embarrassed that her initial performances weren't getting the reaction she'd hoped, from her peers. Now she's happy to say the comments are much less hedged.
According to reports before Full Gear, Hart is set for an immediate push, as the TBS Champion received a vociferous reaction from the crowd when she returned to action earlier this month from her honeymoon, celebrating her recent nuptials to fellow AEW star Lee Johnson. Hart is only the third champion in the history of the TBS Championship.