The 6 Best And 6 Worst NXT Call Ups
From the early 2010s to late 2021, there were fewer brands in professional wrestling more forward thinking than NXT. Originally helmed by Triple H and the late Dusty Rhodes, the former FCW would be retooled into a new brand with a simple mission: prepare the next generation of WWE main eventers for the likes of "Raw" and "SmackDown." As the brand kept building steam, hardcore internet fans would soon swarm like flies to the WWE Network's then-best kept secret. Soon enough the phrase "We Are NXT" became a battle cry for an ever growing section of the wrestling fandom.
For much of the 2010s, when a new face arrived on the main roster, it was directly from the black and yellow brand. Sadly, not every experiment from NXT resulted in a new megastar — and sometimes it was exactly the opposite. Whether it was their behavior or WWE's main roster creative hindering them, not every wrestler successfully transitioned to prime time. These are six of the best and six worst call ups from the original NXT brand.
Best: Charlotte Flair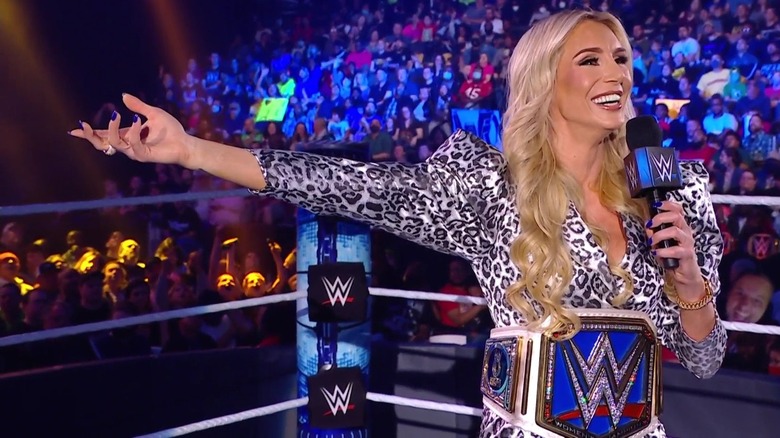 WWE
If ever a name brought both prestige and controversy in equal measure, it's Flair. Charlotte — the daughter of Hall of Famer Ric Flair — first debuted for the WWE back in 2012. She quickly established a name for herself as part of the steadily building NXT brand. Over the next few years, Charlotte would slowly rise to dominance on the black and yellow brand, forging her own path in the ring. The self proclaimed queen of the ring would serve as one the key pillars in the late 2010s women's revolution.
After a very successful tenure in NXT, the now former NXT Women's Champion would officially join the main roster partway through 2015. After some moderately unstable booking at the start of her prime time tenure, the second generation superstar broke out big time. It wasn't too long before she had claimed the (now defunct) Diva's Championship and, later on, the Women's Championship. It would be fair to say that the reaction towards Charlotte has become divisive in recent years, but her work rate has never been in doubt. In terms of overall accomplishments and presentation, very few wrestlers have made the progress and strides that Charlotte Flair has.
Worst: Nia Jax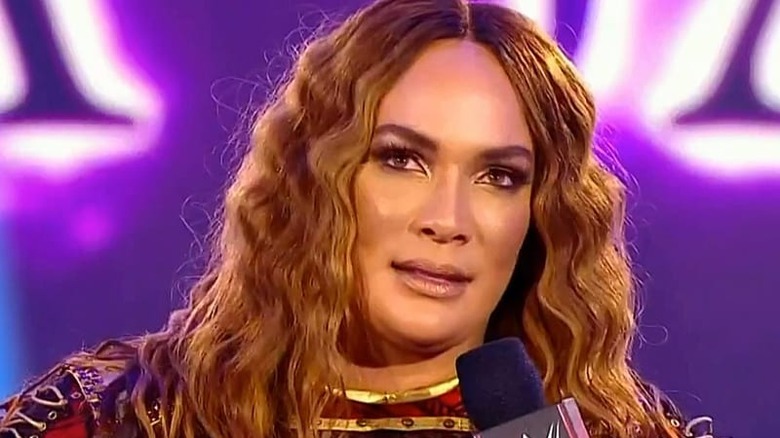 WWE
Few talent arrived with so much momentum and squandered it as quickly as Nia Jax. Making her debut on NXT only a short while after being signed, Jax dominated the women's division. She would feud with the likes of Bayley and Asuka, challenging both for the Women's Title during their respective reigns. Her tenure in NXT would end as quickly as it began, with Jax being bumped up to "Raw" in 2016. Despite a few solid matchups and a Raw Women's Title reign, this is where problems would begin to rear their ugly head for Jax.
From injuring Bayley's shoulder to busting Becky Lynch's nose open to injuring Kairi Sane's head, Jax developed a reputation for being an unsafe worker. With almost no sign of improvement in terms of protecting her opponents, the audience's goodwill for Jax ran out very quickly. Following a Women's Tag Title run and few assorted storylines, she would get released from the company in November 2021.
Best: Sasha Banks
The WWE's self-proclaimed Boss has been turning heads in and out of the ring since her arrival in the early 2010s. As one of the NXT women's division's formative talents, Sasha Banks would quickly establish a rep for herself on the black and yellow brand. From her unapologetically blunt heel persona to her impeccable in-ring abilities, Banks would quickly become a fan favorite. Her match with Bayley at the first "NXT Takeover: Brooklyn" would be a match of the year contender for many.
Following her arrival on the main roster in 2015, Banks would be a part of Team B.A.D. alongside Tamina and Naomi. Soon enough, Banks would claim the Raw Women's Championship for the first of what would be many times. She has bounced back and forth between heel and face, excelling at both in equal measure, garnering a legion of fans. Her popularity has reached such a mainstream level that she even appeared in the second season of "The Mandalorian." Following one final run as Smackdown Women's Champion, Banks would soon move to the tag team division. She won the WWE Women's Tag Team Championships for the second time in her career with her old Team B.A.D. teammate Naomi at WrestleMania 38.
Worst: The Ascension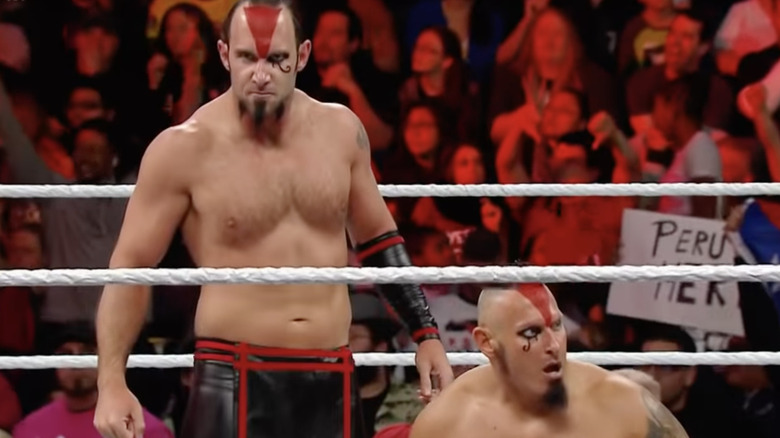 WWE
For a prime example of "how exactly did you mess this up," we have Viktor and Connor, the Ascension. Beginning life in FCW, the Ascension started life with several members, including Conor O'Brian, Kenneth Cameron, Ricardo Rodriguez, Tito Colon, and Raquel Diaz. Eventually this unit would be whittled down to just Conor O'Brian and Rick Victor, who would be rebranded as Konnor and Viktor. The duo would soon become NXT's resident powerhouse tag team, destroying lower level talent and local jobbers. This resulted in a lofty 362 day reign as NXT Tag Team Champions before losing to the Lucha Dragons in 2014.
The Ascension would be moved up to the main roster later that year, souped up with a brand new look. However, this Legion of Doom-influenced design would serve as an omen of what was to come for the once dominant tag team, with commentator JBL verbally burying them every week. Soon enough, the team that dominated NXT for years was being jobbed out to the New Age Outlaws and the APA. At the tail end of 2019, both Konnor and Viktor would see their time in WWE conclude via simultaneous releases.
Best: Bray Wyatt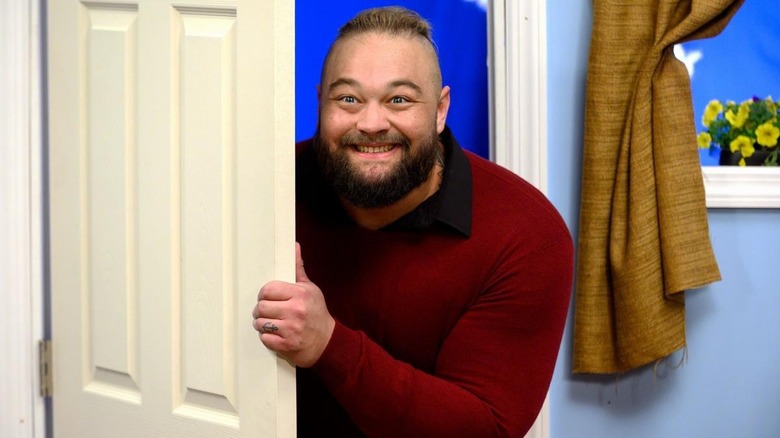 WWE
Bray Wyatt, for the majority of his run, was allowed to do some truly amazing things. After his arrival as the generic Husky Harris in the Nexus faction, Windham Rotunda would be sent back down to developmental. Eventually, the character of Bray Wyatt would emerge, a Charles Manson-tinted cult leader fresh out of the bayou. Flanked by the imposing Luke Harper (AKA the late Brodie Lee) and Erick Rowan, the Wyatt Family would dominate early NXT. Wyatt and his brood would arrive on the main roster in 2013, and quickly made quite the impression.
After a successful stint as a trio, Wyatt would venture off on his own, entering into singles feuds and chasing singles gold opportunities. After a descent down the card, Wyatt rebanded himself via the Firefly Fun House, a Mister Rogers-esque horror gimmick. Bringing with him a legion of puppets, the now cartoonish Wyatt would bring about a second phase to this rebranding in the form of the Fiend. The gimmick would arrive to massive acclaim, with a majority of its creative fueled by Wyatt himself. Despite many moments of brilliance, including the utterly gonzo Firefly Fun House match, Wyatt would eventually re-succumb to subpar booking. To the disappointment of many, following a baffling final match at WrestleMania 37, Wyatt would see his release in 2021. While WWE's creative might've dropped the ball, it's worth noting that Wyatt never once did.
Worst: Karrion Kross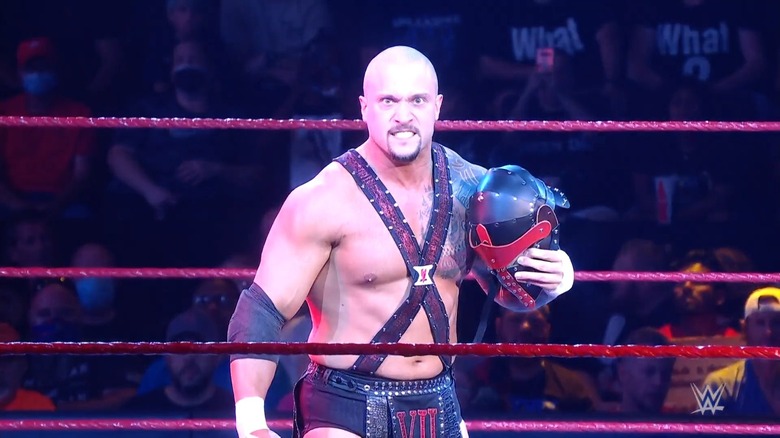 WWE
The former Killer Kross was everything WWE would want in a main event level talent: freakish strength and agility mixed with stellar presentation. From the moment he arrived on NXT in 2020 after weeks of vignettes, Kross wasted no time making a name for himself. Flanked by the lovely and deadly Scarlett, Kross' entrance felt like the arrival of the apocalypse and the end of all things. In only a few short months, Kross would dominate several opponents and eventually conquer Keith Lee for the NXT Title at NXT Takeover: XXX. Sadly, an ill timed shoulder injury would halt his dominant push until his return at the tail end of 2020.
Kross would then immediately pick up where he left off and destroy opponents such as Damien Priest and Santos Escobar. Eventually Kross would take on then-current NXT Champion Finn Balor and win, finally holding the title for a proper reign. Sadly, this is where the wheels would start to fall off for Kross, beginning with a bafflingly botched "Raw" debut. This debut in question would see the dominant destroyer of NXT defeated by Jeff Hardy in under five minutes via rollup. Following the loss of his title to Samoa Joe, Kross' main roster rebranding would be topped off with a horrendously cheesy gladiator costume. He would see his release in late 2021, capping off a disappointing end to what could have been a stellar main roster run.
Best: Becky Lynch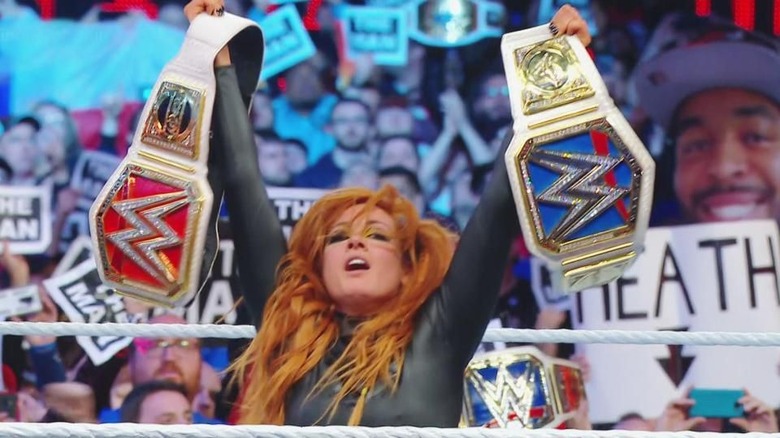 WWE
Over the last few years, the world of women's wrestling has been dominated by a few names, but few are more beloved than Becky Lynch. Formerly known as Shimmer's Rebecca Knox, Lynch would be in snatched by WWE developmental in 2013, arriving on TV the following year. Originally presented as a jig dancing babyface, Lynch rise to prominence following a heel turn in late 2014. Soon enough, she would feud for the NXT Women's title in highly touted matchups with the likes of Sasha Banks. In 2015, arrived on the main roster alongside Charlotte Flair and Sasha Banks, as a fixture of the women's revolution.
Despite seeing some success, including a SmackDown Women's Title run, Lynch would experience inconsistent booking as a babyface until 2018. Following a heel turn on Charlotte Flair at SummerSlam, Lynch would adopt a blunter and more cutting persona known as The Man. Fans of Lynch would rally behind her en masse — despite her overtly heelish actions — propelling her into the stratosphere. Soon enough, Lynch's meteoric rise, despite WWE's standard meddling, would result in her becoming a double Women's Champion at WrestleMania 35. Overcoming the odds against both Charlotte and Ronda Rousey, Lynch's long road to the main event was concluded in grand fashion. She's now rebranded herself as the conceited Big Time Becks, still delivering stellar matches and promos on a weekly basis.
Worst: The Vaudevillains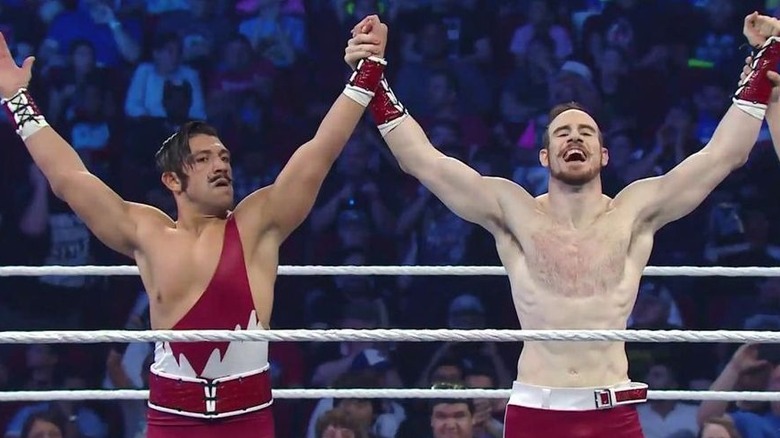 WWE
This is yet another example of the bright lights of the main roster being unkind to a once celebrated NXT tag team. Early NXT was certainly a hotbed for quaint yet effective gimmicks, with none more simplistic than that of the Vaudevillains. The duo would begin their NXT run as quirky heels entrenched in the theatricality of 19th century vaudeville. From their over-the-top intro to a series of quirky black and white vignettes, the duo thrust themselves into the gimmick with gusto. This would lead to the pair winning the NXT Tag Titles at the first ever NXT Takeover: Brooklyn to a thunderous ovation.
After dropping the titles shortly thereafter, Gotch and English would be turned heel once again and moved up to the main roster. Their run started strong with a tag title feud against the New Day in 2015, but would fizzle out fairly quickly. The Vaudevillains would quickly fall down the card, becoming enhancement talent with Gotch subsequently being released on April 5th, 2017. English would hang on a while longer, even experiencing a resurgence alongside Rusev in 2018 while aiding the wildly popular Rusev Day gimmick. After a stint at the commentary desk, English would also be released in April 2020 amidst the COVID-19 layoffs.
Best: Matt Riddle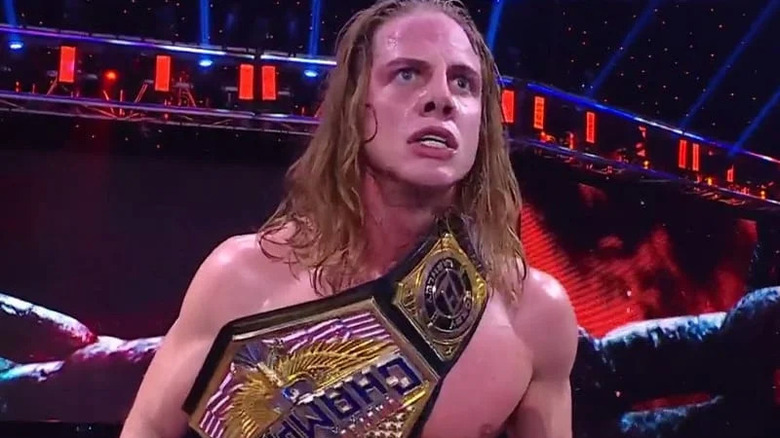 WWE
After his arrival on the independent wrestling scene following his termination from the UFC, Matt Riddle soon became a name on everyone's lips. Riddle would have top tier matches with the likes of Keith Lee, Will Ospreay, Walter, and even MMA legend Dan "The Beast" Severn. After much speculation, in July 2018 it was announced that the King of Bros would finally be arriving in WWE. Later that summer, he would appear in the crowd at NXT Takeover: Brooklyn IV, confirming his status as an NXT talent. It wouldn't take too long for Riddle to make his mark on the black and yellow brand, earning a new legion of supporters.
After a few singles feuds, Riddle would join forces with former NXT UK Champion Pete Dunne, forming The BroserWeights in the process. The duo would eventually win the Dusty Rhodes Tag Team Classic, and the NXT Tag Team Titles as well. Eventually COVID-19 would result in the duo's end, with Pete stuck in the United Kingdom and Riddle being bumped up to "SmackDown."  The King of Bros would find himself on "Raw," where he would win the United States Title and form the unorthodox yet successful tandem RK-Bro with Randy Orton. The future seems to be bright for the Original Bro.
Worst: Lars Sullivan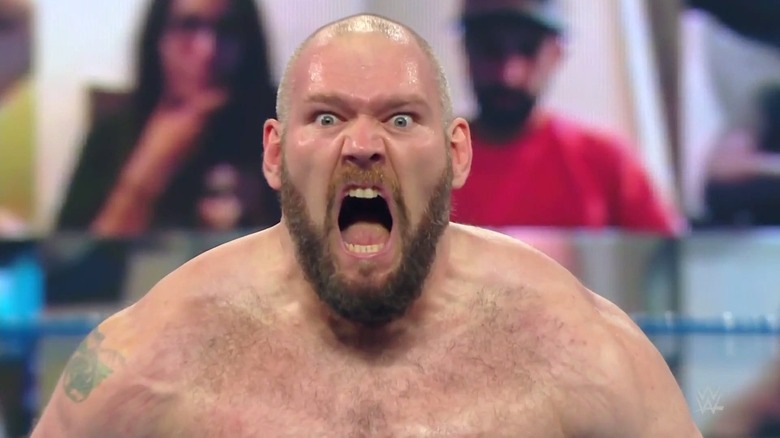 WWE
When NXT began pushing the monstrous Lars Sullivan in 2017, many were quite impressed with the competitor's intimidating physique. Combined with a face that only a mother could love and a genuinely intimidating entrance, Sullivan was gaining traction quickly. As par of the of the NXT North American Title ladder match at NXT Takeover: New Orleans, Sullivan earned a coveted five star rating from Dave Meltzer. Beginning in late 2018, horror themed vignettes would tease the terrifying behemoth's debut on the main roster. In 2019, Sullivan would finally arrive and begin a tear through "Raw" and "SmackDown," clobbering the likes of Kurt Angle, The Hardyz, and Rey Mysterio. 
But what began as a fairly dominant warpath would soon take a hard left turn into bizarre booking and ill timed incidents. One of these incidents included Sullivan walking out on a "Raw" taping due to his then-ongoing anxiety induced panic attacks (via PWInsider). This would only be the first stumbling block for Sullivan, as archived copies of past problematic internet interactions would soon resurface as well as adult content he'd done under a different name. 
Sullivan would then begin a bizarre feud with the trio of Lucha House Party. This feud would result in an underwhelming three-on-one handicap match at Crown Jewel, and Sullivan injured his knee in the subsequent rematch. He would return in late 2020, mounting a second attempt at a dominant run, but by then it was too little too late. After a series of cringy promos about his childhood, Sullivan would see his release in January 2021.
Best: Alexa Bliss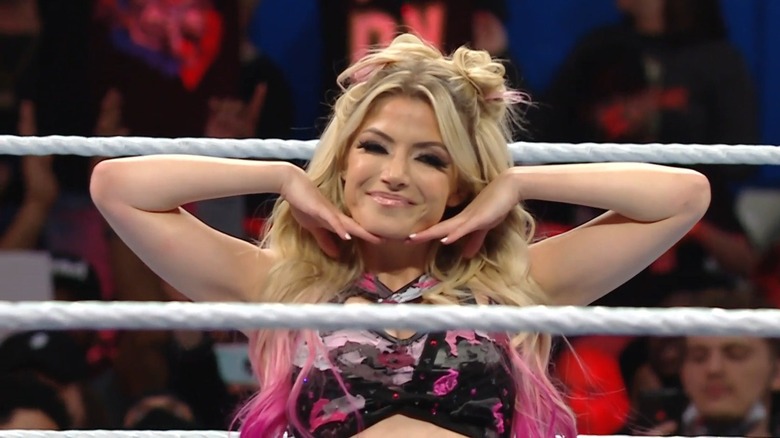 WWE
Alexa Bliss' rise to prominence in WWE has truly been a sight to behold, and one rife with various madcap developments. Lexi Kaufman would first arrive in WWE developmental via an unaired version of the Diva's Search in 2013. Following her signing, the young talent would steadily begin her rise in NXT, first adopting a glittery fairy princess themed persona. After a fairly uneventful babyface run, Bliss would later turn heel by aligning herself with tag team Blake and Murphy. From there, Alexa's ring gear, promo style, and overall in-ring presentation would turn into new spiteful creative direction.
In 2016, Bliss would be moved up to "SmackDown" as a part of the draft. Bliss would quickly become one of the more successful call ups, winning the SmackDown Women's Title from Becky Lynch. The following year, Bliss would be slotted over on "Raw," where she would claim the Raw Women's Title from Bayley. Eventually, Bliss would form a tag team with fellow NXT call up Nikki Cross, winning the WWE Women's Tag Team Titles as well. Her most surreal creative shift would arrive in 2020, when she would adopt a sadistic horror persona alongside Bray Wyatt AKA The Fiend. Eventually, Bliss would adopt a new accoutrement in the form of a possessed children's doll named Lily. By 2022, Alexa's "sanity" has been restored and she returned to active competition on the "Raw" roster.
Worst: Keith Lee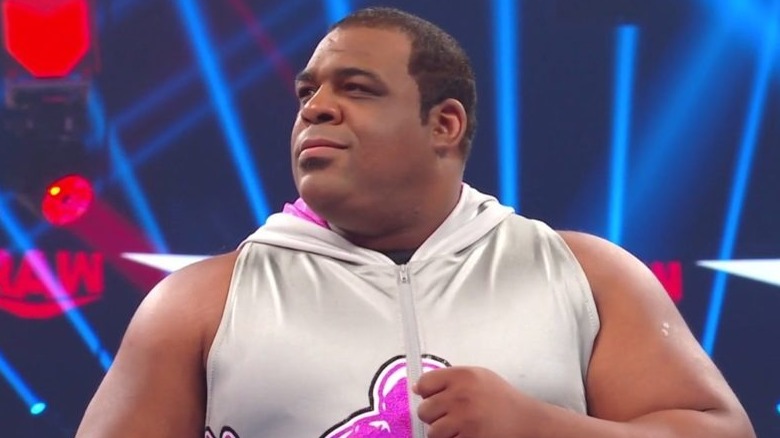 World Wrestling Entertainment
It's becoming quite common for WWE to let talent slip through their fingers, and Keith Lee is a prime example. Lee would hone his craft on the indies, starting locally in Texas before moving on up to Ring of Honor, Evolve and Pro Wrestling Guerilla. After matches with the likes of Matt Riddle, Austin Theory, Jeff Cobb and even Cody Rhodes, WWE would eventually come knocking. Debuting on NXT in 2018, Limitless Keith Lee would quickly establish himself as a unique force to be reckoned with. His matches with Donovan Dijakovic were, for many, among some of the finer hoss fights produced by the WWE in the last few years. His participation in events like Survivor Series and the Royal Rumble would see him face main eventers like Seth Rollins, Roman Reigns and Brock Lesnar.
Add to that being the first double champion in "NXT" history and Lee's spot on the main roster was all but confirmed. Sadly, this is where problems would arise. Shortly after dropping the title, Lee would arrive on "Raw" with some noticeable changes. Not only was his catchy theme song retooled into generic rock music, but he was now forced to wear a shirt as well. Following a bout with COVID-19 and another gimmick change, this time rebranded as the Bearcat, Lee would see his release in late 2021.