Why These Dream Matches Would Have Lived Up To The Hype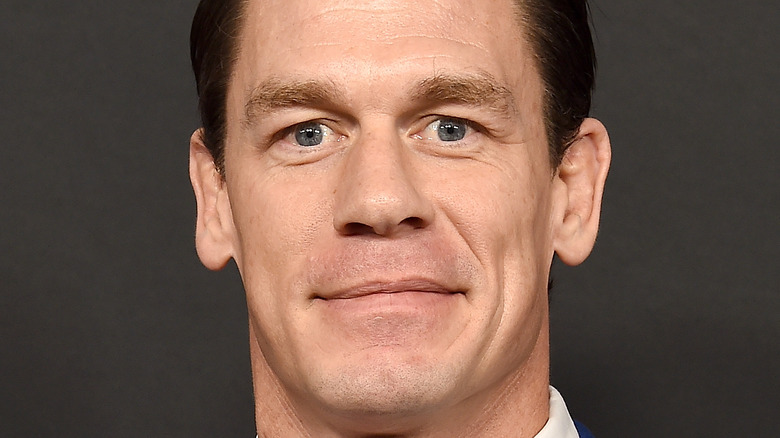 Gregg Deguire/Getty Images
Many times pro wrestling dream matches belong right where they are ... in our dreams. Sure, some dream matches were pretty great — The Rock vs. Hulk Hogan, The Rock vs. John Cena, The Rock vs. anyone really — but most dream matches could never possibly live up to the booking in our brains. However, there are some dream matches we wished went down because we guarantee they would have been awesome. We're not even talking about potential dream matches pitting pro wrestlers in their respective primes; we believe there are some dream matches that could've gone down when two legends were wrestling at roughly the same time, and still would have delivered the goods.
Maybe it's two excellent in-ring workers going toe-to-toe for 20 minutes or more in an Olympics-caliber classic, or maybe it's two supernova-level talents whose combined star power would have welded into ring rust into pure gold. Whatever the scenario, the result would have rocked harder than the opening riff of "Real American" ... which makes us sad these matches didn't happen. Ready to mark out like a 19-year old in the '90s wearing an Austin 3:16 shirt? See if you agree — here is why these dream matches would have lived up to the hype!
Bret Hart vs. Chris Jericho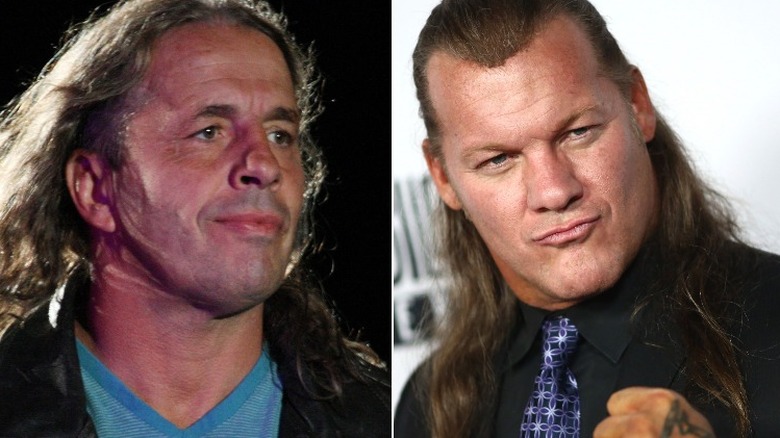 Gallo Images & Tommaso Boddi/Getty
Bret Hart and Chris Jericho both come from the esteemed Canadian pro wrestling scene god-fathered by Hart's father, Stu Hart. Hart's training literally took place in the family basement, aka "The Dungeon," while Jericho traveled 757 miles from Winnipeg, Manitoba to Calgary, Alberta to get stretched by Stu. Stu's famous downstairs dungeon saw many of the best technical wrestlers of all time, many of whom Bret Hart wrestled. However, Jericho was never one of them, despite the fact they were both wrestling for WCW between 1997 and 1999. Why? Because WCW.
As Jericho revealed in one of his "Saturday Night Special" livestreams, "I never got to wrestle Bret. We were in WCW for a while, but I was never at that level where they would put me in the ring with him, at least in their mind. In my mind, I was totally at that level, but whatevs." Whatevs, indeed. WCW was wrong, of course. While Jericho was not the worker he'd become, he was still an elite talent who Bret could carry to at least a four-star match. We imagine a fast-paced, low-key technical classic with both guys battling to lock in their respective submissions, before Jericho finally succumbed to the Sharpshooter. Alas, by the time both guys were in the WWE, the injury-riddled Bret was no longer at Jericho's level, at least in the ring.
Legion of Doom vs. Demolition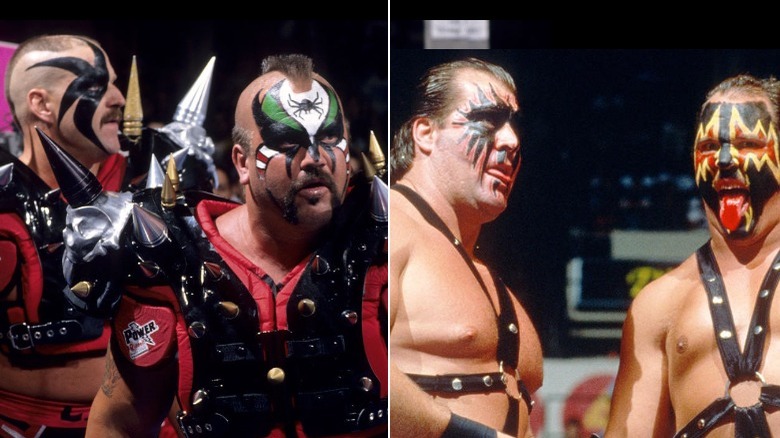 WWE
Old-school wrestling retrospectives often highlight Hulk Hogan, Macho Man, and Andre the Giant on the WWE side, and Ric Flair, Dusty Rhodes, and Sting on the NWA/WCW side — but two of the biggest stars on both sides were the Legion of Doom, aka The Road Warriors. LOD was one of the era's biggest draws, which makes it a shame they never wrestled the era's other biggest tag team, Demolition. In the same way Hawk and Animal ran through opponents coast-to-coast (and even in Japan) with colorful face paint and outlandish costumes, Ax and Smash did the same in WWE.
When LOD finally arrived in WWE, a confrontation seemed inevitable ... except it never happened. Yes, the two teams wrestled, sort of, first in a three-on-three match on "Saturday Night's Main Event" with Ultimate Warrior teaming with LOD to take on the three-man Demolition, and then at Survivor Series in a traditional four-on-four elimination match. Yet we never got an actual two-on-two tag match.
It seems like, now that WWE had the real LOD, they didn't need their version anymore. Demolition sunk down the card, LOD went up, never facing off in an epic "passing the torch" traditional tag team match. That's too bad, as we can just imagine the hard-hitting, head-butting brutal brawl these teams could have delivered. To paraphrase Hawk, it would've been a rush.
The Rock vs. Shawn Michaels
Ethan Miller & Moses Robinson/Getty
The Rock vs. Shawn Michaels may not seem like an obvious dream match at first, a la Hulk Hogan vs. Steven Austin or Undertaker vs. Sting. Make no mistake, however, their in-ring chemistry would have been off the charts. Had the two wrestled in 1997-1998, the match would've been a solid, three-star affair. But if The Rock and Shawn Michaels wrestled anytime from 2002 onwards, the bout would have gotten all the stars.
Our ideal scenario would have been Hollywood heel Rock mugging and mauling Born-Again babyface Michaels circa 2003, with the comeback kid HBK giving fans a glimmer of hope that he could prevail ... only to fall to a Rock Bottom. Yeah, we get goosebumps just thinking about it. Alas, unlike other matches on this list, we know why The Rock vs. Shawn Michaels never happened — "they didn't like each other," as Bruce Prichard noted on "Something to Wrestle" (via WrestlingNews.co). Yes, wrestlers with personal beefs is nothing new, but by the time Michaels returned to active wrestling in 2002, The Rock was already a Hollywood star. With his limited schedule, The Rock could now pick and choose his opponents, and HBK was not one of them.
Hulk Hogan vs. Nikita Koloff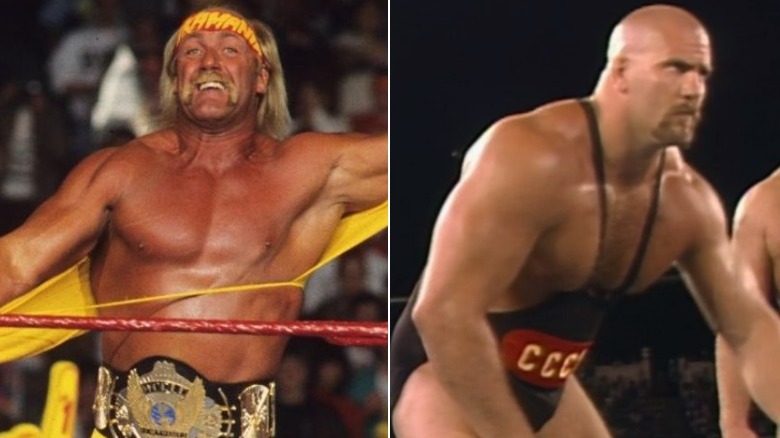 WWE & NWA
Hulk Hogan's top rivals can be divided into three camps: colorful characters (Macho Man, Ultimate Warrior), arrogant anti-Americans (Roddy Piper, Sgt. Slaughter, Iron Sheik) and giant monsters (Andre, Bundy, Earthquake). Nikita Koloff combined all three. It would've been "Rocky IV" come to life, with Hogan as the star-spangled babyface battling the sadistic Soviet psychopath Koloff (despite him hailing from Minnesota in real life, but whatever).
Hulkamania had been running wild in WWF, while Koloff had been running roughshod over rival NWA. While Koloff going to WWE for a Hogan feud seemed inevitable, the fight never happened, because Koloff's family was in a much more important fight following his wife's diagnosis and eventual death from cancer. However, Koloff revealed WWE never pursued him and he wasn't interested anyway. This is shocking in hindsight, as Vince McMahon promoting Hulk Hogan vs. Nikita Koloff seemed like a license to print money and would have sold out any arena or stadium in the 1980s. The ring work would've been tremendous too, as Koloff cut his teeth wrestling Ric Flair, while Hogan could go with the right opponent. Unfortunately, that opponent was never Koloff, a guy we guarantee would have gone down as one of Hogan's greatest rivals ever.
The Undertaker vs. Drew McInyre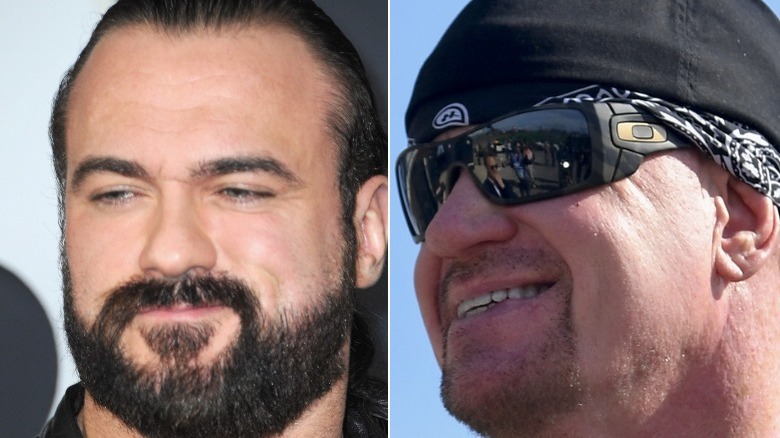 Albert L. Ortega & Logan Riely/Getty
The Undertaker wrestled one of his many "last matches ever" at WrestleMania 33, succumbing to Roman Reigns' spear in a mediocre main event, leaving behind his gear in the ring. Yeah, about that ... 
As we learned from WWE Network's "The Last Ride" documentary series, Undertaker was recovering from surgery and wasn't in tip-top ring shape at WrestleMania 33. Disappointed in his performance, he decided to undo his pseudo-retirement and keep wrestling off and on for the next few years. 
It's a shame Undertaker never wrestled Drew McIntyre at that time. While Undertaker was not the worker he was in the mid-2000s, McIntyre was on fire, proving why Vince McMahon saw the Scotsman as a future main eventer. While post-2012 Undertaker worked best as a hot tag and quick squash guy, we bet he would've found some undead adrenaline to keep up with McIntyre. We imagine a hard-hitting hoss fight that could go either way; either McIntyre fights valiantly before losing to the veteran, or Undertaker putting McIntyre over to the next level. Heck, even a Cinematic Match would've been sweet. However, it never happened as Undertaker retired (for real this time) at WrestleMania 36, meaning our dreams of a Undertaker vs. Drew McIntyre match will forever rest ... in ... peace.
Stone Cold Steve Austin vs. CM Punk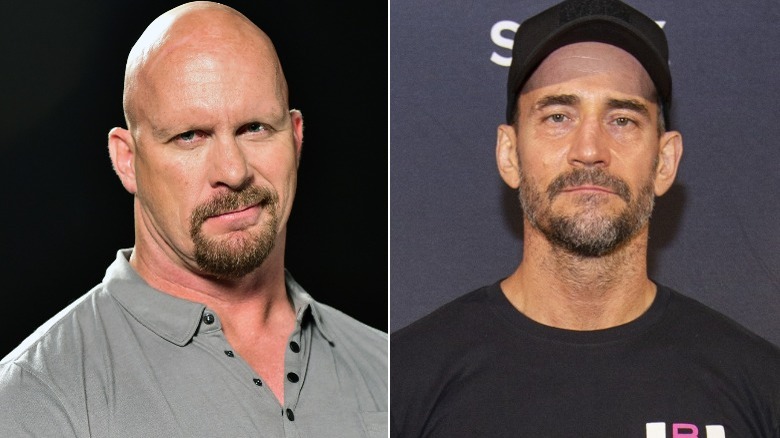 Moses Robinson & Barry Brecheisen/Getty
Between his retirement at WrestleMania XIX and his return at WrestleMania 38, Stone Cold Steve Austin played harder to get than a person you meet on Tinder. However, he seemed likely to return for a match against CM Punk, circa WrestleMania 29. CM Punk had leveled up in a big way the previous few years, with the "Summer of Punk" in 2011 being compared to Austin's rise to superstardom in 1997. 
It's obvious Punk saw himself as Austin's heir by wearing Stone Cold shirts to the ring. Heck, WWE even teased the match in a tension-filled 2012 interview between the two. Given the famous photo of a young Punk and Stone Cold, we bet Punk would've loved working with his hero. Sadly, the only people getting worked were the fans. The dream match never happened, but the question is: would it have been any good? Oh hell yeah!
Punk was true to his boast of being "the best in the world," while Austin would prove seven years later he could still go. Even in a PG-era setting, Punk carrying Austin in an old-school, Attitude Era brawl would have been everything our late-'90s hearts would have dreamed of. Maybe Austin would've passed out to the Anaconda Vice in a throwback to his match with Bret, or maybe Punk would've gone to sleep after a Stunner. One thing we wouldn't have seen was the "Straight Edge" Punk joining Austin for a celebratory Steveweiser.
Shawn Michaels vs. Daniel Bryan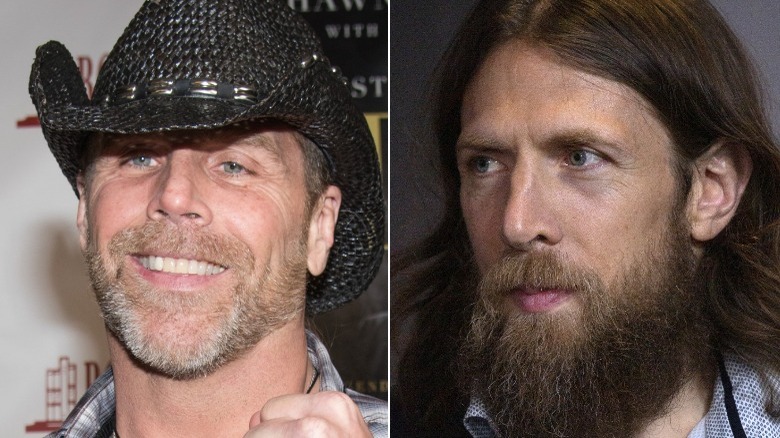 Santiago Felipe & Dave Kotinsky/Getty
The teacher vs. student is one of the greatest setups in all of storytelling, pro wrestling or otherwise. Heck, isn't that what "Obi-Wan Kenobi" was all about? No, we're not comparing Daniel Bryan to Darth Vader or Shawn Michaels to Obi-Wan, because we bet their battle would have been better! 
Michaels was indisputably one of greatest in-ring workers ever before he retired at WrestleMania XXVI. Meanwhile, he trained another one of the greatest in-ring workers of all time, Daniel Bryan. Do you think a match between the two would have had more stars than the andromeda galaxy? To quote Daniel Bryan: "Yes, yes, yes..."
The potential bout pretty much writes itself. Either Michaels faces the consequences for betraying his padawan at Hell in a Cell and wrestles Bryan circa 2013-2014; or Bryan in his 2018-2019 psycho-environmentalist phase lures his former mentor out of retirement to punish him for being an avid hunter. Whatever the setup, the outcome would've been a fast-paced, action-packed pro wrestling nirvana. Michaels never wrestled Bryan, but broke his retirement to carry Triple H, Undertaker, and Kane in a passable match in Saudi Arabia in 2018, a match he now regrets (though his bank account probably doesn't). We guarantee he wouldn't regret returning to wrestle Bryan.
Scott Steiner vs. Kurt Angle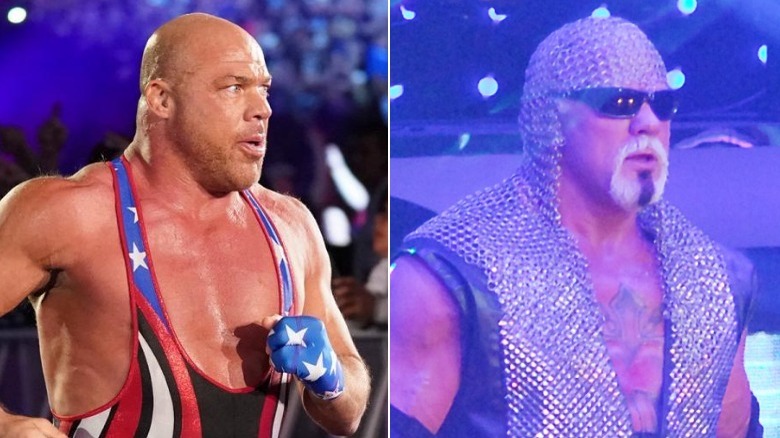 WWE & Prodip Guha/Getty
Yes, the two wrestled at TNA Destination X in 2007 ... but that was in TNA. We think they should've wrestled during their mutual run in the WWE. Hear us out. 
Scott Steiner came into WWE in the early 2000s, taking on Triple H in one of the worst Royal Rumble title matches ever. Naturally, Steiner got all of the blame, even though it takes two to tango (or wrestle). Besides, putting Steiner as Triple H's "insert face challenger here" during the latter's awful "Reign of Terror" was a horrible fit for the natural heel anyway. So why do we think Scott Steiner vs. Kurt Angle would've lived up to the hype?
First, because there probably wouldn't have been any hype to begin with (a bit of a cop-out on our part, but it's true, it's damn true). Second, on the same night Steiner and Triple H stunk up the joint, Angle and Chris Benoit put on a classic. Early 2000s Steiner was no Benoit, but during this era, Angle was simply on another level — on all levels. Meanwhile, "Big Poppa Pump" Steiner could still give us shades of his former self, such as when he carried Goldberg to one of Bill's best bouts ever at WCW Fall Brawl 2000. Who plays heel and who plays face? Does it matter? A heel versus heel match with the two former All-American college wrestlers suplexing the hell out of each other would've been a low-key classic.
Shawn Michaels vs. Eddie Guerrero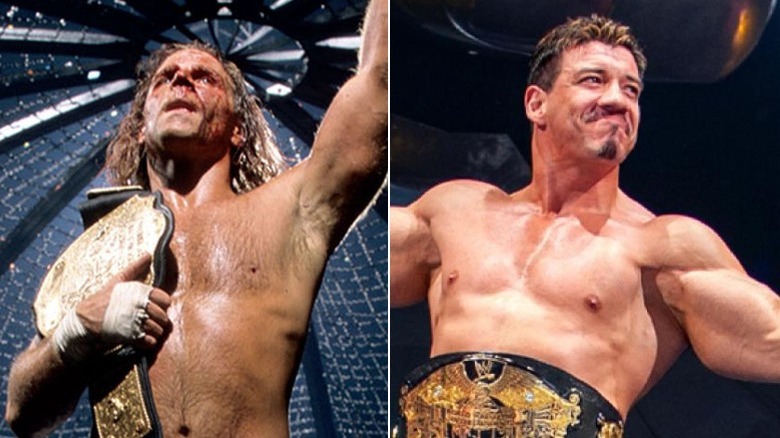 WWE
Eddie Guerrero was set to take on Shawn Michaels at WrestleMania 22, according to Bruce Prichard on his podcast, "Something to Wrestle" (via talkSPORT). Sadly, that never happened, as Guerrero tragically passed away from heart failure on November 13, 2005 at just 38 years old. There's no denying that a match on the grandest stage of them all between two of the best workers of all time would have been incredible; the question is, would it have lived up to the hype? There's not a doubt in our minds, this match would've brought the Latino Heat!
Michaels had somehow become an even better worker than he was in the '90s, mixing the high-flying showmanship of his youth with the brilliant babyface selling of an experienced pro. Meanwhile, Guerrero had combined his unique blend of lucha libre and mat-style wrestling with some of the era's best character work through his "Lie, Cheat, and Steal" persona. Basically, this would've been both of the best at their best. We imagine a lightning fast-paced "SmackDown" vs. "Raw" interbrand battle, with Guerrero playing the heel and Shawn the face (with the Chi-Town crowd likely split down the middle). Guerrero tries to cheat Michaels, only to fall to his own hubris and a last-second Sweet Chin Music. Of course, it doesn't really matter who picked up the "W," as the fans would've been the big winners.
Stone Cold Steve Austin vs. Brock Lesnar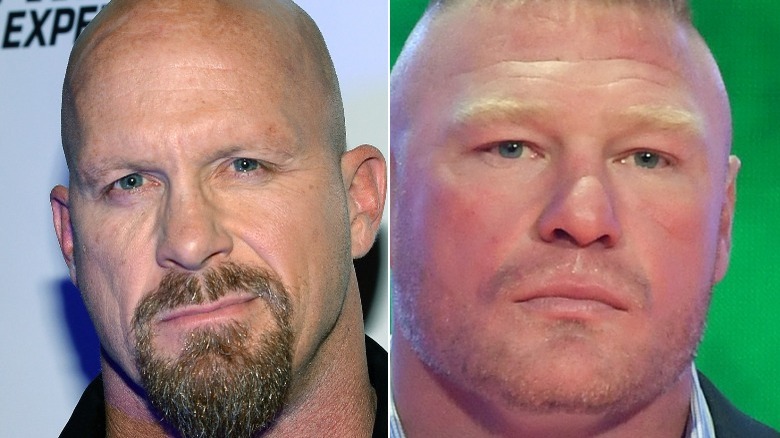 Ethan Miller & Ethan Miller/Getty
Despite having one of the most successful pro wrestling careers ever, Stone Cold Steve Austin has one major regret: walking out on a match with Brock Lesnar. According to an interview on "Talk Is Jericho" (and numerous other times), Austin revealed he "handled the situation like a total a**" by walking out. It's a loooong story, but basically Austin was booked to lose to an up-and-coming Brock Lesnar in an impromptu King of the Ring tournament qualifier. Austin was wrong to walk out, but right to be upset; it was a dumb idea. However, WWE was wrong to not book Steve Austin vs. Brock Lesnar in a Career vs. Championship match at WrestleMania XIX.
Yes, Lesnar vs. Angle was a dream match of sorts, while Austin losing to longtime rival The Rock was the perfect way to close his career. However, Austin vs. Brock would've made so much sense. Lesnar had plowed through Hogan, Rock, and Undertaker by then, so having Austin be "the final boss" for "The Next Big Thing" would've worked beautifully. Yes, long-standing injuries forced Austin into retirement, but we believe if these two wrestled a good, old-fashioned brawl, the crowd's nuclear heat would've made up for whatever the match was lacking from a technical standpoint (a la Rock vs. Hogan). The Texas Rattlesnake fighting with everything he had left, before finally falling to a final F5, would've given Brock a star-making moment, and Austin the heroic send-off he deserved.
The Rock vs. Brock II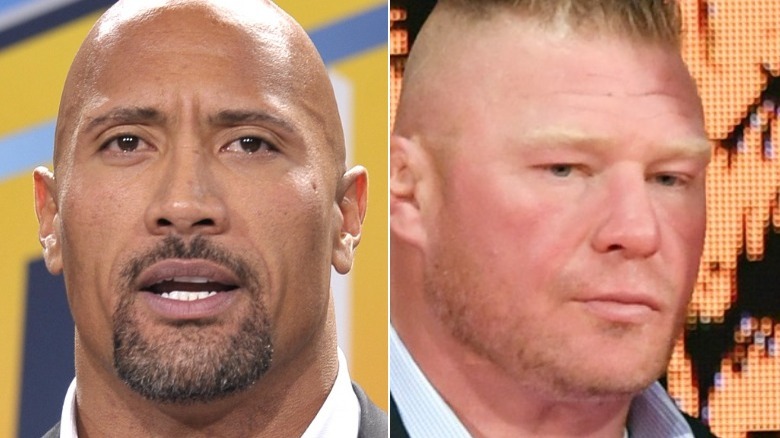 Michael N. Todaro & Ethan Miller/Getty
Hard as it is to believe, but there was a time Brock Lesnar looked like a star ... but just wasn't connecting at that level. What happened? The Rock, that's what. The biggest stars don't outshine their opponents, they make their opponents shine brighter, and The Rock did just that when he made Lesnar a star at SummerSlam 2002. As great as the match was, we wished a rematch would've happened about ten years later.
According to reports at the time, Rock vs. Brock II was the plan for either Summer 2013 or WrestleMania 30, before Rock's post-WrestleMania 29 injuries made him rethink his return to active wrestling (he hasn't wrestled since, save a quick squash of Erick Rowan at WrestleMania 32). Frankly, we'd prefer Rock vs. Brock II at WrestleMania 29, but why quibble? Whenever it was, it would've been electric. 
The Rock was a big, multimedia star when he elevated Brock in 2002. By 2012, Brock was a massive, multimedia star himself, so these two facing off would have transcended pro wrestling like few matches ever have. We imagine a face Rock defying the odds to defeat the unstoppable monster Brock in a 10-minute match that felt like an epic movie, ala Brock vs. Goldberg at WrestleMania 33 (only, well, better). Heck, have Rock beat up Paul Heyman and you've got sports entertainment at its finest.
John Cena vs. The Undertaker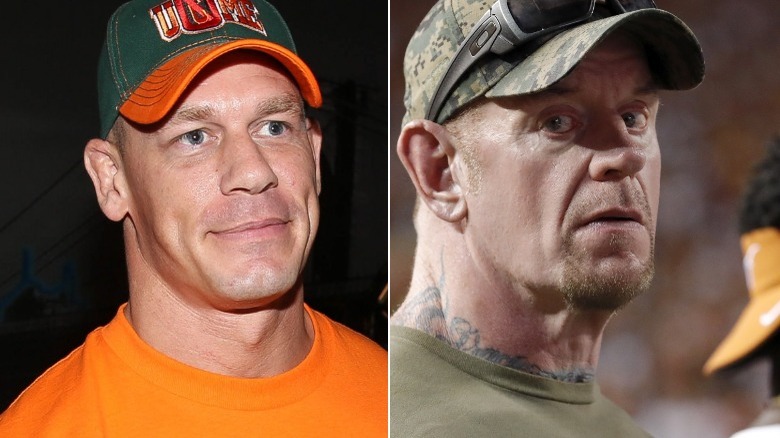 Tim Warner & Rob Kim/Getty
WWE seems to regret they were never been able to remake the "once in a lifetime" magic that was Hulk Hogan vs. Andre the Giant at WrestleMania III. Turns out, they had that match sitting right under their very noses — John Cena vs. The Undertaker. 
We know what you're thinking: Cena and Undertaker did fight at WrestleMania 34. Yeah, in a three-minute squash that stunk. Honestly, how that whole thing went down makes us scratch our heads, as booking "Super Cena" versus Undertaker before "The Streak" ended seems like the biggest no brainer ever, and thus WWE's biggest missed opportunity.
A la Hogan-Andre, Cena-Taker truly would've been "the irresistible force vs. immovable object." Imagine the match at WrestleMania 24 when Cena was 4-0 and Taker was 15-0. Heck, the match might've been even more electric when Cena was 6-3 and Taker was 20-0 at WrestleMania 29; who wins — the undefeated Undertaker or the "fallen warrior who has everything to prove" John Cena? Besides the crowd going bananas, as Gorilla Monsoon would say, the match would've rocked, as Undertaker was at his in-ring peak, while Cena had leveled-up in a big way. There are some dream matches where we can understand why they never happened, even if it disappoints us; WWE not booking John Cena vs. The Undertaker when it would've made the most sense (and cents) truly makes no sense.