Wrestlers Ranked By Most WrestleMania Main Events
Jon Kopaloff/Getty Images
Of the literal hundreds of performers who have worked at WrestleMania, only a relative handful have gotten the honor of closing the show. These men and women are candidates for the proverbial Mount Rushmore of Wrestling, and include some of the biggest superstars ever. Yet of the few who have main evented WrestleMania, even fewer have main evented multiple times. 
Whether they closed the show due to being objectively the biggest stars, main evented only because Vince McMahon insisted on shoving them down our throats, or some combination of the above, these dudes main evented the "Granddaddy of them all" more than anyone. We're going to count them down based on who main evented the most, and are only including the times they closed the show. So while Hogan vs. Rock was obviously the match people paid to see at WrestleMania X8, Triple H vs. Jericho was the main event. For the multiple wrestlers who tied for the most main events, we'll break the tie based on win-loss records. Who do you think has main evented the most? You may be surprised.
12. Shout out to the one-timers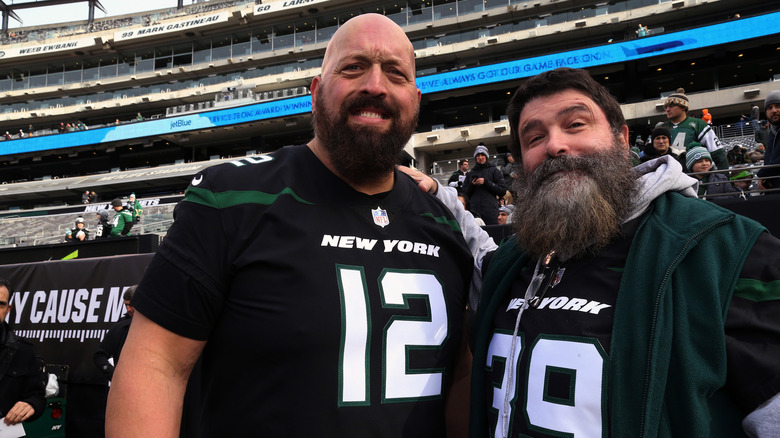 Al Pereira/Getty Images
We'll start by highlighting the guys and gals who have only main events once. Hey, just getting to the Super Bowl is a big deal — not everybody can be the New England Patriots, right? The list of one-and-doners includes names ranging from the Rock N' Wrestling Era's "Mr. Wonderful" Paul Orndorff (WrestleMania) to the PG Era's The Miz (WrestleMania XXVII). It includes "Rowdy" Roddy Piper (WrestleMania) and "Rowdy" Ronda Rousey (35). King Kong Bundy, Andre The Giant, Ted Dibiase, Ultimate Warrior, Sgt. Slaughter, Bam Bam Bigelow, Big Show, Mick Foley, Chris Jericho, Kurt Angle, Chris Benoit, Seth "Freakin" Rollins, AJ Styles, and Drew McIntyre are all also one-time-only main eventers (for now). 
Two non-wrestlers got to wrestle last: Mr. T (WrestleMania) and Lawrence Taylor (WrestleMania XI). Five women have closed the show: Rousey, Becky Lynch, Sasha Banks, Bianca Belair, and Charlotte Flair. In fact, Charlotte is the only Flair who has main evented WrestleMania, as Ric Flair's title bout versus Macho Man at WrestleMania VIII was a mid-card affair. This just goes to show that even some of the biggest names never closed the show, including dudes like Harley Race, Dusty Rhodes, Diesel, Eddie Guerrero, and Goldberg. 
CM Punk's omission clearly still stings him ... and maybe stings Sting too. However, not everyone can close the show. Which makes it all the more impressive these guys below did it more than once.
11. Lots of wrestlers main evented twice
Getting to grab the brass ring on the biggest stage of them all is a big deal, but sometimes that has more to do with storylines than star power (see The Miz). But if you got to the main event twice? Obviously the Old Man saw something in you. Sycho Sid, Edge, and Randy Orton each lost in their two trips to the main event. Both Sid and Edge got stopped by Undertaker's Streak (13 and XXIV, respectively), while Orton got axed by Triple H's ego (25). Sid also lost by DQ to Hogan at WrestleMania VIII, while both Edge and Daniel Bryan got stacked by Roman Reigns at WrestleMania 37. 
Speaking of Bryan, Orton lost to him at WrestleMania XXX, after Bryan tapped out Batista in the triple threat match. Like Bryan, Batista also has one win and one loss to his WrestleMania main event credit, as Batista beat Triple H at WrestleMania 21. "Macho Man" Randy Savage was also 1-1, defeating Ted DiBiase in the main event at WrestleMania IV, but coming up short against Hulk Hogan when the Mega Powers exploded the next year. 
Yokozuna is tricky. He beat Bret Hart in the main event at WrestleMania IX due the on-screen shenanigans, but immediately lost to Hogan that same night due to backstage shenanigans. Does that count as two? Up to you. But he definitely lost to Hart the following year in the main event at WrestleMania X.
10. Bret Hart - 3
Bret "The Hitman" Hart had five World Championship runs during his 13-year initial run with WWE, but you definitely never got the sense that Vince saw him as "The Guy." Why? Well, because McMahon never passed up the opportunity to move onto someone else (and then eventually move back to Bret when that someone else didn't work out). Hart's first world title run came to an abrupt end at WrestleMania IX, when Yokozuna defeated him (by way of Mr. Fuji's white powder to Hart's eyes), making Hart the first babyface to lose to a heel in WrestleMania's main event. 
However, Yokozuna's title reign was short-lived, as Hogan closed the show with the gold. Hart fared better at WrestleMania X, opening the event in a show-stealer versus his brother Owen. He lost that match, but ended the show with his arms held high when he got his revenge, and the title, against Yokozuna. However, that was not the case when Hart wrestled in the main event for the last time, losing to Shawn Michaels in a 60-minute Iron Man match at WrestleMania XII.
9. Stone Cold Steve Austin - 4
"Stone Cold" Steve Austin is arguably the biggest star in pro wrestling history. However, he has only main evented WrestleMania four times (and only three times in his prime). Blame it on injuries, as surprisingly Austin's main event run lasted only five years, from 1998 to 2003, with him being gone for almost two of those years due to neck surgery (2000) and walking out (2002). However, Austin has an even more impressive record than number of main event appearances, as he's the only wrestler to never lose in the main event at WrestleMania out of multiple appearances. 
He defeated Shawn Michaels to win his first world title at WrestleMania XIV, then defeated The Rock twice at WrestleMania XV and WrestleMania X-Seven, winning the title both times. The Rock retired Austin in the sub-main event at WrestleMania XIX, and unlike most wrestlers, Austin stayed retired ... or so we thought. Austin returned to WrestleMania 38 in Dallas, Texas, ostensibly for a guest spot in the KO Show, an appearance that turned into a No DQ match, and one final victory for The Texas Rattlesnake — even if it wasn't a main event spot.
8. Shawn Michaels - 5
Shawn Michaels lives up to his self-proclaimed monikers "The Main Event" and "Mr. WrestleMania," with five appearances in the main event of WrestleMania, most of them in multi-star classics. However, he also is tied for the worst WrestleMania main event record, having lost all but one of his five WrestleMania main event appearances. His first WrestleMania WWE Title match was against this buddy and former bodyguard Diesel at WrestleMania XI, but Lawrence Taylor vs. Bam Bam Bigelow closed the show. HBK and Bret Hart got those honors at WrestleMania XII, as Michaels won his first Mania main event and his first world title. 
Michaels was back two years later in a loss to Stone Cold Steve Austin at WrestleMania XIV, then was out for another six years nursing a back injury and personal demons. Michaels made his WrestleMania return in a show-stealing mid-card victory over Chris Jericho at WrestleMania XIX, then returned to he main event the next year, losing to Chris Benoit in a triple threat match also including Triple H at WrestleMania XX. WWE was back in a stadium and HBK was back in the main event at WrestleMania 23, as he carried WWE Champion John Cena to Cena's then-best match ever, before tapping out. Michaels' lost his last main event in a "Streak vs. Career" match versus The Undertaker at WrestleMania XXVI, concluding his run in one final phenomenal affair, for a 'Mania main event record of (1-4). 
7. The Rock - 5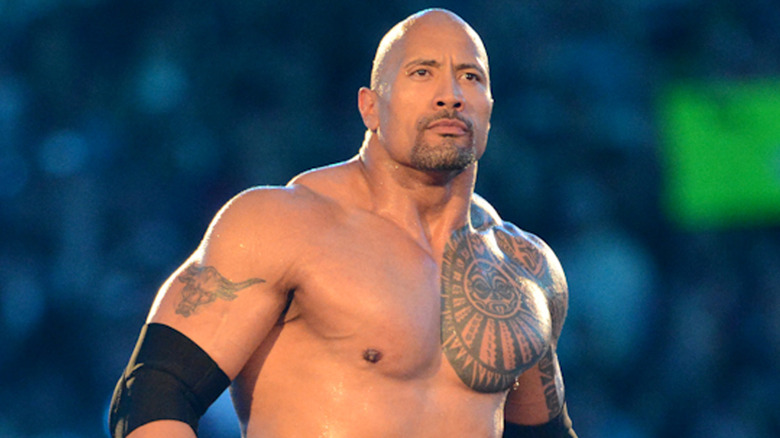 Ron Elkman/sports Imagery/Getty Images
Despite being one of the biggest stars in pro wrestling, movies, and television ever, Dwayne "The Rock" Johnson has only won one WrestleMania main event out of his five appearances. You read that right ... just one. Why? Blame it on the storylines. His first Mania main event was as the corporate bad guy against Steve Austin at WrestleMania XV, a match he obviously should've lost. His next defeat was in a Fatal Four-way at WrestleMania 2000 (XVI) against Triple H, Mick Foley and The Big Show, a match he probably should've won, but his victory over Triple H the next month drew a monster buyrate, so there's that. 
The Rock lost to Steve Austin again at WrestleMania X-Seven after Stone Cold aligned with Vince McMahon ... and killed the Attitude Era. Shockingly, The Rock wouldn't main event WrestleMania for another 11 years, as he was too busy becoming the biggest star alive. He returned to beat John Cena at WrestleMania XXVIII (his lone victory), a match he probably was penciled-in to lose, until they realized at the last minute it was in his hometown of Miami, Florida. The Rock was back for WrestleMania XXIX, losing the bout, and the WWE belt, in a "Twice In A Lifetime" rematch against John Cena.
6. Brock Lesnar - 5
Brock Lesnar has been Vince McMahon's go-to Final Boss ever since his 2012 return. Make no mistake though, McMahon always loved Lesnar, even back when "The Beast Incarnate" was still "The Next Big Thing." Lesnar's first Mania main event was defeating Kurt Angle at WrestleMania XIX, closing out a card that also featured Undertaker, HBK, Chris Jericho, Triple H, Booker T, Vince McMahon, Hulk Hogan, Stone Cold, and The Rock ... do you think Vince saw something in him? 
Alas, Lesnar saw something in the NFL and UFC instead, leaving the business and not wrestling for WWE for nearly a decade. His Mania main event return was against Roman Reigns at WrestleMania 31, which turned into a loss for the hoss when Seth Rollins cashed in his Money In The Bank, pinning Reigns. Brock was back against Roman (this would become a pattern) in the main event at WrestleMania 34, finisher-spamming him with six F5s to win the match. Lesnar lost to Drew McIntyre in the main event at WrestleMania 36, in a match shorter than this list, then lost again to Roman Reigns in the "Biggest WrestleMania Match Ever" at 38. All told, his five 'Mania main events has resulted in a 2-3 record.
5. John Cena - 5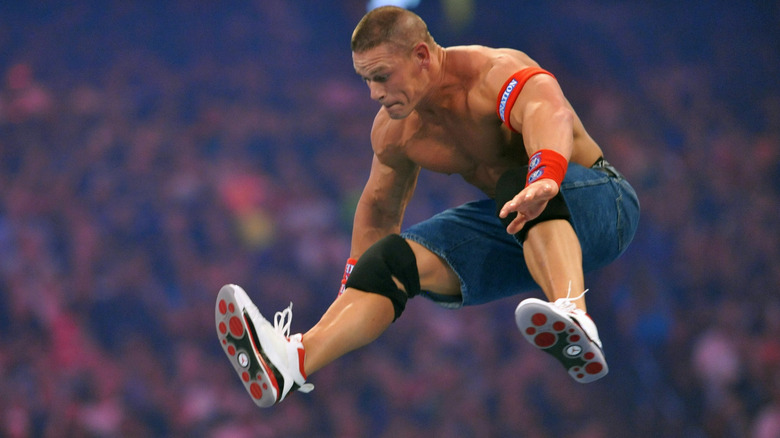 Moses Robinson/Getty Images
Despite the "CENAWINSLOL" social media trope, and y'know, being the top guy for a decade, John Cena's WrestleMania main event win-loss record (and main event appearances for that matter) is surprisingly modest. If Cena pulled strings like Hogan or Triple H, we'd expect him to be 20-0. Cena had to settle for a sub-main event at WrestleMania 21, winning the WWE Title from JBL, which he successfully defended against Triple H the next year at WrestleMania 22, Cena's first "Mania main event, to a chorus of vitriol from the Chicago crowd.
Cena tapped out the Game and did the same to HBK in the main at WrestleMania 23, racking up quite the 4-0 run at WrestleMania, 2-0 in the main event (he inexplicably took the pinfall in an undercard match at WrestleMania XXIV against Randy Orton and Triple H, but that's another story). Surprisingly, after WrestleMania 23, Cena wasn't in the main event again until WrestleMania XXVII, losing to The Miz, which was really just there to set up Cena vs. The Rock at WrestleMania XXVIII...which he also lost! Cena's final main event (for now) was a rematch with The Rock at WrestleMania XXIX, which he won, resulting in a 3-2 WrestleMania main event record.
4. The Undertaker - 5
"The Streak" is one of the most legendary accomplishments in pro wrestling history, with Undertaker winning 21 matches over three decades before finally falling to Brock Lesnar at WrestleMania XXX. However, two of Undertaker's five WrestleMania main events occurred after the Streak ended. Undertaker's first WrestleMania main event was at WrestleMania 13, when he won the WWE Title from Sycho Sid in a snoozer that couldn't hold a candle to Bret Hart vs. Steve Austin earlier in the show. It would be 11 years before Undertaker wrestled in the main event again, this time tapping out Edge to win the World Championship at WrestleMania XXIV. 
After his legendary match with Shawn Michaels stole the show (but didn't close it) at WrestleMania 25, the duo's rematch took place in the main event at WrestleMania XXVI, with The Phenom beating and retiring The Showstopper. Nearly a decade later, The Deadman lost to the Big Dog at WrestleMania 33, presumably retiring himself. It was all a smokescreen, as Undertaker was back for a few more matches, including his actual retirement, a victory in a cinematic "Boneyard Match" against AJ Styles at WrestleMania 36. While Undertaker's overall WrestleMania record is 25-2, his main event record is 4-1.
3. Roman Reigns - 6
Yep, Roman Reigns has been in more WrestleMania main events than "Stone Cold" Steve Austin, John Cena, Brock Lesnar and Reigns' cousin, The Rock. And we suspect Reigns is just getting started. You can argue at least half of these main event appearances were McMahon trying to force The Big Dog down our throats, but the fact remains, Reigns has still closed the show more than almost everyone. His first 'Mania main event appearance was in a one-on-one WWE Championship match versus Lesnar, which turned into a triple threat loss to Seth Rollins, at WrestleMania 31. 
Following that failed coronation, McMahon tried again at WrestleMania 32, with Reigns beating Triple H to a chorus of boos. Reigns "retired" The Undertaker at WrestleMania 33, only for the Phenom to return one month later. Finally, Reigns wrestled Lesnar a second time at WrestleMania 34, inexplicably losing. With four 'Mania main events in a row to his name, Reigns sat out the next two main events, and sat out WrestleMania 36 entirely. Thankfully, his return to the grandest stage on the Grandest Stage was as the Tribal Chief, first by stacking Edge and Daniel Bryan to beat both at WrestleMania 37, and then finally beating Brock at WrestleMania 38. We fully expect Reigns to top this list one day.
2. Triple H - 7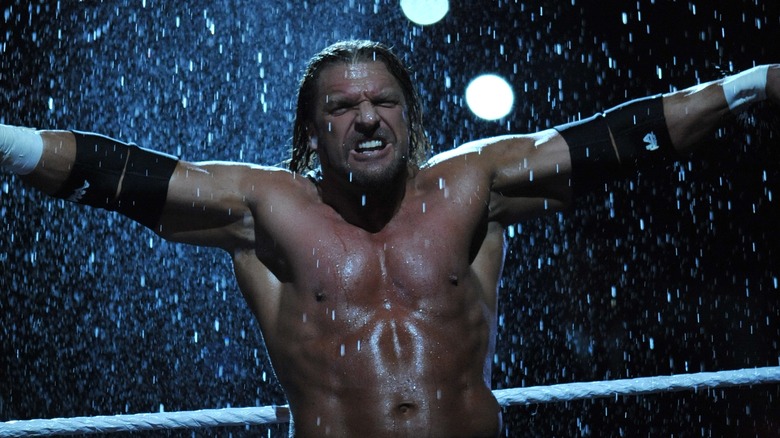 Moses Robinson/Getty Images
Triple H positioned himself as the "Big Bad" for WWE's babyfaces to beat for decades, which means he's been in a lot of WrestleMania main events -– seven, to be exact. However, it also means he's lost plenty too, with a 'Mania main event record of 3-4, and an overall WrestleMania record of 10-14. Triple H started his WrestleMania main event run strong, defeating The Rock, Big Show and Mick Foley at WrestleMania 2000, becoming the first heel to leave WrestleMania with the WWE Title (Yokozuna beat Bret, but lost to Hogan). 
Triple H next beat Chris Jericho at WrestleMania X8 to a chorus of apathy, as Rock-Hogan had already drained the crowd — and besides, nobody bought Triple H as an underdog babyface. Triple H went back to being a heel, and after beating Booker T in the WrestleMania XIX undercard, began a three-match main event losing streak, losing to Chris Benoit (XX), Batista (21), and John Cena (22). Triple H's switch to good guy won him his first 'Mania main event in years against Randy Orton, but ended WrestleMania 25 in silence, because HBK-Undertaker drained the crowd ... and again, nobody buys Triple H as an underdog babyface. Triple H returned to the dark side for his final 'Mania main event, losing to Roman Reigns at WrestleMania 32, but this time getting cheered. What can we say? Wrestling fans are weird.
1. Hulk Hogan - 8
There could be no number one but "the Immortal One" at the showcase of the immortals. WrestleMania was the house that Hogan built, so it's only natural that the biggest babyface of Rock N' Wrestling Era main evented the Granddaddy of them all the most -– eight times. (Well, there's an asterisk by that eight, but more on that in a second.) Hogan's record is also mighty impressive too, with seven victories and only one defeat. Hogan teamed with Mr. T to defeat Roddy Piper and Paul Orndorff in the main event of the first WrestleMania, beat King Kong Bundy in a steel cage at WrestleMania 2, and slammed Andre the Giant in front of a sold-out stadium at WrestleMania III.
Hogan settled for the undercard at WrestleMania IV, though still helped Savage win the main event, only to beat his buddy when the Mega Powers exploded at WrestleMania V. Hogan's lone defeat came at WrestleMania VI when he passed the torch to the Ultimate Warrior, only to take the torch back to defeat Sgt. Slaughter at WrestleMania VII and Sid Justice (Psycho Sid) at WrestleMania VIII via DQ. 
Hogan wasn't billed in the main event at WrestleMania IX, but he did close the show after defeating Yokozuna for the WWE Title in an impromptu 22-second "match." Whether that counts is up to you, but if you disagree what cha' gonna do when Hulkamania runs wild on you?