Mojo Rawley Discusses AEW, Possible WWE Return, Rob Gronkowski, WES, And More - Exclusive Interview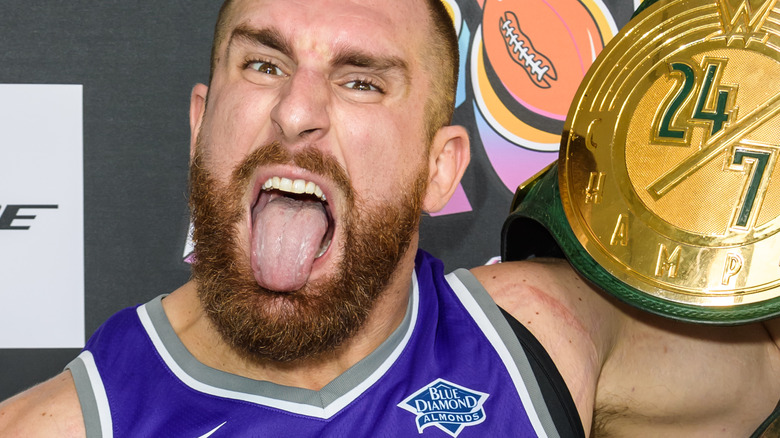 Jason Koerner/Getty Images
Dean Muhtadi, better know to pro wrestling fans as former WWE star Mojo Rawley, has done many things in his career. After receiving his MBA from the Smith Business School, Muhtadi was signed by the Green Bay Packers and began his NFL career. He would go on to play for the Arizona Cardinals before suffering a calf injury and subsequently being released from the team. His NFL release would, of course, open the door for him to pursue his lifelong goal of becoming a WWE star.
Muhtadi was signed by WWE in 2012 and would go on to have several memorable moments. Fans enjoyed him early in his run as he tagged with Zack Ryder, now Matt Cardona, as The Hype Bros. The duo would never win WWE tag team gold, but that doesn't mean Muhtadi didn't go on to find his own accolades — he's a former seven-time WWE 24/7 Champion and was the winner of the 2017 Andre The Giant Memorial Battle Royal at WWE WrestleMania. 
Following his WWE release in 2021, Muhtadi decided to partner with good friend and fellow businessman Steve Kaye to launch the Paragon Talent Group. Paragon helps former WWE stars, and some current AEW stars, land brand ambassadorships so they can create more independent income. Some of the talents Paragon currently represents include Cardona, Renee Paquette, Andrade El Idolo, Maria Kanellis, and C.J. Perry. Wrestling Inc. recently sat down for an exclusive interview with Muhtadi.
Founding Paragon Talent Group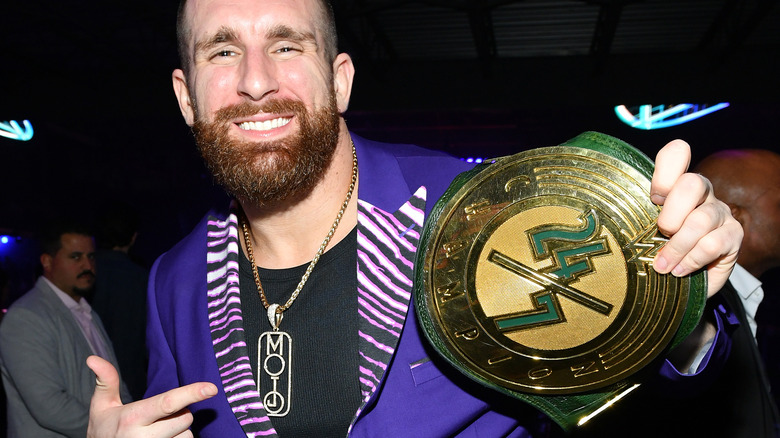 Mike Coppola/Getty Images
For those out there that aren't familiar with [Paragon], why did you feel like you wanted to create this talent group? I think it's a really interesting concept and idea you've got here, genuinely.
Yeah. This is something I always had in my back pocket that I've been wanting to do for years. Coming from the NFL background, there's programs in place to assist the athletes' transition out of football, to find life out of football — jobs, careers. There's actually income and revenue streams that continue to come in from the NFL. There's medical help. There's legal assistance. You name it, they got it. With wrestling, we don't have any of that. So the second you're done, you're done. You got nothing else coming in. You got no one helping you with your next steps in life. No one to help you negotiate, find work, take care of yourself, healthcare, nothing. You're just thrown out into the cold, and some people are prepared for that, and some people aren't. It's hard to just pick up and start over again, especially where if you knew how to hunt beforehand, you don't do it anymore while you're with WWE, you kind of can't. They handle everything in-house for you, so it can be tough starting over.
So there was definitely a need. A lot of the wrestlers were struggling with next steps. It was really sad to see, too, because they had so much talent, they had so much ability, marketability. There was just so much going on and there just wasn't any opportunity that they were finding outside of the same indie shows and the same two or three brands that literally work with any wrestler who calls him. Thank you to those people, but we want to create a market where there's more than just that. So I was looking for next steps in my own career.
I was now available and free for the first time in a decade, so it was kind of a matter of dusting off the Rolodex and drumming up new business for myself. But the company, again, it kind of created itself, because a lot of these brands, they want to work with multiple athletes and influencers. And it was a matter of, "We'd love to sign you, Mojo. You got any other buddies we can bring on?" It's like, "Well, funny you mention that, yes I do." So the company kind of created itself.
Choosing Between A Backstage Or An In-Ring Future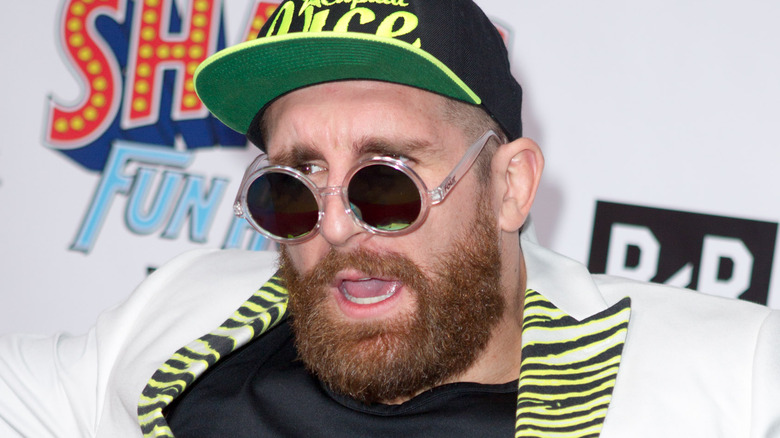 Jamie Lamor Thompson/Shutterstock
So you've seen it both, right? You're now working kind of behind the scene, helping your friends get work, get yourself more ambassadorship money, of course, but you've also been seen in the ring. Where's your head at right now, Dean? Are you focused more on an in-ring return, or you're focused more on pursuing the behind-the-scenes, business part of wrestling right now? Because I can see you doing both, I don't know which one you've got a preference for at the moment.
I always want to do it all. I want to do everything. The whole "stay hype" thing, it's not a gimmick, that's just how I am. I had it long before WWE, I'm going to have it well afterwards. I don't like to stop. It bothers me if I'm not doing anything, I hate off days. It drives me nuts. I want to do everything. Selfishly, look, I got unfinished business in the ring. I don't think I even scratched the surface on my in-ring contributions to this business, so I was always kept at a level that I would've preferred not to have been at. Don't get me wrong, I was grateful for 10 years with the company, and I had some good times, and I had some good moments. A lot of the times I was used for more behind-the-scenes roles, community service, public relations, outreach, all these other things that a lot of fans don't think about, which is why there's a lot of guys on that WWE roster that fans might wonder why they're there, that's a reason.
And a lot of times, those guys carry more value than a lot of the guys you see on TV every week, they just don't know it. But kind of like the impact we're making now with Paragon, it almost feels like a bigger contribution to the wrestling world than I could possibly do in the ring, even if I got a main event push and I had the title around my waist. I feel like what we're doing right now goes well beyond that. It's bringing back mainstream markets. It's bringing in A-list brands to want to work with our guys. And it's putting a lot of money in our talents' pockets. We have some people that in six months made more than they ever did in their best year with WWE, and that's hard to do when you're fresh out and you spend half that time trying to figure out what you want to do with your life, and heal up from all those injuries you sustained in the ring.
Brokering Deals For AEW Talent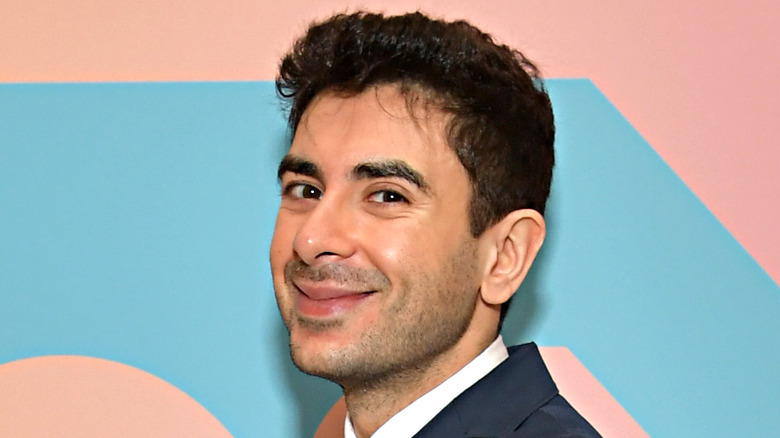 Emma Mcintyre/Getty Images
I think it's interesting with Paragon, we talk about how much guys are making right now. I don't think you have any contracted WWE talent right now, but you do have a couple AEW talents ... Obviously, if you're on TV, there's a different kind of market appeal there ... it's very unique and different for AEW to allow them to do that.
I actually haven't personally spoken with Tony Khan at all, but we do represent some AEW talent, and mission number one with them is to not put them in a position that's going to put them in a tough place with AEW. So we get these brand deals all the time, we like to clear them first. We'll call it in, make sure it's not a company or an avenue that's in direct competition with a current ongoing AEW sponsor. If AEW's sponsored by McDonald's, we don't want to send all of our guys to Burger King, where maybe technically they can do it contractually, but it's not doing anybody any favors and it creates a hostile work environment for them with their bosses over there, so that's mission number one. But we've had plenty of conversations with the team over at AEW, they're familiar with what we have going on.
Not only them, we've done a lot of work with Impact and some of the other promotions. For some of these promotions, we've talked about representing the promotion as a whole, working with them to bring the entire brand business. It's been great. Honestly, I think a lot of these guys are seeing the need for the space. They need the backup, quite frankly. And especially for Steve and I, it's just two people that have business backgrounds that come from that world, in addition to this world. And there's just, unfortunately, in the wrestling business, not too many of those.
Vince McMahon Stepping Down From WWE Roles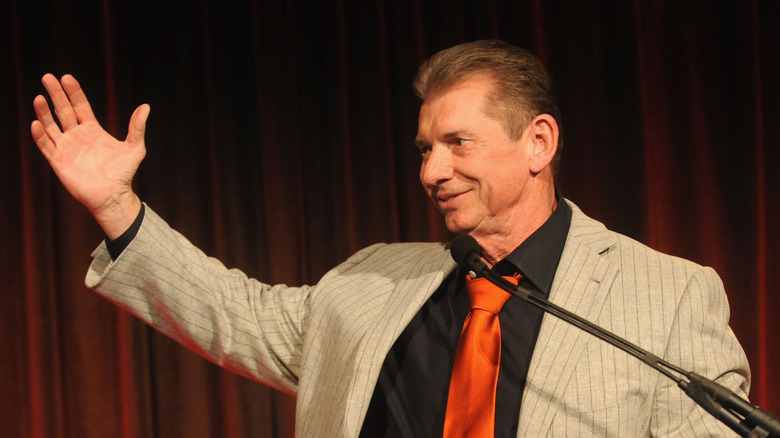 Brad Barket/Getty Images
What's going through your head when you're looking at what's happening at WWE right now? What do you make of the big turnover from Vince to the new regime?
I've been back and forth on it. To be honest, what I use as a more accurate gauge is just talking to my buddies that are there with how happy they are. Look, I'm not there anymore, so all I know is what I read that you guys put out. I'm not tied in. I'm not directly affiliated anymore. I honestly rarely talk to anyone over there anymore on an administrative level. Of course, I have plenty of friends there that are still wrestling there every week. So it's been interesting, man, it's been a lot. Just so much shake up, so much change, so many rumors, so many allegations. It's the Wild West over there. We all kind of knew it's a circus over there beforehand. We always used to joke about that. The company even makes that joke themselves, but even now, it's just taking it to the next level.
It's pretty wild over there. And it's funny to read too about just how many guys that were formerly there that aren't, that have just said... Everyone's kind of still saying the same thing — if the offer was right, if the money was right, if the situation was right, they would go back, despite everything that's been going on. So interesting to see what's breaking point for some people and whatnot, but I feel like this situation's far from over and we're just going to keep seeing a lot of change. I'm not saying that's necessarily bad change, there might be some great change coming too. I know the internet is pretty excited with some of these guys that have been brought back to WWE that were formally released and some of the changes that we're already seeing in the creative. Yeah, man, I guess we'll see where it goes.
What Was It Like Working With Triple H?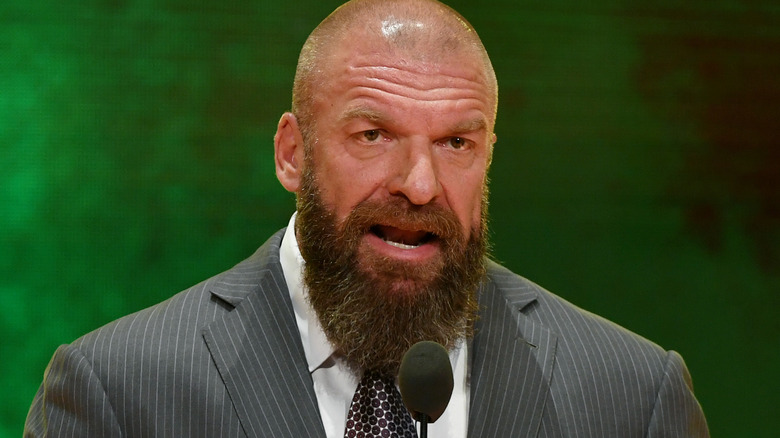 Ethan Miller/Getty Images
So what was your relationship like with Triple H?
I believe, from what I was told, and I never had this conversation with Triple H directly, but he was the one that debuted me back in "NXT." He saw a dark match that I did before one of the Full Sail tapings and he was like, "Let's get this guy moving." And I think he told Bill DeMott that, and then they put the fire on me and brought me up to speed as quick as they could. When I debuted, I was brand new. And again, I had my first day of wrestling in a WWE ring, so I was still trying to figure out how to run the ropes correctly, more or less, when I debuted. And I was always grateful for Hunter for giving me that opportunity so quick, for me to be thrown into the fire and learn on the fly. That's how I prefer to grow. That's how I want to work. Not only wrestling, but in any way of life.
So I'll always be forever grateful to Hunter for giving me that shot in "NXT" from the beginning. I really appreciated it. But when you get going and you're on the main roster, you're talking events, you're talking to Hunter ... you're talking to so many people. In my experience, it was kind of challenging to have one guy that you could really lean on, to count on, to guide you down one path. It was always walking one path every different day for a different person, so you're going every which way. So you never really knew whose advice to take. And it was crazy, you would think if Hunter tells you something, you follow that blindly, but it wasn't always the case if Vince is telling you something else. And look, they obviously have their own takes on professional wrestling, and I think when you mesh the two of them together, that is the best situation possible in my personal opinion. But it got kind of confusing, so you just never knew who to turn to. You kind of just had to average it all out, I guess.
The Game Has Changed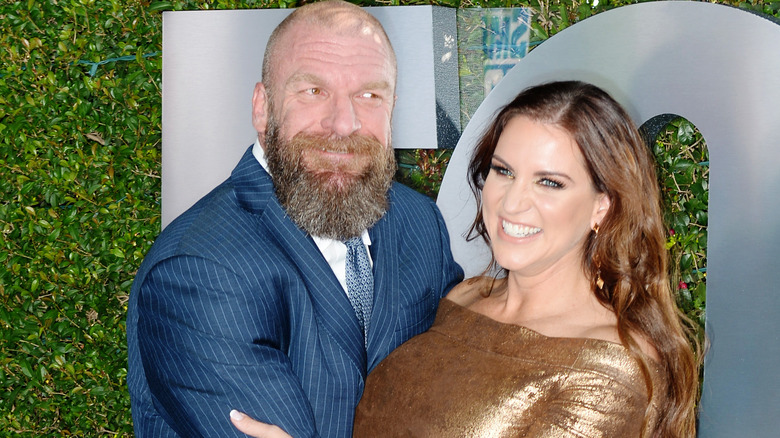 Jerod Harris/Getty Images
So does it entice you more to know that it's just Triple H now running creative over at WWE? Do you think there'd be a more refined system? Does it get the wheels working in your mind at all? Like, "Man, I don't know, maybe this is different. Maybe I would want to try this out over there again." 
Look, I loved my time with WWE, and for me, if I was ever to go back, it is far less about coming up with the right financial amount, and I know that's number one for most people. But for where I am in my career right now, that is pretty far down the line. I have a lot of other jobs and careers going on right now that I'm financially secure. So I've always thought that if I did go back to pro wrestling, whether it was in WWE or somewhere else, I can be me, and I don't have to worry about getting fired when I go back. Because I know that job will pay me less than everything else I'm doing, and just having that kind of freedom, man, I wish I would've had that with my WWE run, because I really could have just stopped trying to be what I was told to be and just be me.
I always thought that being me was enough of a selling chip, enough of a gimmick or persona to have a main event run in a company. And it's easy to go sideways when you're there, when you get stuck in the mid-card or the 24/7 hunt. But the validation that I've had since leaving WWE reminds me who I am and where I should be. And I just feel like if I was able to go back to professional wrestling now with my head screwed on right the way it was before I got there, man, it would go really well.
The Rise And Quick Fall Of WES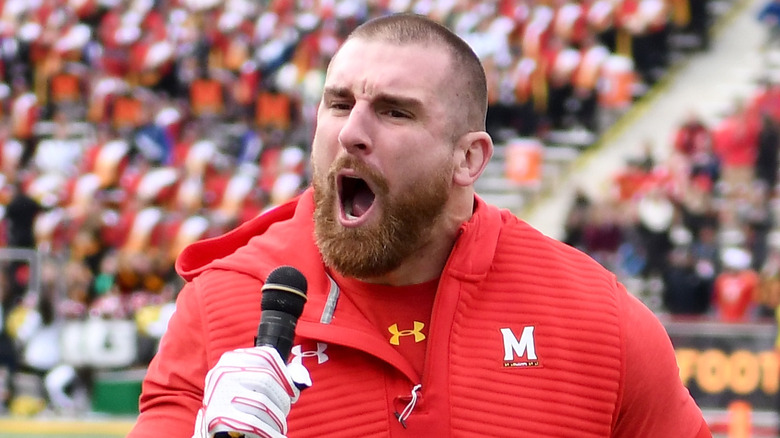 G Fiume/Getty Images
Well, we almost got to see a tease of what you clearheaded looks like in the ring, and that was at the WES show that was shut down in the UK ... What do you think went wrong with WES? This thing seemed like it had this huge potential, and then just kind of seems to have fluttered away kind of quickly. What do you think didn't work here with the WES promotion?
It was just too big of a goal, too quick. I know where they were trying to go. We talked to those guys at length. Honestly, we were thrilled with the opportunity that was at hand. They had some great financial backers, a great vision for the product. It actually went pretty hand-in-hand with a lot of the vision that Steve and I had for professional wrestling, and the impact where we would've liked to have seen it go. We loved the fact that this was going to be a traveling show, one promotion that traveled the world internationally and hit some markets that aren't frequently traveled and exhausted by all the other wrestling promotions. They wanted to hit the Middle East. There was plans for Dubai, and Istanbul, and some of these other places. And then the UK, bringing some to the US, bringing in celebrities like Alistair Overeem to train, to compete in the right settings with no handcuffs on, the direction was really pretty cool.
We loved the concept behind it. It was just one series of unfortunate events after another, after another, after another. We're talking deaths of country's rulers that thrust a country into mandatory shutdowns of events as per the mourning period, pivoting to a different country on literally one day's notice. On one day's notice they moved from Dubai over to England, and shopping all these venues and just trying to force it all in. It was a lot. And I think if they would've had the proper time to promote, to get the contract squared away — this is kind of the behind-the-scenes stuff that now, we're very familiar with at Paragon. It's just how long the legal side of these things take. How long the contracts take. You think, man, you have your lawyer read it, it's done in a day. Well, that's not the case.
Sometimes they take weeks for the lawyers to get back through, and then they make their changes, and then you got to schedule with their lawyers. That process takes months sometimes and it's a huge pain in the butt, but that's what happens when you put on a promotion and you're the one that's now in a position to be the boss. And it was just too much, too soon. I've talked with those guys, they plan on doing more shows, having a show I guess you could say, in the future. But finding a time to make this work, I don't know where they stand with that currently. But it would be interesting. But man, I can tell you, the thought process behind it, and of course, I'm only saying part of their plans here, they had some cool surprises lined up too. It was a really cool concept, I will say that for sure.
Rob Gronkowski: WWE Superstar?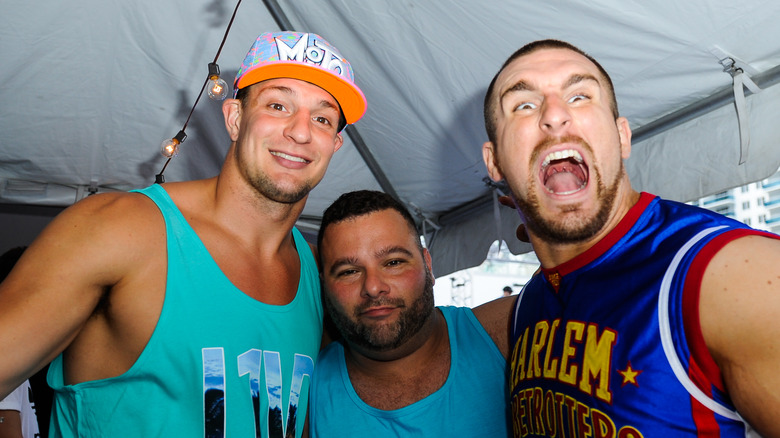 Sergi Alexander/Getty Images
Well, football season's on the horizon, or here, I guess we're in pre-season now.
Yeah.
[Is Rob Gronkowski] going to come out of retirement, return to the NFL, or is he going to become a WWE superstar like Pat McAfee and Happy Corbin? What do you think? Which direction do you think he goes?
I got to think he'll go back to football before he comes to wrestling full-time. I've always said, I don't think Rob is done. He gets too bored too quickly. He's another one that likes a lot of excitement, is always doing a lot of things. He retired once before, it didn't last that long. I would love to see Rob come back. I don't know what his master plan is here. I don't know if he even has one. I know he wants to enjoy some time off, but I can also tell you it doesn't make any sense to have Rob go through a training camp. You don't need him right now.
He's getting older. It's getting tougher, these hits are harder to come back from every year of your career. You don't need a Gronk on your team right now, you need him for the postseason, and if anything, the second half of the season where he can go out there, be fresh, and dominate and catch touchdown passes. That's what he does. So if he came back the second half of the season or for a playoff run, I think that makes sense. I think that's still tremendous value for a team. But for now, for camp, he does not need to be there.
So have you ever trained Gronk to be a wrestler? Have you ever gotten in the ring and shown him the ropes?
We haven't done any real in-ring training, but I will say, for the past 10 years. every time we'd go out partying, we're in Vegas, Atlantic City, Miami, wherever we are, we would break out into wrestling matches. Not just me and him, but our buddies too. And the bouncers at the clubs would come running up with tasers thinking we were fighting for real and be ready to jolt us. But that was practice. Especially, at the very beginning of my career, we'd go out partying, I would make the whole team chop me in the chest as frequently as possible all night to get me ready for WWE-style chops.
That's why when you see people chopping me in the ring, I always did that chopping spot. Chop me all you want, all day, I'm ready. It's fine. I'm ready for this. I'm trained for it. It's all good. So he's had some training, no formal in-ring training. We, of course, had that in the works. We never got to that point because Brady went back to the Bucs and the offer was too good for Rob not to go back, but I don't know. I'm actually loving the trend-setting that Pat McAfee's been doing.
Pat McAfee Punts Football For Pro Wrestling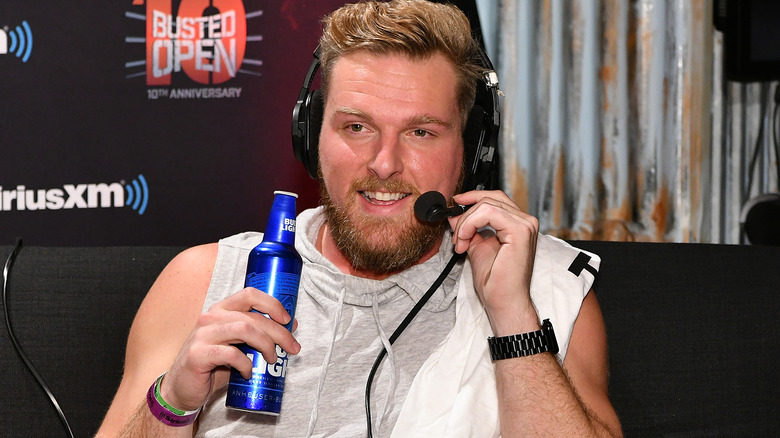 Slaven Vlasic/Getty Images
Yes. Yeah.
I love the fact that he's full-time, but he's full-time doing other things as well. There's too many A-list celebrities out there that would come and wrestle for WWE, or AEW, or Impact, or any of these places, if they could continue to do what they're still doing. Because WWE, they pay well, but a lot of other places pay way better, so it's hard to give all that stuff up for an extended period of time. Maybe that's why you see some guys coming in for a seasonal run, like a pay-per-view or two for a few months, and then going back to doing what they're doing because it costs them money to be here. But if you can do the Pat McAfee route, where he's still doing all of his other things, and doing this, and showing that he successfully can balance all of these things, then it makes sense for everybody to have that role.
He can simultaneously, actively promote WWE across all of his channels while he's still there. That's half the reason you sign a Pat McAfee in the first place, is to acquire that reach and to get back some of that mainstream audience that I feel like wrestling keeps losing. Because I feel like the wrestling fans, they're hardcore, but the more all the shows keep catering to the internet crowd, you're not expanding your market at all, you're just keeping that existing audience happy. Which is great. You need to. They're the most vocal audience out there. But when you do that, you lose out on a lot of other markets as well, so you got to find a balance to successfully navigate both.
I feel like they're trying to do some of that with Logan Paul too.
Absolutely. 
I don't know if they saw what happened with Pat and they're like, "Okay, actually, maybe we don't need to put everybody inside of a box." I see that. As you were talking about, I was like, "Oh, he's kind of describing what they're doing with Logan Paul as well."
And Bad Bunny had his run, too. I'm curious to see how long Logan Paul stays with WWE. But yeah, that move just makes so much sense for so many reasons. And the guy can come in and be a heel right away. If you put him with Miz, who is probably the best dancing partner he could have possibly gone in with, it was an alley-oop.
What's Next For Mojo?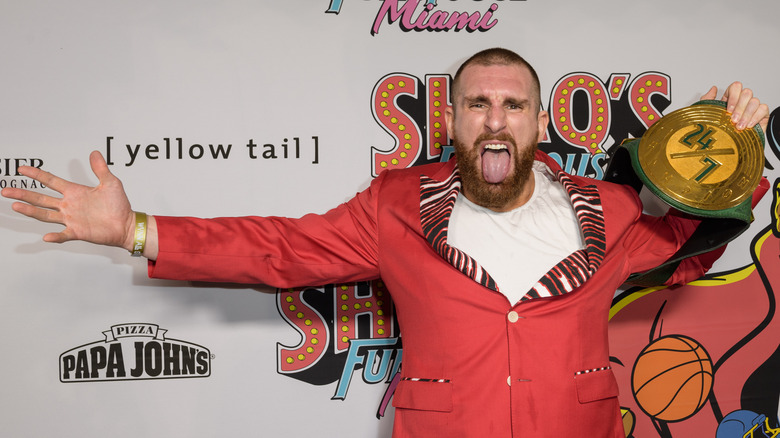 Jason Koerner/Getty Images
So what about you, man? I know we've talked a lot about wrestling and Paragon. Like I said, you've been in movies. There any other projects out there in the wings that you're working on that you're excited about that you want to tease everybody with right now?
Yeah, man, just so much going on. I'm loving my freedom right now. I'm loving exploring everything. TMZ has been one of the most fun and easiest jobs I've ever had. I log in from home on weekdays and I get to talk about sports lifestyle topics with a guy that's quickly becoming one of my best friends, and my co-host, Mike Babcock, Harvey Levin, the whole staff there has just been absolutely incredible. I guess that's why they were having me on TMZ sporadically through the years, was just to keep an eye on me so that when I became available they could offer me a full-time job. And that happened immediately following, so I loved that. That made me feel great, personally. So right there was enough to make me want to join the family.