12 Best Wardlow Matches We'd Love To See Happen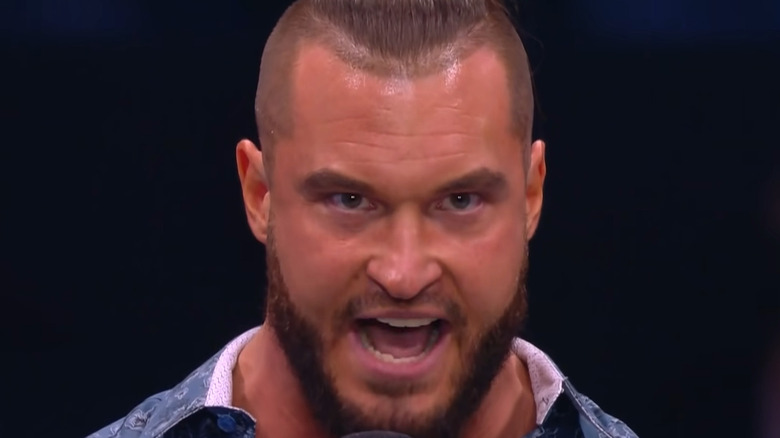 AEW
It's been quite the odyssey for Wardlow since his arrival in All Elite Wrestling back in 2019. Plucked from relative obscurity to serve as Maxwell Jacob Friedman's muscle, Mr. Mayhem quickly established himself as a force to be reckoned with. However, Wardlow quickly grew disillusioned in his role at MJF's flunky, desiring his own independence as an in-ring competitor. His feud with MJF, an uphill battle to conquer his former-employer, made for some truly stellar TV. Following his dominant win over MJF at Double or Nothing 2022, Wardlow set his sights on the TNT Title. One victory over Scorpio Sky later and Wardlow now stands high atop the mountain as TNT Champion. For anyone who'd followed Wardlow since his arrival in AEW, this was an extremely welcome development for him.
However, a champion needs an ample supply of challengers, of which AEW has plenty. Here are just a few opponents who would have great matches with Wardlow in the future.
Sammy Guevara
Okay, hold on a moment, before you send your laptop sailing out the window, just hear us out for a second. It would be a lie to say that Sammy Guevara's recent babyface run as TNT Champion lived up to fan expectations. Through a combination of ill-advised promos and bizarre booking, including his insufferable on screen chemistry with Tay Conti, Sammy's momentum quickly plateaued. Soon enough, the promising young gun of the Inner Circle was now posing naked with the allegedly beloved TNT Title belt on Twitter. This, combined with increasingly obnoxious promos alongside Conti, did little to ingratiate himself to the fans. Having realigned himself with Chris Jericho and his Appreciation Society, it was the sign for many viewers that his thoroughly botched babyface run was over.
Recent weeks of television have cemented this, with Tay and Sammy's interactions only increasing in their frequency and level of annoyance. While definitely edging closer to "Go Away Heat," it can't be denied just how viscerally loathsome Sammy comes off. Heat is imperative for a championship feud, and with Sammy currently heeling it up again, he would definitely make an excellent foil for Mr. Mayhem in the near future. Also, considering Sammy's legitimate prowess as a high flyer, his fast paced offense would mesh nicely with Wardlow's size and strength. (That being said, the idea of a fourth Sammy Guevara TNT title run is about as appealing to fans as a rewatch of "Bash at the Beach 2000.")
Powerhouse Hobbs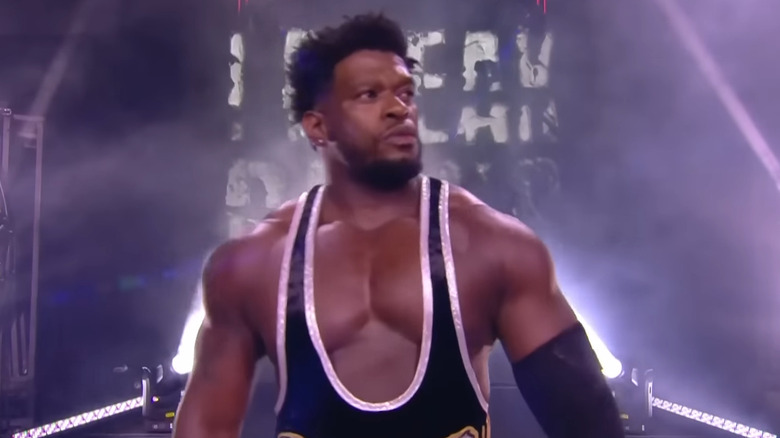 AEW
It was a definite shock to see Team Taz meet its end in 2022, with all three members — Hook, Ricky Starks, and Powerhouse Hobbs — going their separate ways. The latter of which definitely made the most defiant exit by battering Starks following Hook's FTW Championship win on "Dynamite." Now on his own, Willie "Powerhouse" Hobbs looks to dominate the AEW roster and win some long overdue championship gold. Hobbs has shown immense promise since his arrival during AEW's pandemic era, showcasing a raw dropping blend of size, strength and speed. His one-on-one match with CM Punk at the AEW Grand Slam "Rampage" special in 2021 was a definite proving ground for his abilities.
With his career definitely on track for a sizable singles push, a TNT Title encounter with Wardlow would be an excellent first step. Not only would it be a perfect chance to solidify Hobbs as a main eventer, it'd also serve as an excellent challenge for Mr. Mayhem. Hoss fights between two sizable opponents often make for some truly captivating matchups, so this one would definitely be must see.
Luchasaurus
Luchasaurus is definitely one of AEW's more visually intriguing acts, wrestling while decorated as a prehistoric creature. Right off the bat, his appearance — once green and now all black — is certainly a sight to behold. However, the man isn't just a look as he possesses a frightening combination of power and freakish agility. A man of Luchasaurus' size shouldn't be able to hit a picture perfect standing moonsault, and yet he can!
His AEW Tag Team championship stint alongside his Jurassic Express confidant Jungle Boy proved the man can handle a title run. With Jungle Boy wrapped up in a single push of his own, a TNT title shot would be perfect for Luchasaurus. Both Wardlow and Luchasaurus can easily match each other in terms of size and strength, which would make for a stellar hoss fight. Additionally, with Luchasaurus' more recent serious direction and appearance, it would make a title encounter all the more justifiable.
Jungle Boy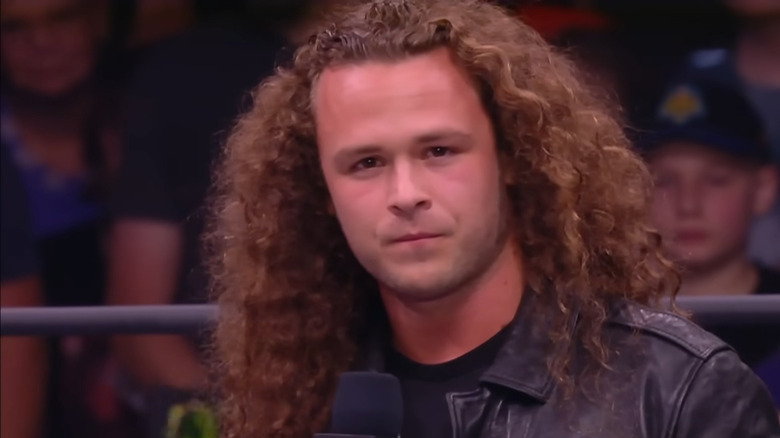 AEW
Often hailed as one of AEW's key pillars, Jungle Boy has been mere fingertips away from greatness for quite some time. The real life son of Luke Perry has done quite well for himself since arrival in professional wrestling back in 2015. En route to his AEW signing in 2019, Jungle Boy formed a successful tag team with Luchasaurus that'd later become known as Jurassic Express. His first major claim to fame within AEW was surviving a ten minute challenge with Chris Jericho on "Dynamite." Another major boost for Jungle Boy came in the form of an AEW Championship match with Kenny Omega in 2021. Despite coming up short, the match did a lot to cement Jungle Boy as a world title contender and one of AEW's long term investments.
Considering his lofty resume and the fact he isn't even 30 yet, the future definitely seems bright for Jungle Boy. With that said, a TNT Title run would be a solid move in terms of upward mobility for the young upstart. Possessing both agility and a keen sense of in-ring timing, a match with Wardlow would certainly be a treat for AEW fans. While both men are clear babyfaces, a size versus speed matchup would definitely fire up the always raucous AEW crowd.
Ricky Starks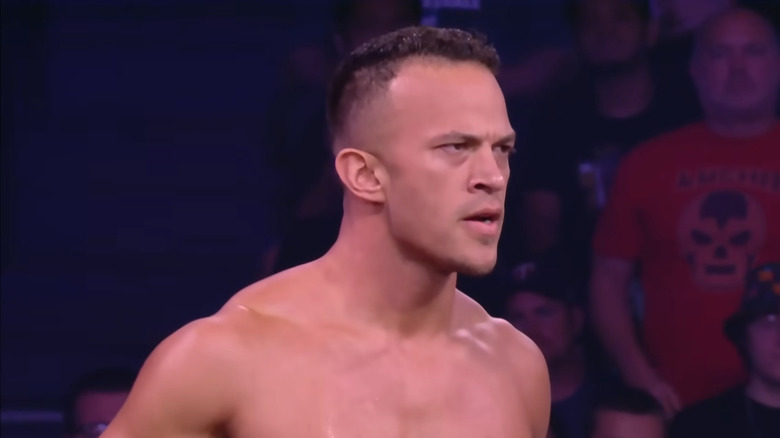 AEW
Ricky Starks has been on the rise for quite a while now, often referred to as a bonafide top prospect for wrestling's future. Starks' first major uptick in mainstream attention came via his stint in the National Wrestling Alliance AKA the NWA. Starks quickly became a fan favorite, especially after becoming the first NWA World Television Championship in the title's then-brand new lineage. His title run wouldn't last long but soon after his NWA contract had expired, Starks arrived in All Elite Wrestling. He debuted in grand fashion, serving as a mystery opponent for then-TNT champion Cody Rhodes on "Dynamite" in 2020.
From there, Starks was off to the races and soon found himself as a pillar of Team Taz. As a part of the team — alongside Brian Cage, Powerhouse Hobbs and Taz's son Hook — Starks would see some high profile storylines. Not only did he get to mix it up with the likes of The Icon Sting, but he'd even become the FTW Champion at Brian Cage's expense. Having lost his FTW title, and with Team Taz officially finito, the time seems right for a main event Ricky Starks push. A dazzling triple threat of speed, skill and charisma, Starks would make a stellar opponent for Wardlow, whose size would be a perfect counterpoint. Ricky Starks versus Wardlow for the TNT title is a matchup that could easily main-event any episode of "Dynamite" or "Rampage."
Andrade El Idolo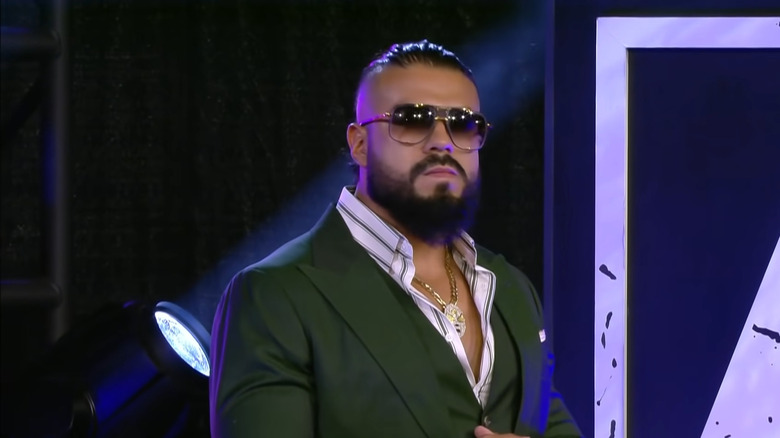 AEW
If ever a professional wrestler deserved to hold championship gold on prime time television, it'd be Andrade El Idolo. It's certainly been an up-and-down roller coaster for the former La Sombra since his departure from NJPW in 2015. The founding member of Los Ingobernables arrived in WWE's developmental system later that year under a new name and without his mask. After a middling babyface run, Andrade "Cien" Almas aligned himself with Zelina Vega, leading him to  success, including an NXT Title run. Despite seeing some mild-success on the main roster, Andrade didn't reach the heights many fans had hoped for.
Following his release in 2021, Andrade made his debut for All Elite Wrestling as the newly christened Andrade El Idolo. Since his arrival, Andrade has been involved in some superb matchups with the likes of PAC and Cody Rhodes. Having recently forged an alliance with fellow AAA alumni Rush, a newly reformed Los Ingobernables, Andrade seems to have an exciting new direction. However, many fans are still actively clamoring for a prominent singles run for Andrade and the TNT Title is a prime candidate. With Andrade's impressive lucha libre style, equal parts hard hitting and agile, he would be a tremendous challenger for Wardlow's TNT Title. Additionally, considering Wardlow's experience with another brash millionaire, it wouldn't be unappealing for him to demolish another!
Miro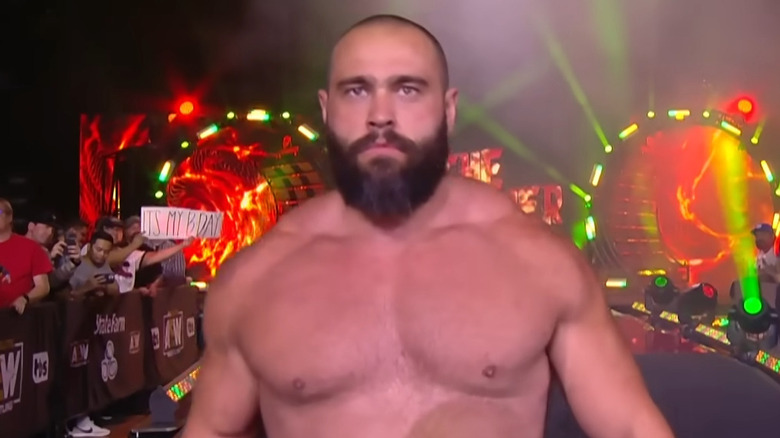 AEW
Following his arrival in AEW, Miro (FKA Rusev) definitely took a while to cement himself as a legitimate main event worthy contender. Following his brutal schism with then-tag team partner Kip Sabian, Miro really began to hit his stride in a big bad way. Week-by-week, the self titled Redeemer began racking up bodies in dominant fashion, all the while cutting increasingly passionate promos. It wasn't too long before this new killer instinct led Miro to his first title match in AEW. This came in the form of a one-on-one encounter with then-TNT Champion Darby Allin, wherein Miro emerged victorious.
His title reign, though unfortunately short, gave people a definite glimpse of the main event talent they always knew Miro could be. Following his return from an untimely hamstring injury, The Redeemer immediately got back to work, with his eyes set once again on championship gold. With Wardlow out to prove his dominance as the current-TNT Champion, a match with Miro would be the perfect proving ground. Not only would both men's respective size and strength compliment each other perfectly, Miro fighting to become a two time champ would be a stellar story.
Malakai Black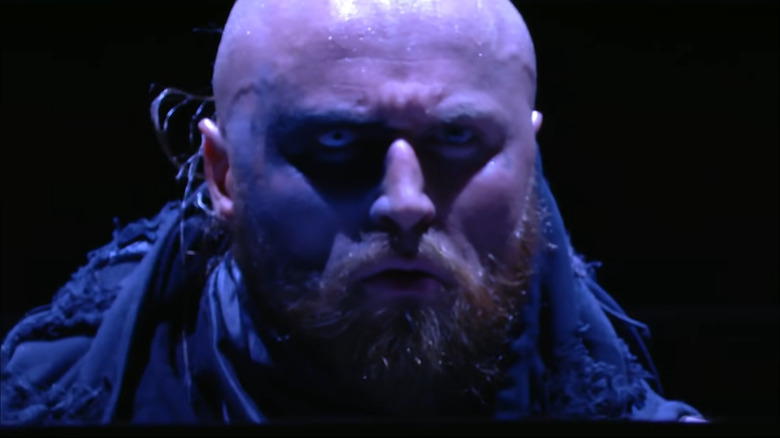 AEW
Ever since his unexpected arrival in 2021, the sinister Malakai (FKA Aleister) Black has definitely left a sizable mark on All Elite Wrestling. Following his unfortunate release from WWE, many fans were understandably peeved, especially following a fascinating series of vignettes concerning Black's occult backstory. However, following an intriguing self produced short film, it wouldn't take too long for Black to resurface in grand fashion. The then-newly rechristened Malakai Black made his return on the July 7th, 2021, episode of "AEW Dynamite," battering both Cody Rhodes and Arn Anderson. Soon enough, Black had racked up two back-to-back wins against Cody Rhodes, one even taking place at AEW's Grand Slam event in NYC.
Black is sitting pretty as the leader of the House of Black, recruiting and corrupting the likes of Brody King, Buddy Matthews, and Julia Hart. A sinister heel like Black would make quite the challenge for Wardlow, especially with his disciples waiting in the wings. With Black's impressive hybrid style, composed of stiff strikes and impressive speed, a match with Mr. Mayhem would likely not disappoint. With many clamoring for Black to be in higher profile feuds, an angle with the TNT Champion might just be the ticket.
Darby Allin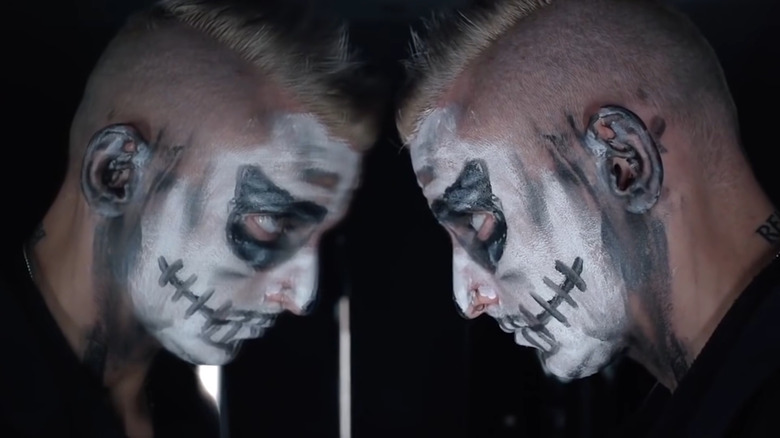 AEW
Darby Allin has quickly established himself as one of AEW's top homegrown talents, right alongside Jungle Boy and MJF. With his striking face paint, devil may care attitude, and near-inhuman endurance, it's hard to not see why. Allin just oozes a natural charisma that makes nearly all of his matches must-see content, just to see what he'll do to win. From throwing himself at opponents like a lawn dart to taking career threatening bumps on the regular, Allin has definitely become a fan favorite. Allin's rise to prominence reached new heights when he won the TNT Championship from then-champion Cody Rhodes at Full Gear 2020. This reign gave Darby Allin the special distinction of being the longest reigning TNT Champion to date, having held the strap for 186 days.
With that statistic in mind, a match with the longest reigning champion might just be what Wardlow's TNT title reign needs. Who better to test Wardlow's grit as champion than the man who has arguably elevated it the most? Wardlow's impressive strength mixed with Allin's willingness to be thrown like an Olympic javelin could make for a stellar title match.
Dustin Rhodes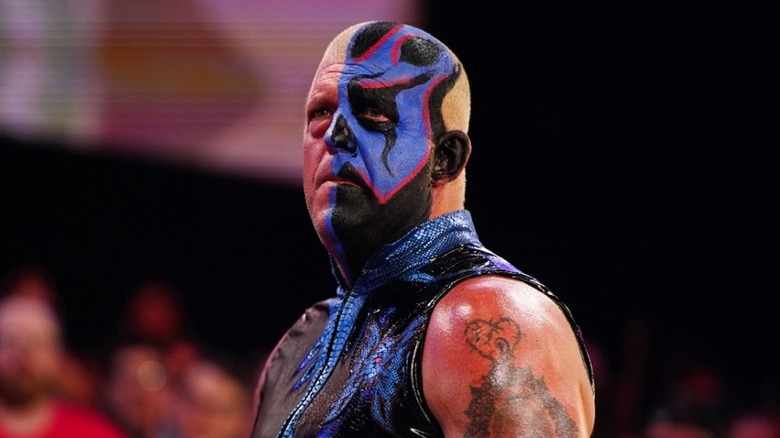 AEW
Very few wrestlers have remained as respected and consistent in between the ropes as Dustin Rhodes has in recent years. The man formerly known as Goldust has definitely seen a career renaissance in recent years, especially in All Elite Wrestling. Rhodes has the vibe of a worker who's been everywhere and done everything, which only intensifies his matches. This definitely factored into his now-legendary encounter with his brother Cody at AEW's inaugural event Double of Nothing 2019. From that point on, Dustin has remained a welcome presence on Wednesday and Friday nights, turning in exemplary performances. The simple truth is, very few wrestlers have the cache and experience that Dustin Rhodes does — making him a truly indispensable player. His 2022 "Dynamite" encounter with CM Punk definitely served as a reminder of just how good Dustin Rhodes can be.
With all that in mind, Dustin's veteran prowess would be an excellent test for Wardlow, still at a burgeoning stage in his career. It always helps to mix it up with a savvy veteran as it helps to legitimize a rising star in the fans' eyes. If AEW really wants to legitimize Wardlow, a match with the Natural Dustin Rhodes would be an efficient way of doing so.
Sonny Kiss
Many All Elite Wrestling fans have long been clamoring for something substantial for The Concrete Rose Sonny Kiss. The lack of prominent TV time on either "Dynamite" or "Rampage" has been pointed out by many, even Kiss themself. Kiss made a big splash on the indie scene in the late 2010s, serving as a true ambassador of the LGBTQ wrestling revolution. Despite arriving in All Elite Wrestling with much pomp and circumstance, the Concrete Rose hasn't really left much of a sizable mark. Aside from an occasional prominent match with the likes of Cody Rhodes or Kenny Omega, Sonny's often been relegated to "AEW Dark" and "AEW Dark: Elevation."
However, following a shocking heel turn at the expense of Orange Cassidy, it seems the tide might be changing for Kiss. Now a part of the new minted Trustbusters — including Ari Daivari, Parker Bordeaux, and Slim J — Kiss has a deadlier new direction. Now sitting in a prime position in a potentially viable heel stable, the time is right to give Kiss some more marquee worthy opportunities. A matchup with Wardlow would definitely assist in that endeavor, with Kiss' jaw dropping agility potentially counterpointing Wardlow's raw power beautifully.