Sting's Famous WCW Stunt Was Much Scarier Than It Seemed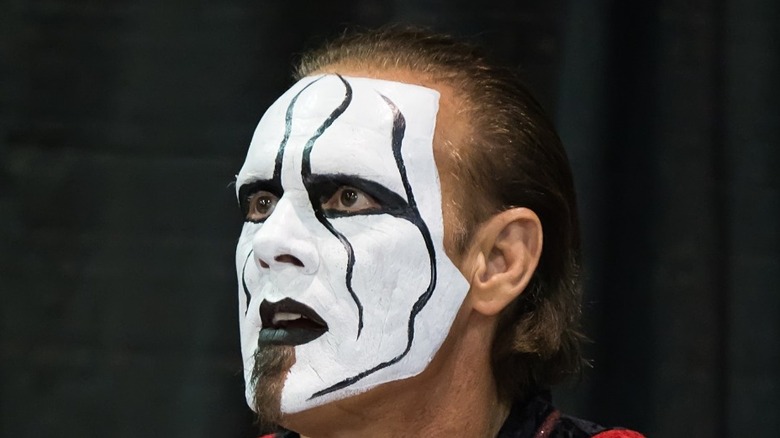 Gilbert Carrasquillo/Getty Images
The Sting versus nWo storyline is one of the most memorable aspects of WCW's late '90s period. The storyline is also notable for a famous stunt in which Sting rappelled from the rafters to confront members of the faction. "The Icon" performed this stunt for two years, but in a 2004 interview with Wrestling Epicenter (per Pro Wrestling Stories), he revealed that he almost died the first night it was executed. 
While the entrance helped Sting get over with the fans, he was uncomfortable with the stunt. "You know, it was scary," he recalled. "And we did it a couple of different ways, and it didn't matter which way we did it; it was always scary."
Sting was trained for the stunt on the same day that it made its debut on television, and he practiced it four times beforehand. But all of that preparation wasn't enough to ease his nerves.
One step away from death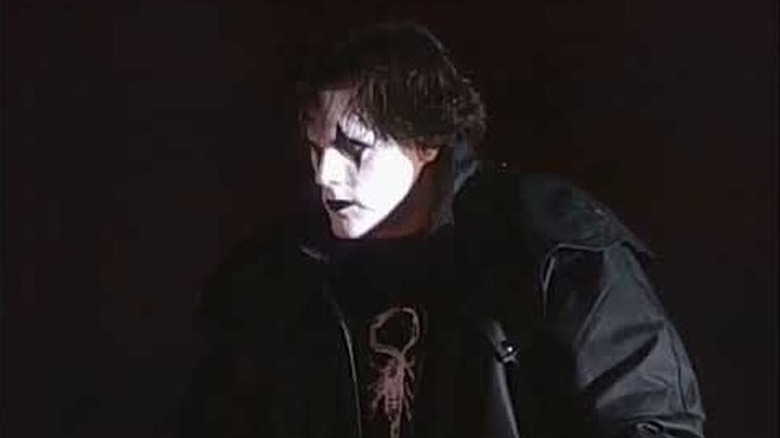 WWE/YouTube
Sting recalled the atmosphere as being chaotic before he performed the stunt for the first time on "WCW Monday Nitro." "The cue comes –- the crowd is as loud as you can imagine, and the sound just travels up — it's deafening," Sting told Wrestling Epicenter (via Pro Wrestling Stories). "And then we're talking to each other up there, and then you're screaming at each other — the pyro's going off, the lights, and suddenly you can't even think straight; you can't even hear yourself think. That's how chaotic it is up there."
It wasn't until that moment that Sting and the technicians saw that something was wrong. "When I stepped over, we realized we had the thing set up backward. So while I was standing on the edge, we had to flip the rope around and then reweave it through. I'm telling you if I'd stepped over and done it, the same thing that happened to Owen [Hart] would have happened to me."
Even though the stunt was performed with no problems, Sting was never comfortable doing it. He discussed this at Ace Comic Con in January 2018, stating that he was scared every single time he performed it.
Sting's stunt after Owen Hart's death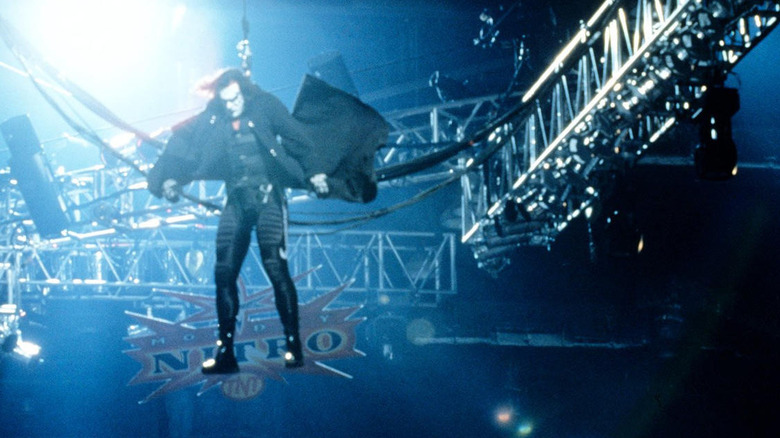 WWE
Owen Hart tragically died while performing a similar stunt at WWE's "Over the Edge" pay-per-view in 1999. After learning about Hart's tragedy, Sting changed his entrance and refused to perform the rafters stunt for a while. 
It was months before Sting performed the stunt again, after being approached by Eric Bischoff and WCW officials about doing it. However, Sting didn't do it until he'd received approval from Bret Hart, as he explained during an interview with "The Ross Report". "I talked to Bret and I said, 'What do you think? I'm not going to do it if you don't want me to do it and if your family doesn't want me to do it, I will not do it.' He ended up talking to his family about it and he called me and said, 'Steve, we're all fine with it. Go ahead; it's not going to hurt.'"