Arn Anderson Recalls John Cena Shooting Down Working With TNA Talent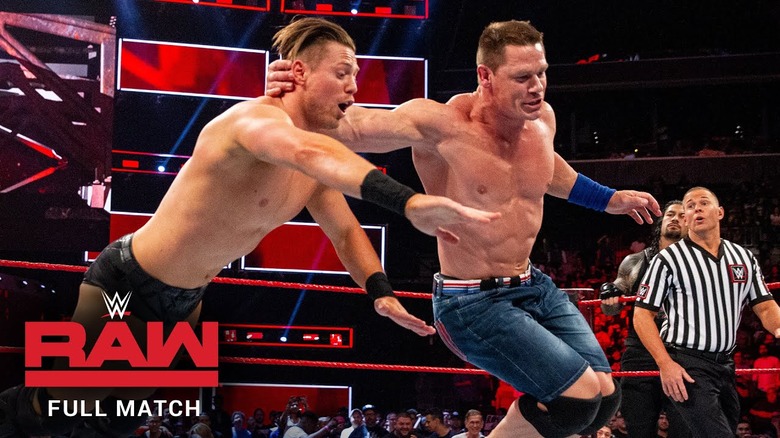 On the latest episode of ARN, WWE Hall of Famer and AEW coach Arn Anderson revisited the 2016 Royal Rumble, a highly-praised PPV by fans that featured a Last Man Standing match between Dean Ambrose and Kevin Owens, Charlotte vs. Becky Lynch, and the WWE debut of AJ Styles during the 30-man Rumble match.
While talking about Styles' arrival in WWE, Anderson recalled a conversation he had with John Cena in which he tried to persuade Cena to work with former TNA stars.
"I sat John down and I don't remember the year, month, nor date, but I could just feel that things were getting a little stale," said Anderson. "WWE needed a little influx of not just bodies and people coming from NXT. No knock on that, but seasoned veterans. People they were considered stars.
"I sat John down and I said, 'You know John, there's some guys with the other company that we could steal and blend in to work with you'. My conversation was Bobby Roode, Cowboy [James Storm], and AJ Styles. I said, 'Man, these guys can go. I'm talking about top shelf performers and they will freshen everything up.' He looked me right in the eye and at this time, John had 100% stroke power."
Anderson touched upon how Cena was adamant that WWE should focus on creating their own stars rather than pursuing talents from TNA.
"It was his call on everything to do with him. He went, 'Why do we want those guys, Arn? We make our own stars'. So, yes, he was on my radar. AJ Styles is one of those rare that only comes along every 20 years or so that can just do it all.
"I knew that then. I know that now. It'll be the same thing. Boring injury a year from now. So, yes, definitely on my radar. I was pushing for the three of those guys."
When asked if fans were expecting to see Styles walk in at #3 in the Royal Rumble match, Anderson said WWE did a great job of keeping the news under wraps.
"Nope. There are other things in this world in WWE and AJ Styles had a tremendous career up until this point," he said. "Been around the world, had gained his notoriety, and had gotten over universally. When he came out, it was one of those things that you thought you might never see and were a little bit down about that and all of a sudden, you do get it.
"Everybody's not on the internet. Everybody's not on social media. Everybody didn't know he was going to be there of your audience. If you're sitting on your couch and you did not have a clue, you hadn't heard a word, out comes AJ Styles. That's why I buy the Rumble."
He added, "There is your selling point for the Rumble. What's going to happen during the course of this thing is going to make my teeth fall out and that was one of them."
Anderson went onto share fellow WWE producers Jamie Noble and Dean Malenko's reaction to Styles' debut.
"Guys like Jamie and Dean Malenko were guys that put a lot of work into that [Styles' debut]. It's usually started the week before. Say on a Wednesday or Thursday, guys fly into the city where the Rumble is and you have a crew of three or four producers. Of course, the writing team and all of those guys."
Arn called Noble and Malenko "brilliant minds" that never get enough credit for producing matches.
"To have a match that's an hour and 15 minutes or whatever it can be, it takes a lot of brilliant minds. Jamie Noble's one of those brilliant minds that never gets credit. Dean Malenko was one of those guys that never gets credit.
"You're always going to have Michael Hayes sitting up there, calling that match. Michael's been there a long time. He's like the head guy. He's just the guy that calls the Rumble usually. So, I think some of these other guys that put a lot of work into it, a lot of creativity should get some credit and that's a couple of those guys."
The Four Horsemen icon also spoke about WWE NXT becoming its own brand and no longer just a developmental show.
"Well, I think NXT became something other than just–I know it did. It became it's own brand. Once they were acquired television, they did go out and start taking indie performers and hiring them, bringing them in a featured role and letting some of the more experienced guys come into NXT and stay there for awhile.
"Learn to use the television. Learn to work the hard camera. All the rules that you had to with WWE. Once those guys were brought in and they had that platform, NXT was no longer a training facility or a single deal. It was the third brand."
Anderson added, "When some guys were brought in by Hunter to that brand, it was not looked at like they were being groomed, it was just lets get this talent positioned. Lets get NXT up and running as that third brand and it will be all on equal footing."
If you use any quotes from this article, please credit ARN with a h/t to Wrestling Inc. for the transcription.
Mehdy Labriny contributed to this article.