Impact Wrestling Results (7/22): Jay White Appears, Knockouts Tag Title Main Event, More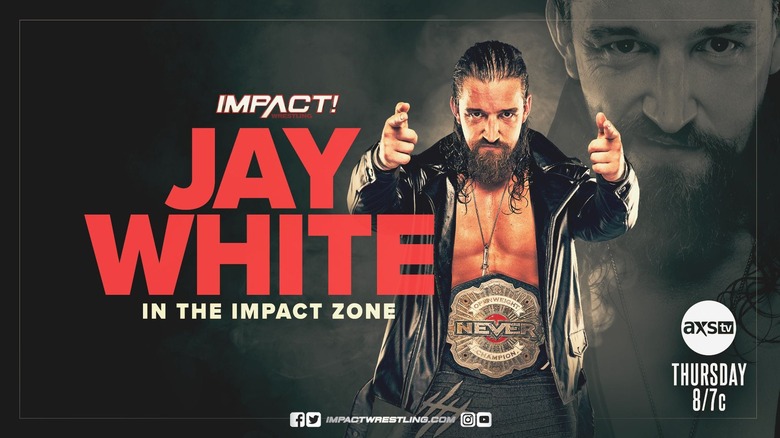 Photo Credit: Impact Wrestling
Welcome to Wrestling Inc's live coverage of Impact Wrestling, which airs every Thursday on AXS TV, as well as on Impact Wrestling's own Twitch channel at 8 pm EST! Be sure to chime in on your thoughts about tonight's show in the comments section below. Additionally, share our live coverage through social media. Make sure to click the REFRESH button to continue to get the most current up-to-date coverage. Above and below is what's on tonight's agenda for Impact:
Tonight's episode is the fallout from Slammiversary. The full results from last Saturday's show are available here
TONIGHT at 8/7c on @AXSTV🇺🇸/@fightnet🇨🇦/Twitch💻!@JayWhiteNZ and @MickieJames appear in the IMPACT Zone @Myers_Wrestling, @TenilleDashwood and @sambeale23 vs. @TheMattCardona, @JakeSomething_ and @ImChelseaGreen

KO Tag Title Match @DashingChrisBey vs. @HakimZane pic.twitter.com/NJddsLqwOm

— IMPACT (@IMPACTWRESTLING) July 22, 2021
#IMPACTin60 features the best of @KennyOmegamanX TONIGHT at 10/9c immediately following IMPACT on @AXSTV! pic.twitter.com/mB7ElokphB

— IMPACT (@IMPACTWRESTLING) July 22, 2021
** On tonight's Before The Impact, Impact released the full footage of what happened seconds after Slammiversary went off the air. The Impact World Champion Kenny Omega, Don Callis and The Good Brothers were waiting for Jay White to "too sweet" them. White stands there and doesn't move a muscle. All of a sudden, FinJuice (David Finlay and Juice Robinson) runs in and goes after the Good Brothers. The Elite retreat out of the ring and up to the ramp. Sami Callihan slides in and throws a sign that was extremely close to hitting The Elite. White then grabs David Finlay and hits the Blade Runner, and rolls out of the ring.
Here is the footage from after #Slammiversary went off the air as @JayWhiteNZ sent a message to @THEdavidfinlay. #Slammiversary @njpwglobal pic.twitter.com/m7sHAVnINu

— IMPACT (@IMPACTWRESTLING) July 22, 2021
Also, on BTI, Petey Williams and Trey Miguel defeated Kal Herro and Shotgun Tony Gunn in a tag team match!
.@iPeteyWilliams and @TheTreyMiguel are VICTORIOUS in tag team action on #BTIonAXSTV! pic.twitter.com/jTN1tqM1w5

— IMPACT (@IMPACTWRESTLING) July 22, 2021
D'Lo Brown and Matt Striker welcome fans to Impact Wrestling! We kick things off with some X-Division action!
Chris Bey vs. Rohit Raju (w/Shera)
The majority of the fans in the audience are pulling for Chris Bey as cheers ring out for him. Both men go straight for a lockup. They switch gears and back and forth arm drags. Both men grab each other's legs and politely put them down. No more Mr. Nice Guy; Rohit Raju plants a leg sweep sending Bey on the mat. Bey misses a flying elbow attempt. Raju slams Bey back down. Raju hits a full-body drop and looks for a cover. Raju kicks out. Shera lays a hand on Bey while Raju distracts the referee.
.@HakimZane rocks @DashingChrisBey with a combo in the corner. #IMPACTonAXSTV pic.twitter.com/3fx0WEwC7R

— IMPACT (@IMPACTWRESTLING) July 23, 2021
Raju continues the onslaught with a slam. Raju hooks the leg again for another near-fall. Bey eats a flying boot in the corner but escapes in time before Raju does it again. Bey floats in the air and connects a European Uppercut. Bey looks for a cover. Raju kicks out. Raju flies on type of Bey with a sling blade of sorts for another near-fall count. Raju catches Bey in a crossface. Bey rolls through, but Raju floats over and applies another crossface. Bey hoists Raju up. Raju escapes. Raju lands a shot to the back of Raju, setting up for The Art of Finesse. He hits it! Cover. 1-2-3. Chris Bey kicks ThursBey off right with a big win.
Winner: Chris Bey
Post-Match: Jay White greets Chris Bey in the back. White asks Bey if he got his message. Bey says he did, but he doesn't know what White wants from him. White says The Bullet Club is always looking for recruits, and he wants to extend the olive branch to Bey. Bey declines and says he works alone. White asks Bey how's that working out. Bey has nothing to say. White tells him to think about his invite a little more before his offer expires.
.@JayWhiteNZ is always looking for the best talent for The Bullet Club – but his offer to @DashingChrisBey will expire... #IMPACTonAXSTV pic.twitter.com/HpnbSiaf33

— IMPACT (@IMPACTWRESTLING) July 23, 2021
Backstage: Gia Miller is by Kenny Omega's room and wants to get a comment from him after retaining his Impact World Championship against Sami Callihan. Instead of getting Omega, she gets Don Callis instead. Callis informs Miller that Omega suffered some major damage coming out of that brutal battle on Saturday.
Miller then asks Callis their thoughts on Jay White showing up on Saturday. Callis was not informed White was coming to Impact. Callis says it's one more thing he is not happy with how Impact handles business with outsiders. Callis says if White or anyone else wants a future title shot, they have to go through him first.
.@TheDonCallis is not happy that @JayWhiteNZ is in IMPACT. #IMPACTonAXSTV pic.twitter.com/1IAH3TRBDv

— IMPACT (@IMPACTWRESTLING) July 23, 2021
Up next, the founding mother of TNA/Impact Mickie James makes her way down to the ring!
Mickie James' In-Ring Segment:
The audience chants out, "Welcome back," to Mickie James. She thanks them all. She reveals that Saturday did not go the way she thought it would. She's there in the Impact Zone tonight to make things right with the Knockouts Champion Deonna Purrazzo. She asks for Purrazzo to come out, and she does.
James thanks Purrazzo for coming out, and she apologizes for her reaction and hitting a superkick on her. James wants the best of the best at NWA Empower in August, and she believes Purrazzo is one of the best in the business. She, once again, extends the invite to Purrazzo.
Purrazzo says the only reason she came out to the ring tonight was to see James rectify her actions. She says she doesn't need people like James to call her the best; she knows she is. Purrazzo demands an apology from James. Purrazzo then threatens she's going to "slap Mickie in next week" if she doesn't obey. Gail Kim's music plays, and she makes her way out to the ring.
.@MickieJames has invited @DeonnaPurrazzo to @nwa #Empowerrr but The Virtuosa doesn't seem any more receptive to the idea than she was on Saturday. #IMPACTonAXSTV pic.twitter.com/kotCwfBPbO

— IMPACT (@IMPACTWRESTLING) July 23, 2021
Gail Kim informs Purrazzo she was the one to ask Mickie James to come and invite the champion to Empower. Kim asks  Purrazzo if she's actually considering the invitation? Mickie James then adds that if Purrazzo wants to add a brick to her legacy, then come wrestle for this historic event. James extends her hand out. Purrazzo shakes her hand.
It is official: Deonna Purrazzo will be part of history at NWA Empower on August 28!
.@MickieJames and @gailkimITSME have convinced @DeonnaPurrazzo to ACCEPT the invitation to @nwa #Empowerrr! #IMPACTonAXSTV pic.twitter.com/olekuHicza

— IMPACT (@IMPACTWRESTLING) July 23, 2021
- We see another vignette from a star who calls themself "The Drama King."
Brian Myers, Sam Beale & Tenille Dashwood vs. Jake Something, Matt Cardona & Chelsea Green
Jake Something and Sam Beale kick things off. Something hits a nice short-arm clothesline before making a tag to Matt Cardona. Beale makes a tag to Brian Myers. Cardon pushes Myers into the corner and lays down a flurry of offense. Tenille Dashwood distracts Cardona, which helps Myers escape out of the corner. Cardona hits a double neckbreaker on Myers and Beale. Cardona makes a "Hot Mess" tag to Chelsea Green. Tenille Dashwood is also tagged in.
BIG lungblower by @ImChelseaGreen! #IMPACTonAXSTV pic.twitter.com/VgkJe1Q1vI

— IMPACT (@IMPACTWRESTLING) July 23, 2021
Green rocks Dashwood with a lungblower! Cover. Myers and Beale run in to make the save. Cardona and Something send Myers and Beale over the top rope and take care of them on the outside. Dashwood puts Green in a cradle pin. Green escapes. Taylor Wilde is back! She attacks Kaleb on the outside. Beale is back in and hoists Green up. Green escapes from the back and turns it into an Unprettier. Cover. Green picks up the pinfall for her team!
Winners: Chelsea Green, Matt Cardona & Jake Something
Backstage: Eddie Edwards wants W. Morrissey to meet him in the parking lot.
Parking Lot Brawl: Eddie Edwards vs. W. Morrissey
W. Morrissey storms through the exit doors and makes his way towards Eddie Edwards in the parking lot. Edwards smashes a trash can on Morrissey. Morrissey fires back with some heavy shots on Edwards. Morrisey throws Edwards up against the side of a truck. He pulls some cable cords and tightly wraps them around Edwards' neck. The fans circling around this brawl are pulling for Edwards with chants. Edwards whips out two Kenny's (kendo sticks) and goes to town on the big man. Morrissey escapes the beatdown and retreats out of the frame. A bloody Edwards stands tall with the fans all chanting his name.
.@TheEddieEdwards smashes @TheCaZXL with a trash can. #IMPACTonAXSTV pic.twitter.com/R8jpjx5X4S

— IMPACT (@IMPACTWRESTLING) July 23, 2021
.@TheEddieEdwards dual wielding Kenny has sent @TheCaZXL running for the hills. #IMPACTonAXSTV pic.twitter.com/y8z6FG9oNO

— IMPACT (@IMPACTWRESTLING) July 23, 2021
Winner: Eddie Edwards
Backstage: Gia Miller catches up with Sam Beale, Brian Myers, and Tenille Dashwood (w/Kaleb) after their major loss. Myers says he still has a lot to teach Dashwood now that she's under his learning tree, and that's why he's choosing her as his partner for Homecoming. Dashwood retracts and says she isn't going to be his tag partner anymore, especially after taking two back-to-back losses with him. Now, Myers needs to find a partner, and fast! Beale thinks he has an idea of who he could ask.
And now, it's time to breathe with Switchblade!
Jay White's In-Ring Segment:
The fans are pumped to see Switchblade Jay White make his appearance. After properly introducing himself, White informs the fans why he's here in the Impact Zone: he's here for David Finlay. White and Finlay are set to collide for the NEVER Openweight Championship at NJPW Resurgence next month. He calls Finlay a failure and a disappointment to his family's legacy. White makes it clear that Finlay will ever capture his title so long as he's holding it.
"I am the number one asset in all of pro wrestling, the last rock and roller, I am the man that singlehandedly sold out Madison Square Garden...and I am the REAL belt collector." @JayWhiteNZ introduces himself to IMPACT Wrestling. #IMPACTonAXSTV @njpwglobal pic.twitter.com/TdE2usyyAc

— IMPACT (@IMPACTWRESTLING) July 23, 2021
.@JayWhiteNZ is in IMPACT for @THEdavidfinlay ahead of their match at #njresurgence on August 14th! #IMPACTonAXSTV pic.twitter.com/EpljFRp5GD

— IMPACT (@IMPACTWRESTLING) July 23, 2021
Then, he shifts his attention over towards The Elite. White says he has created a new era in The Bullet Club. He adds that The Good Brothers are no longer a hit, and he's going to decline an offer for them to rejoin The Club again. No surprise, here comes The Elite.
.@JayWhiteNZ is sick of seeing people like @KennyOmegamanX, @The_BigLG and @MachineGunKA "throwing up Too Sweets like it's still 2013." #IMPACTonAXSTV pic.twitter.com/nTPAFrsBR2

— IMPACT (@IMPACTWRESTLING) July 23, 2021
Don Callis, first of all, compliments White for his look and his in-ring and promo skills. But Callis wants to look back at Kenny Omega's era as the Bullet Club leader. Callis says White's era as a leader is filled with mid-card talent. It doesn't compare to when Omega was in charge. Callis wants to offer a proposal he thinks White can't refuse; he thinks White should beg for a spot to join The Elite and ditch the OG's.
Two eras of The Bullet Club exchanging harsh words in the IMPACT Zone. #IMPACTonAXSTV @JayWhiteNZ @TheDonCallis @The_BigLG @MachineGunKA @KennyOmegamanX pic.twitter.com/0xf5I57B0U

— IMPACT (@IMPACTWRESTLING) July 23, 2021
White responds by recalling how he beat Omega once. Omega is not too happy with Callis' potential invite to White. Omega says he and Callis need to talk about this and they leave the stage. The Good Brothers take over the conversation and poke fun at White for trying to replicate the history they created. White lands a jab by saying the Good Brothers sold out years ago, and they wish they could be as good as he is now.
.@JayWhiteNZ was very happy to remind @KennyOmegamanX of how it went last time they stepped into a ring together. #IMPACTonAXSTV pic.twitter.com/Mj9NJHObCc

— IMPACT (@IMPACTWRESTLING) July 23, 2021
The Good Brothers don't like that insult, so they start to wail on White. With a two-on-one beatdown, everyone is waiting for someone to come out and save White. Chris Bey answers the call! Bey sends the Good Brothers out of the ring. It looks Bey is on board towards accepting White's offer!
Looks like @DashingChrisBey has ACCEPTED @JayWhiteNZ's offer, coming to Switchblade's aid against @The_BigLG and @MachineGunKA! #IMPACTonAXSTV pic.twitter.com/Qb7zs3ck8V

— IMPACT (@IMPACTWRESTLING) July 23, 2021
Backstage: Josh Alexander is speaking with Gia Miller. After successfully retaining his X-Division Championship this Saturday, his next goal is to become the next face of Impact. Kenny Omega interrupts and asks Alexander if he just heard him correctly. Alexander says he did. Omega is lost for words and walks off.
Backstage: Pissed that Chris Bey came to Jay White's side moments ago, The Good Brothers have issued a tag team challenge to them for next week!
.@The_BigLG and @MachineGunKA have challenged @JayWhiteNZ and @DashingChrisBey to a match NEXT WEEK! #IMPACTonAXSTV pic.twitter.com/33tYFjkOXa

— IMPACT (@IMPACTWRESTLING) July 23, 2021
Ace Austin & Madman Fulton vs. FinJuice (Juice Robinson & David Finlay)
David Finlay and Ace Austin lock up. Finlay puts Austin in a side headlock. Austin escapes with help from the ropes. Coming off the ropes, Austin eats a big shoulder block. Finlay tags in Juice Robinson, who comes soaring off the top with a double axe handle! Robinson hits a vertical suplex and brings Finlay back in. Austin slams Finlay in his corner. Austin makes a hot tag to Madman Fulton just before the commercial break.
.@The_Ace_Austin strikes from multiple angles. #IMPACTonAXSTV pic.twitter.com/SzYiraODzl

— IMPACT (@IMPACTWRESTLING) July 23, 2021
Back from the break, Austin continues to keep the ring cut off from Finlay as he throws down a flurry of punches in the corner. A quick tag is made to Fulton. Fulton comes in and lands a few big shots before making another quick tag to Austin. Finlay throws Austin towards the ropes. Austin trips Finlay. Finlay throws Austin over his head and brings Juice Robinson in.
The Flamboyant lands a perfect cannonball on Fulton. Finlay lays Fulton out with a Pescado on the outside. Robinson hits his signature Juice Jabs on Austin. Fulton slides in and hoists Juice up. Juice turns the hold into a sunset flip and stacks him up. 1-2-3. FinJuice wins!
Winners: FinJuice
Post-Match: Austin and Fulton beatdown on FinJuice. Juice grabs Austin and puts him in the electric chair position. David Finlay gets ready and climbs to the top to hit the doomsday device. All of a sudden, Rohit Raju and Shera run in to help Austin and Fulton. Austin hits The Fold on FinJuice. Just when we think they're all friends, Shera and Fulton stare each other down with viciousness in their eyes.
.@The_Ace_Austin, @HakimZane, @MahabaliShera and @FultonWorld just LAID WASTE to FinJuice. #IMPACTonAXSTV @njpwglobal @THEdavidfinlay pic.twitter.com/LyRUQnJhS8

— IMPACT (@IMPACTWRESTLING) July 23, 2021
Backstage: Rich Swann and Willie Mack want a match with Violent By Design. Instead of them waiting for next week, VBD makes a surprise visit to Swann and Mack. Eric Young agrees, they should meet again next week.
.@TheEricYoung and Violent By Design sent a BRUTAL message to @GottaGetSwann and @Willie_Mack. #IMPACTonAXSTV @CodyDeaner @bigjoedoering @Rhyno313 pic.twitter.com/dOalN5jyRa

— IMPACT (@IMPACTWRESTLING) July 23, 2021
Backstage: Gia Miller finds Moose heading to Scott D'Amore's office. Moose wants a rematch with Chris Sabin after he came up short against him. D'Amore grants Moose and Sabin this rematch in the main event next week!
And now, our main event. It will be a Slammiversary rematch!
Knockouts Tag Team Championship: Havok & Rosemary (c) (w/Decay) vs. Fire 'N Flava 
Rosemary and Kiera Hogan (of Fire 'N Flava) kick things off. Hogan has some words for Rosemary. Rosemary doesn't have time to talk. Instead, she just lifts Hogan up. Hogan turns the hold into a stacked pin. Rosemary gets her shoulders up at two. Rosemary drags Hogan to her corner and makes a tag out to Havok. Havok picks Hogan up. Hogan escapes from the back and makes a hot tag to Tasha Steelz.
Steelz looks for a running bulldog, but Havok tosses Steelz across the ring. Havok goes for a cover. Steelz kicks out. Havok makes a tag back to Rosemary. Havok and Rosemary hit two big splashes in the corner. Rosemary slams Steelz's head repeatedly on the top turnbuckle. Kiera Hogan distracts Rosemary from using Upside Down. Hogan makes her way back into the ring. Hogan rains down a flurry of forearms on The Demon Assassin.
.@RealTSteelz didn't get very far trying to bulldog @FearHavok. #IMPACTonAXSTV pic.twitter.com/wQUDj8rEdj

— IMPACT (@IMPACTWRESTLING) July 23, 2021
Hogan makes a tag to Steelz. Steelz plants two major knife edge chops on the champ. She continues the beatdown with a series of heavy stomps. She switches her offense to punches. Rosemary starts to fight back with a sling blade. Steelz catches Rosemary with a codebreaker for just a two count. Hogan tags herself back into the match. She lands a kick to the spine of Rosemary and goes for a cover. Rosemary pops free at two. Both women trade shot exchanges. Rosemary breaks it up with a flying crossbody!
.@RealTSteelz is just disrespecting @WeAreRosemary. #IMPACTonAXSTV pic.twitter.com/pmisWSGg45

— IMPACT (@IMPACTWRESTLING) July 23, 2021
Rosemary reaches for Havok. Hogan then reaches for Steelz. Havok takes Fire 'N Flava off their feet with a double clothesline. Havok bounces corner to corner with a boot wash on Hogan, but Steelz escapes out of the way in time. Rosemary makes her way back into the ring and hits a slam for another near-fall attempt. Steelz runs in to help Hogan out. Hogan goes for a superkick, Rosemary ducks under, the superkick lands on Steelz. Rosemary crawls over to make a final tag to Havok. Havok and Rosemary seal the deal when Rosemary lands a spear on Hogan. Havok rolls her up to retain the Knockouts Tag Team Titles!
AND STILL Knockouts Tag Team Champions – @WeAreRosemary and @FearHavok after a misfire from @HoganKnowsBest3. #IMPACTonAXSTV pic.twitter.com/uEaul2gNe3

— IMPACT (@IMPACTWRESTLING) July 23, 2021
Winners & Still Knockouts Tag Team Champions: Havok & Rosemary
That concludes this week's episode. Thanks for watching!